Sachin Tendulkar became only the fourth batsman in Test cricket to complete 9,000 runs when his score reached 36 during his unbeaten knock of 73 on the opening day of the fourth and final match at Sydney.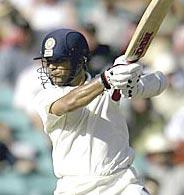 Despite his recent run of failures, Tendulkar has achieved this milestone in the least number of innings, 179, though he has taken one match more than Sunil Gavaskar.
At 30 years 253 days, Tendulkar is also the youngest batsman to complete 9,000 runs. All others were above the age of 35 when they accomplished this feat.
Interestingly, his only real challenger now for the top rank, West Indies captain Brian Lara, is just 84 short of 9000 Test runs. The Lara-Tendulkar battle promises to be an exciting one over the next three or four years.
Performance against each country:
| | | | | | | | | | | | |
| --- | --- | --- | --- | --- | --- | --- | --- | --- | --- | --- | --- |
| Opponent | Tests | Inns | NO | Runs | Ave | HS | 100s | 50s | 0s | 90s | 50+ |
| Australia | 19 | 34 | 3 | 1561 | 50.35 | 177 | 6 | 6 | 4 | 0 | 12 |
| Bangladesh | 1 | 1 | 0 | 18 | 18.00 | 18 | 0 | 0 | 0 | 0 | 0 |
| England | 16 | 24 | 2 | 1683 | 76.50 | 193 | 6 | 8 | 0 | 2 | 14 |
| New Zealand | 16 | 27 | 5 | 1062 | 48.27 | 217 | 3 | 5 | 1 | 0 | 8 |
| Pakistan | 7 | 12 | 0 | 395 | 32.92 | 136 | 1 | 2 | 2 | 0 | 3 |
| South Africa | 14 | 26 | 1 | 948 | 37.92 | 169 | 3 | 3 | 1 | 1 | 6 |
| Sri Lanka | 13 | 16 | 2 | 1124 | 80.29 | 148 | 6 | 3 | 0 | 1 | 9 |
| West Indies | 16 | 25 | 2 | 1328 | 57.74 | 179 | 3 | 7 | 3 | 1 | 10 |
| Zimbabwe | 9 | 14 | 2 | 918 | 76.50 | 201* | 3 | 3 | 1 | 0 | 6 |
| at home | 47 | 77 | 8 | 4265 | 61.81 | 217 | 15 | 15 | 3 | 3 | 30 |
| abroad | 64 | 102 | 9 | 4772 | 51.31 | 193 | 16 | 22 | 9 | 2 | 38 |
| Total | 111 | 179 | 17 | 9037 | 55.78 | 217 | 31 | 37 | 12 | 5 | 68 |
Leading Test batsmen:
| | | | | | | | | | | | |
| --- | --- | --- | --- | --- | --- | --- | --- | --- | --- | --- | --- |
| Batsman | Team | Runs | Tests | Inns | NO | HS | Ave | 100s | 50s | 0s | 90s |
| Border, A R | Aus | 11174 | 156 | 265 | 44 | 205 | 50.56 | 27 | 63 | 11 | 3 |
| Waugh, S R | Aus | 10807 | 168 | 258 | 46 | 200 | 50.98 | 32 | 49 | 22 | 10 |
| Gavaskar, S M | Ind | 10122 | 125 | 214 | 16 | 236* | 51.12 | 34 | 45 | 12 | 5 |
| Tendulkar, S R | Ind | 9037 | 111 | 179 | 17 | 217 | 55.78 | 31 | 37 | 12 | 5 |
| Lara, B C | WI | 8916 | 100 | 176 | 5 | 375 | 52.14 | 23 | 42 | 10 | 5 |
| Gooch, G A | Eng | 8900 | 118 | 215 | 6 | 333 | 42.58 | 20 | 46 | 13 | 3 |
| Miandad, Javed | Pak | 8832 | 124 | 189 | 21 | 280* | 52.57 | 23 | 43 | 6 | 4 |
| Richards, I V A | WI | 8540 | 121 | 182 | 12 | 291 | 50.24 | 24 | 45 | 10 | 3 |
| Stewart, A J | Eng | 8463 | 133 | 235 | 21 | 190 | 39.55 | 15 | 45 | 14 | 2 |
| Gower, D I | Eng | 8231 | 117 | 204 | 18 | 215 | 44.25 | 18 | 39 | 7 | 2 |
| Boycott, G | Eng | 8114 | 108 | 193 | 23 | 246* | 47.73 | 22 | 42 | 10 | 6 |
| Sobers, G St A | WI | 8032 | 93 | 160 | 21 | 365* | 57.78 | 26 | 30 | 12 | 5 |
| Waugh, M E | Aus | 8029 | 128 | 209 | 17 | 153* | 41.82 | 20 | 47 | 19 | 2 |
Fastest to 9000 runs:
| | | | | | | |
| --- | --- | --- | --- | --- | --- | --- |
| Batsman | Team | Inns | Test | Opponent | Venue | Season |
| Tendulkar, S R | India | 179 | 111 | Australia | Sydney | 2003-04 |
| Gavaskar, S M | India | 192 | 110 | Australia | Adelaide | 1985-86 |
| Border, A R | Australia | 207 | 121 | West Indies | Kingston | 1990-91 |
| Waugh, S R | Australia | 216 | 136 | England | Birmingham | 2001 |
Tendulkar's performance at each venue:
| | | | | | | | | | | | |
| --- | --- | --- | --- | --- | --- | --- | --- | --- | --- | --- | --- |
| Venue | Tests | Inns | NO | Runs | Ave | HS | 100s | 50s | 0s | 90s | 50+ |
| Adelaide | 3 | 6 | 0 | 122 | 20.33 | 61 | 0 | 1 | 1 | 0 | 1 |
| Ahmedabad (Gujarat Stadium) | 5 | 9 | 0 | 431 | 47.89 | 217 | 2 | 0 | 0 | 0 | 2 |
| Auckland | 1 | 1 | 0 | 5 | 5.00 | 5 | 0 | 0 | 0 | 0 | 0 |
| Bangalore | 5 | 8 | 1 | 439 | 62.71 | 177 | 1 | 2 | 0 | 2 | 3 |
| Birmingham (Edgbaston) | 1 | 2 | 0 | 146 | 73.00 | 122 | 1 | 0 | 0 | 0 | 1 |
| Bloemfontein | 1 | 2 | 0 | 170 | 85.00 | 155 | 1 | 0 | 0 | 0 | 1 |
| Bombay (Wankhede) | 6 | 10 | 0 | 639 | 63.90 | 148 | 1 | 5 | 0 | 1 | 6 |
| Bridgetown (Barbados) | 2 | 4 | 0 | 104 | 26.00 | 92 | 0 | 1 | 1 | 1 | 1 |
| Brisbane ('Gabba) | 2 | 3 | 0 | 23 | 7.67 | 16 | 0 | 0 | 1 | 0 | 0 |
| Bulawayo (Queen's Sports Club) | 1 | 2 | 1 | 110 | 110.00 | 74 | 0 | 1 | 0 | 0 | 1 |
| Calcutta | 6 | 11 | 1 | 399 | 39.90 | 176 | 1 | 2 | 1 | 0 | 3 |
| Cape Town | 2 | 3 | 0 | 251 | 83.67 | 169 | 1 | 1 | 0 | 0 | 2 |
| Chandigarh | 1 | 1 | 0 | 11 | 11.00 | 11 | 0 | 0 | 0 | 0 | 0 |
| Christchurch | 1 | 2 | 0 | 24 | 12.00 | 24 | 0 | 0 | 1 | 0 | 0 |
| Colombo (PSS) | 1 | 1 | 0 | 71 | 71.00 | 71 | 0 | 1 | 0 | 0 | 1 |
| Colombo (RPS) | 1 | 1 | 0 | 143 | 143.00 | 143 | 1 | 0 | 0 | 0 | 1 |
| Colombo (SSC) | 3 | 6 | 2 | 456 | 114.00 | 139 | 3 | 1 | 0 | 0 | 4 |
| Cuttack | 1 | 1 | 0 | 2 | 2.00 | 2 | 0 | 0 | 0 | 0 | 0 |
| Delhi (Ferozeshah Kotla) | 5 | 9 | 0 | 346 | 38.44 | 122 | 1 | 1 | 1 | 0 | 2 |
| Dhaka | 1 | 1 | 0 | 18 | 18.00 | 18 | 0 | 0 | 0 | 0 | 0 |
| Durban (Kingsmead) | 2 | 3 | 0 | 30 | 10.00 | 15 | 0 | 0 | 0 | 0 | 0 |
| Faisalabad | 1 | 2 | 0 | 67 | 33.50 | 59 | 0 | 1 | 0 | 0 | 1 |
| Georgetown (The Bourda) | 2 | 2 | 0 | 162 | 81.00 | 83 | 0 | 2 | 0 | 0 | 2 |
| Hamilton | 3 | 5 | 1 | 162 | 40.50 | 67 | 0 | 1 | 0 | 0 | 1 |
| Harare | 3 | 5 | 0 | 130 | 26.00 | 69 | 0 | 1 | 1 | 0 | 1 |
| Johannesburg (The Wanderers) | 2 | 4 | 0 | 156 | 39.00 | 111 | 1 | 0 | 0 | 0 | 1 |
| Kandy | 1 | 0 | 0 | 0 | - | dnb | 0 | 0 | 0 | 0 | 0 |
| Kanpur | 2 | 4 | 1 | 156 | 52.00 | 61 | 0 | 1 | 0 | 0 | 1 |
| Karachi (National Stadium) | 1 | 1 | 0 | 15 | 15.00 | 15 | 0 | 0 | 0 | 0 | 0 |
| Kingston (Jamaica) | 2 | 4 | 1 | 149 | 49.67 | 86 | 0 | 1 | 0 | 0 | 1 |
| Lahore (Gaddafi) | 1 | 1 | 0 | 41 | 41.00 | 41 | 0 | 0 | 0 | 0 | 0 |
| Leeds (Headingley) | 1 | 1 | 0 | 193 | 193.00 | 193 | 1 | 0 | 0 | 0 | 1 |
| Lord's | 3 | 5 | 0 | 96 | 19.20 | 31 | 0 | 0 | 0 | 0 | 0 |
| Lucknow (KD Singh) | 1 | 1 | 0 | 142 | 142.00 | 142 | 1 | 0 | 0 | 0 | 1 |
| Madras (Chepauk) | 6 | 10 | 3 | 714 | 102.00 | 165 | 4 | 1 | 1 | 0 | 5 |
| Manchester (Old Trafford) | 1 | 2 | 1 | 187 | 187.00 | 119* | 1 | 1 | 0 | 0 | 2 |
| Melbourne (MCG) | 3 | 6 | 0 | 267 | 44.50 | 116 | 1 | 1 | 1 | 0 | 2 |
| Mohali | 5 | 8 | 1 | 361 | 51.57 | 126* | 1 | 2 | 0 | 0 | 3 |
| Nagpur | 4 | 5 | 1 | 625 | 156.25 | 201* | 3 | 1 | 0 | 0 | 4 |
| Napier | 1 | 1 | 0 | 88 | 88.00 | 88 | 0 | 1 | 0 | 0 | 1 |
| Nottingham (Trent Bridge) | 2 | 4 | 0 | 377 | 94.25 | 177 | 1 | 2 | 0 | 1 | 3 |
| Perth (WACA) | 1 | 2 | 0 | 119 | 59.50 | 114 | 1 | 0 | 0 | 0 | 1 |
| Port Elizabeth | 2 | 4 | 1 | 29 | 9.67 | 22* | 0 | 0 | 1 | 0 | 0 |
| Port-of-Spain (Queen's Park) | 2 | 3 | 0 | 205 | 68.33 | 117 | 1 | 1 | 1 | 0 | 2 |
| Sialkot (Jinnah Stadium) | 1 | 2 | 0 | 92 | 46.00 | 57 | 0 | 1 | 0 | 0 | 1 |
| St John's (Antigua) | 2 | 1 | 0 | 0 | 0.00 | 0 | 0 | 0 | 1 | 0 | 0 |
| Sydney (SCG) | 3 | 4 | 2 | 270 | 135.00 | 148* | 1 | 1 | 0 | 0 | 2 |
| The Oval, London | 2 | 2 | 0 | 75 | 37.50 | 54 | 0 | 1 | 0 | 0 | 1 |
| Wellington | 2 | 4 | 0 | 219 | 54.75 | 113 | 1 | 1 | 0 | 0 | 2 |
Tendulkar's performance in each calendar year:
| | | | | | | | | | | | |
| --- | --- | --- | --- | --- | --- | --- | --- | --- | --- | --- | --- |
| Year | Tests | Inns | NO | Runs | Ave | Hs | 100s | 50s | 0s | 90s | 50+ |
| 1989 | 4 | 6 | 0 | 215 | 35.83 | 59 | 0 | 2 | 0 | 0 | 2 |
| 1990 | 7 | 10 | 1 | 373 | 41.44 | 119* | 1 | 2 | 1 | 0 | 3 |
| 1991 | 2 | 4 | 0 | 78 | 19.50 | 40 | 0 | 0 | 0 | 0 | 0 |
| 1992 | 7 | 11 | 1 | 419 | 41.90 | 148* | 3 | 0 | 2 | 0 | 3 |
| 1993 | 8 | 9 | 2 | 640 | 91.43 | 165 | 2 | 5 | 0 | 0 | 7 |
| 1994 | 7 | 11 | 1 | 700 | 70.00 | 179 | 2 | 3 | 0 | 1 | 5 |
| 1995 | 3 | 4 | 2 | 58 | 29.00 | 52* | 0 | 1 | 0 | 0 | 1 |
| 1996 | 8 | 15 | 0 | 623 | 41.53 | 177 | 2 | 2 | 1 | 0 | 4 |
| 1997 | 12 | 17 | 1 | 1000 | 62.50 | 169 | 4 | 3 | 0 | 1 | 7 |
| 1998 | 5 | 9 | 1 | 647 | 80.88 | 177 | 3 | 1 | 0 | 0 | 4 |
| 1999 | 10 | 19 | 3 | 1088 | 68.00 | 217 | 5 | 4 | 3 | 0 | 9 |
| 2000 | 6 | 10 | 1 | 575 | 63.89 | 201* | 2 | 1 | 0 | 1 | 3 |
| 2001 | 10 | 18 | 2 | 1003 | 62.69 | 155 | 3 | 6 | 0 | 1 | 9 |
| 2002 | 16 | 26 | 1 | 1392 | 55.68 | 193 | 4 | 5 | 3 | 1 | 9 |
| 2003 | 5 | 9 | 0 | 153 | 17.00 | 55 | 0 | 1 | 2 | 0 | 1 |
| 2004 | 1 | 1 | 1 | 73 | - | 73* | 0 | 1 | 0 | 0 | 1 |
Tendulkar's pattern of scoring:
| | | | | | | | | | | | | |
| --- | --- | --- | --- | --- | --- | --- | --- | --- | --- | --- | --- | --- |
| Opponent | Inns | NO | HS | 0s | 0-9 | 10-19 | 20-49 | 50-89 | 90-99 | 100-149 | 150-199 | 200- |
| Australia | 34 | 3 | 177 | 4 | 10 | 7 | 5 | 6 | 0 | 4 | 2 | 0 |
| Bangladesh | 1 | 0 | 18 | 0 | 0 | 1 | 0 | 0 | 0 | 0 | 0 | 0 |
| England | 24 | 2 | 193 | 0 | 1 | 3 | 6 | 6 | 2 | 3 | 3 | 0 |
| New Zealand | 27 | 5 | 217 | 1 | 10 | 4 | 5 | 5 | 0 | 2 | 0 | 1 |
| Pakistan | 12 | 0 | 136 | 2 | 5 | 1 | 3 | 2 | 0 | 1 | 0 | 0 |
| South Africa | 26 | 1 | 169 | 1 | 10 | 4 | 6 | 2 | 1 | 1 | 2 | 0 |
| Sri Lanka | 16 | 2 | 148 | 0 | 2 | 3 | 2 | 2 | 1 | 6 | 0 | 0 |
| West Indies | 25 | 2 | 179 | 3 | 6 | 3 | 6 | 6 | 1 | 1 | 2 | 0 |
| Zimbabwe | 14 | 2 | 201* | 1 | 2 | 0 | 6 | 3 | 0 | 1 | 1 | 1 |
| TOTAL | 179 | 17 | 217 | 12 | 46 | 26 | 39 | 32 | 5 | 19 | 10 | 2 |
Tendulkar's modes of dismissal:
| | | | | | | | | | | |
| --- | --- | --- | --- | --- | --- | --- | --- | --- | --- | --- |
| Opponent | Inns | NO | B | CW | CF | C&B | HW | LBW | RO | St |
| Australia | 34 | 3 | 3 | 7 | 12 | 1 | 0 | 8 | 0 | 0 |
| Bangladesh | 1 | 0 | 0 | 0 | 1 | 0 | 0 | 0 | 0 | 0 |
| England | 24 | 2 | 6 | 2 | 9 | 1 | 0 | 3 | 0 | 1 |
| New Zealand | 27 | 5 | 6 | 3 | 11 | 0 | 0 | 2 | 0 | 0 |
| Pakistan | 12 | 0 | 3 | 1 | 3 | 0 | 0 | 3 | 2 | 0 |
| South Africa | 26 | 1 | 2 | 5 | 15 | 0 | 0 | 2 | 1 | 0 |
| Sri Lanka | 16 | 2 | 4 | 1 | 8 | 0 | 0 | 1 | 0 | 0 |
| West Indies | 25 | 2 | 4 | 4 | 8 | 1 | 0 | 5 | 1 | 0 |
| Zimbabwe | 14 | 2 | 1 | 1 | 7 | 1 | 0 | 2 | 0 | 0 |
| TOTAL | 179 | 17 | 29 | 24 | 74 | 4 | 0 | 26 | 4 | 1 |
Tendulkar's nemeses:
| | | | | | | | | | |
| --- | --- | --- | --- | --- | --- | --- | --- | --- | --- |
| Bowler | Team | Tot | B | CW | CF | C&B | HW | LBW | St |
| Cronje, W J | SA | 5 | 0 | 1 | 3 | 0 | 0 | 1 | 0 |
| Donald, A A | SA | 5 | 2 | 1 | 1 | 0 | 0 | 1 | 0 |
| McGrath, G D | Aus | 5 | 1 | 1 | 0 | 0 | 0 | 3 | 0 |
| Gillespie, J N | Aus | 4 | 0 | 2 | 1 | 0 | 0 | 1 | 0 |
| Lewis, C C | Eng | 4 | 2 | 0 | 2 | 0 | 0 | 0 | 0 |
| Saqlain Mushtaq | Pak | 3 | 0 | 0 | 2 | 0 | 0 | 1 | 0 |
| Warne, S K | Aus | 3 | 0 | 0 | 2 | 0 | 0 | 1 | 0 |
| Vettori, D L | NZ | 3 | 0 | 0 | 3 | 0 | 0 | 0 | 0 |
| Hoggard, M J | Eng | 3 | 1 | 1 | 1 | 0 | 0 | 0 | 0 |
| Price, R W | Zim | 3 | 0 | 0 | 1 | 0 | 0 | 2 | 0 |
| Nash, D J | NZ | 3 | 0 | 0 | 2 | 0 | 0 | 1 | 0 |
| Cuffy, C E | WI | 3 | 0 | 0 | 2 | 0 | 0 | 1 | 0 |
| Morrison, D K | NZ | 3 | 0 | 2 | 1 | 0 | 0 | 0 | 0 |
| Pushpakumara, K R | SL | 3 | 2 | 0 | 1 | 0 | 0 | 0 | 0 |
| Bishop, I R | WI | 3 | 0 | 0 | 2 | 1 | 0 | 0 | 0 |
| McMillan, B M | SA | 3 | 0 | 0 | 3 | 0 | 0 | 0 | 0 |
| Collins, P T | WI | 3 | 1 | 2 | 0 | 0 | 0 | 0 | 0 |
| Tuffey, D R | NZ | 3 | 2 | 0 | 1 | 0 | 0 | 0 | 0 |
| McDermott, C J | Aus | 2 | 0 | 1 | 0 | 0 | 0 | 1 | 0 |
| Whitney, M R | Aus | 2 | 1 | 0 | 1 | 0 | 0 | 0 | 0 |
| Fleming, D W | Aus | 2 | 0 | 0 | 2 | 0 | 0 | 0 | 0 |
| Muralitharan, M | SL | 2 | 0 | 0 | 2 | 0 | 0 | 0 | 0 |
| Lawson, J J C | WI | 2 | 1 | 0 | 1 | 0 | 0 | 0 | 0 |
| Jayasuriya, S T | SL | 2 | 0 | 0 | 2 | 0 | 0 | 0 | 0 |
| Kasprowicz, M S | Aus | 2 | 0 | 0 | 1 | 1 | 0 | 0 | 0 |
| Caddick, A R | Eng | 2 | 0 | 0 | 0 | 0 | 0 | 2 | 0 |
| Symcox, P L | SA | 2 | 0 | 0 | 2 | 0 | 0 | 0 | 0 |
| Waugh, M E | Aus | 2 | 0 | 0 | 1 | 0 | 0 | 1 | 0 |
| Johnson, N C | Zim | 2 | 0 | 1 | 1 | 0 | 0 | 0 | 0 |
| Kallis, J H | SA | 2 | 0 | 1 | 1 | 0 | 0 | 0 | 0 |
| Walsh, C A | WI | 2 | 0 | 0 | 1 | 0 | 0 | 1 | 0 |
| Pollock, S M | SA | 2 | 0 | 0 | 2 | 0 | 0 | 0 | 0 |
| Streak, H H | Zim | 2 | 1 | 0 | 1 | 0 | 0 | 0 | 0 |
| Anurasiri, S D | SL | 2 | 1 | 0 | 1 | 0 | 0 | 0 | 0 |
| Sanford, A | WI | 2 | 1 | 0 | 0 | 0 | 0 | 1 | 0 |
| Khan, Imran | Pak | 2 | 0 | 1 | 0 | 0 | 0 | 1 | 0 |
| Cork, D G | Eng | 2 | 2 | 0 | 0 | 0 | 0 | 0 | 0 |
| Cairns, C L | NZ | 2 | 2 | 0 | 0 | 0 | 0 | 0 | 0 |
| Benjamin, K C G | WI | 2 | 0 | 0 | 2 | 0 | 0 | 0 | 0 |
| Dillon, M | WI | 2 | 0 | 1 | 0 | 0 | 0 | 1 | 0 |
| Bichel, A J | Aus | 1 | 0 | 1 | 0 | 0 | 0 | 0 | 0 |
| Schultz, B N | SA | 1 | 0 | 1 | 0 | 0 | 0 | 0 | 0 |
| Ranchod, U | Zim | 1 | 0 | 0 | 1 | 0 | 0 | 0 | 0 |
| Kalpage, R S | SL | 1 | 0 | 0 | 1 | 0 | 0 | 0 | 0 |
| Hathurusingha, U C | SL | 1 | 0 | 0 | 1 | 0 | 0 | 0 | 0 |
| Malcolm, D E | Eng | 1 | 0 | 0 | 1 | 0 | 0 | 0 | 0 |
| Salisbury, I D K | Eng | 1 | 0 | 0 | 0 | 1 | 0 | 0 | 0 |
| Tufnell, P C R | Eng | 1 | 0 | 0 | 0 | 0 | 0 | 1 | 0 |
| Bracewell, J G | NZ | 1 | 0 | 1 | 0 | 0 | 0 | 0 | 0 |
| Lee, B | Aus | 1 | 0 | 1 | 0 | 0 | 0 | 0 | 0 |
| Fraser, A R C | Eng | 1 | 0 | 0 | 1 | 0 | 0 | 0 | 0 |
| Williams, B A | Aus | 1 | 0 | 1 | 0 | 0 | 0 | 0 | 0 |
| Waqar Younis | Pak | 1 | 1 | 0 | 0 | 0 | 0 | 0 | 0 |
| Abdul Qadir | Pak | 1 | 1 | 0 | 0 | 0 | 0 | 0 | 0 |
| Wasim Akram | Pak | 1 | 0 | 0 | 0 | 0 | 0 | 1 | 0 |
| Hemmings, E E | Eng | 1 | 0 | 0 | 1 | 0 | 0 | 0 | 0 |
| Reiffel, P R | Aus | 1 | 0 | 0 | 1 | 0 | 0 | 0 | 0 |
| Traicos, A J | Zim | 1 | 0 | 0 | 0 | 1 | 0 | 0 | 0 |
| MacGill, S C G | Aus | 1 | 0 | 0 | 0 | 0 | 0 | 1 | 0 |
| Taylor, P L | Aus | 1 | 0 | 0 | 1 | 0 | 0 | 0 | 0 |
| Williams, N F | Eng | 1 | 0 | 0 | 1 | 0 | 0 | 0 | 0 |
| Madurasinghe, A W R | SL | 1 | 0 | 0 | 0 | 0 | 0 | 1 | 0 |
| Reid, B A | Aus | 1 | 0 | 0 | 1 | 0 | 0 | 0 | 0 |
| Wickremesinghe, G P | SL | 1 | 1 | 0 | 0 | 0 | 0 | 0 | 0 |
| White, C | Eng | 1 | 0 | 1 | 0 | 0 | 0 | 0 | 0 |
| Hayward, M | SA | 1 | 0 | 0 | 1 | 0 | 0 | 0 | 0 |
| Naimur Rahman | Ban | 1 | 0 | 0 | 1 | 0 | 0 | 0 | 0 |
| O'Connor, S B | NZ | 1 | 1 | 0 | 0 | 0 | 0 | 0 | 0 |
| Mushtaq Ahmed | Pak | 1 | 0 | 0 | 1 | 0 | 0 | 0 | 0 |
| Shoaib Akhtar | Pak | 1 | 1 | 0 | 0 | 0 | 0 | 0 | 0 |
| Vaas, W P U J C | SL | 1 | 0 | 1 | 0 | 0 | 0 | 0 | 0 |
| Dawson, R K J | Eng | 1 | 0 | 0 | 1 | 0 | 0 | 0 | 0 |
| Giles, A F | Eng | 1 | 0 | 0 | 0 | 0 | 0 | 0 | 1 |
| Nagamootoo, M V | WI | 1 | 0 | 0 | 0 | 0 | 0 | 1 | 0 |
| Ntini, M | SA | 1 | 0 | 0 | 1 | 0 | 0 | 0 | 0 |
| Murphy, B A | Zim | 1 | 0 | 0 | 1 | 0 | 0 | 0 | 0 |
| Strang, P A | Zim | 1 | 0 | 0 | 1 | 0 | 0 | 0 | 0 |
| Blignaut, A M | Zim | 1 | 0 | 0 | 1 | 0 | 0 | 0 | 0 |
| Ealham, M A | Eng | 1 | 0 | 0 | 1 | 0 | 0 | 0 | 0 |
| McIntyre, P E | Aus | 1 | 0 | 0 | 1 | 0 | 0 | 0 | 0 |
| Bond, S E | NZ | 1 | 1 | 0 | 0 | 0 | 0 | 0 | 0 |
| Styris, S B | NZ | 1 | 0 | 0 | 1 | 0 | 0 | 0 | 0 |
| Thomson, S A | NZ | 1 | 0 | 0 | 1 | 0 | 0 | 0 | 0 |
| Hooper, C L | WI | 1 | 0 | 1 | 0 | 0 | 0 | 0 | 0 |
| Wiseman, P J | NZ | 1 | 0 | 0 | 1 | 0 | 0 | 0 | 0 |
| Dale, A C | Aus | 1 | 1 | 0 | 0 | 0 | 0 | 0 | 0 |
| Doull, S B | NZ | 1 | 0 | 0 | 1 | 0 | 0 | 0 | 0 |
| Vaughan, M P | Eng | 1 | 1 | 0 | 0 | 0 | 0 | 0 | 0 |
| Oram, J D P | NZ | 1 | 0 | 0 | 0 | 0 | 0 | 1 | 0 |
| Adams, P R | SA | 1 | 0 | 0 | 1 | 0 | 0 | 0 | 0 |
| Klusener, L | SA | 1 | 0 | 1 | 0 | 0 | 0 | 0 | 0 |
| Rose, F A | WI | 1 | 1 | 0 | 0 | 0 | 0 | 0 | 0 |
| | TOTAL | 158 | 29 | 24 | 74 | 4 | 0 | 26 | 1 |