Statistical highlights of the first ODI cricket match between India and New Zealand, in Dharamsala, on Sunday.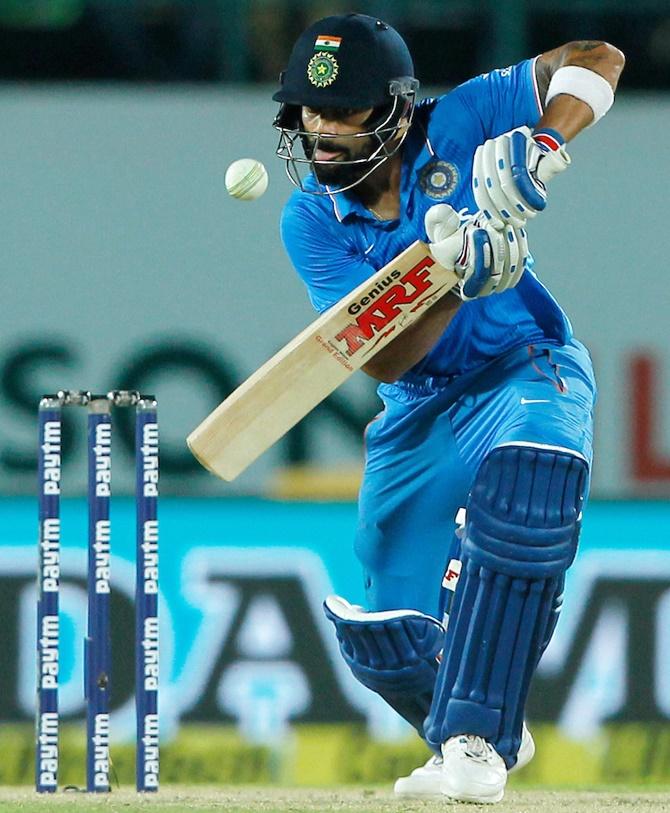 IMAGE: Virat Kohli of India bats during the 1st ODI match against New Zealand held at the HPCA Stadium, Dharamsala . Photograph: BCCI.
# Virat Kohli (85 not out off 81 balls) has recorded his fifth fifty vs New Zealand - his 37th in ODIs.
# Kohli has now recorded 32 innings of fifty-plus while chasing in day/night matches - the second highest tally next only to Sachin Tendulkar's 34 - nine centuries and 25 fifties.
# Kohli's record in ODIs on Indian soil is quite impressive - his tally being 2929 runs at an average of 56.32, including 10 centuries and 17 fifties.
# Kohli now figures in 100 matches in a winning cause in ODIs - his aggregate being 5080 (ave.68.64) including 21 hundreds and 20 fifties.
# Kohli is the 15th Indian player to be involved in 100 or more matches in a winning cause in ODIs. Sachin Tendulkar tops the charts, featuring in 234 matches.
# Since winning by 8 wickets at Chennai on December 10, 2010, India have won their first match in six outings vs New Zealand in ODIs. Of the five previous matches vs New Zealand, India had lost four while one got tied.
# India have won seven successive ODIs vs New Zealand at home between November 15, 2003 and October 16, 2016.
# Kedar Jadhav (2/6) has bowled exceptionally well for the first time in ODIs. In his first seven ODIs, he did not bowl.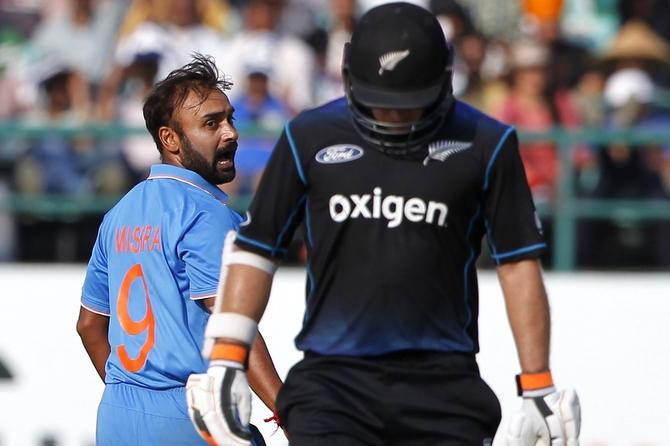 IMAGE: Amit Mishra of India celebrates a wicket against New Zealand in the first ODI at Dharamsala. Photograph: BCCI.
# Amit Mishra (3/49) has recorded his best bowling figures in ODIs on Indian soil, surpassing the 2 for 40 vs West Indies at Delhi on October 11, 2014.
# Mishra has completed his 50 wickets in ODIs - his tally being 52 (ave.25.86) in 32 matches - the quickest by an Indian spinner in ODIs, obliterating Ravichandran Ashwin's feat of reaching the landmark in 34 ODIs.
# Just three Indian bowlers have taken fewer ODIs to reach 50 wickets - Ajit Agarkar (23), Mohammad Shami (29) and Irfan Pathan (31) are the bowlers to have taken fewer ODIs than Amit Mishra to reach 50 wickets.
# Hardik Pandya became the fourth Indian player to have received the Man of the Match awards on ODI debut. Previously Sandeep Patil, Mohit Sharma and Lokesh Rahul had got the awards on debut.
# Pandya's excellent figures of 3 for 31 are the fourth best by an Indian bowler on ODI debut - the best figures being 3 for 21 by Noel David vs West Indies at Port of Spain on April 27, 1997.
# Ross Taylor's first duck vs India is his ninth in ODIs.
# In India, Taylor's batting record in ODIs is just mediocre - his tally being 252 in nine innings at an average of 28.00, including two fifties. Four times, he has registered single-digit scores in India. His highest in India is 74 vs Canada at Mumbai on March 13, 2011.
# Luke Ronchi's sixth duck in ODIs is his first vs India. In his last six ODI innings, he has not scored any worthwhile innings - the sequence being 5, 20, 16, 19, 5 & 0.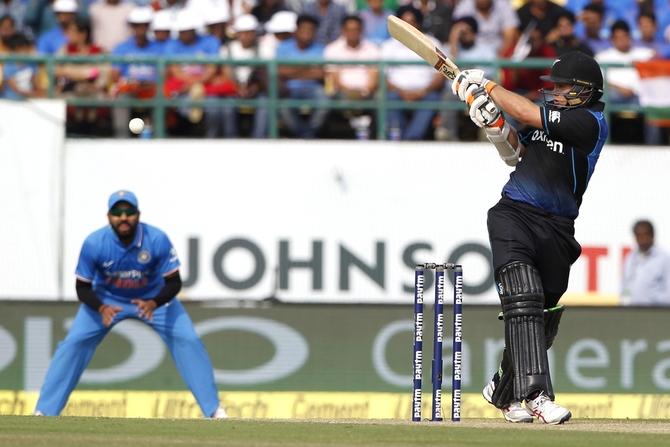 IMAGE: New Zealand opener Tom Latham plays a shot against India on Sunday. Photograph: BCCI.
# Tom Latham's unbeaten 79 is his first fifty on his first appearance against India - his second in ODIs in Asia - the first being 86 vs Sri Lanka at Hambantota on November 12, 2013.
# Latham's first fifty vs India is his fifth in ODIs. His unbeaten 79 is his highest score in a losing cause in ODIs. He had recorded two more fifties in a losing cause - both vs South Africa - 60 at Centurion and 54 at Durban – both in August 2015.
# Tom Latham (79 not out off 98 balls) has become the first New Zealand batsman and the tenth overall to achieve the feat of carrying the bat in ODIs.
# Latham became the first batsman to register the feat vs India besides becoming the first player to produce the feat in India.
# Southee and Latham were involved in a stand of 71 – New Zealand's highest stand for the ninth wicket vs India in India in ODIs, eclipsing the 67 between Kyle Mills and Nathan McCullum at Guwahati on November 28, 2010.
# The above stand is the second highest for the ninth wicket for New Zealand vs India in ODIs behind the 83 between Southee and Mills at Christchurch on March 8, 2009.
# Tim Southee (55 off 45 balls) has registered his maiden fifty in ODI, obliterating the 32 vs India at Christchurch on March 8, 2009.
# Southee became the first number ten New Zealand player to record a fifty - the sixth in ODIs. The first five were Dougie Marillier (Zimbabwe), Irfan Pathan (India), Mohammad Amir (Pakistan), Lasith Malinga (Sri Lanka) and Ravi Rampaul (West Indies).
# New Zealand's last three wickets produced 125 runs - the most for them in an ODI.