India appeared to have the upper hand on the second day of the fourth and final Test in Dharamsala but Nathan Lyon (4-67) intervened and claimed four wickets in the final session to halt the host's progress.
Rajneesh Gupta presents some interesting numbers from Day 2: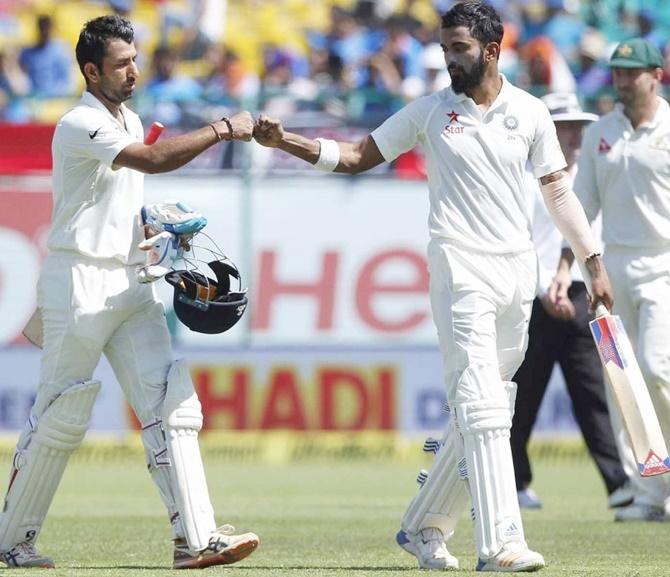 IMAGE: Cheteshwar Pujara of India and K Lokesh Rahul of India walk back after the first session during Day 2 of the fourth Test against Australia. Photographs: BCCI
5
Number of times KL Rahul has scored a fifty in this series. He could not convert any of them in to a hundred. Before this series he had converted four out of his five scores of fifties in to hundreds.
1316
Runs scored by Cheteshwar Pujara in Test matches in this season. Only one batsman – Australia's Ricky Ponting (1483) – has scored more runs than him in a season. The previous Indian record was held by Gautam Gambhir with 1269 runs in 2008-09 season.
174
Average number of balls faced by Pujara in each innings in this series. Only two Indians have faced more balls per innings in a four-match series – Rahul Dravid (222 vs England, 2002) and Sanjay Manjrekar (175 vs Pakistan, 1989-90).
3
Number of players to score 500 runs and take 50 wickets in Tests in a season. Only Kapil Dev (in 1979-80) and Australia's Mitchell Johnson (in 2008-09) had accomplished this feat before Jadeja, who now has 509 runs and 68 wickets in 2016-17 season.
10
Number of Indian players who have scored 1000 runs and taken 100 wickets in Test cricket. Ravindra Jadeja joined Vinoo Mankad, Kapil Dev, Ravi Shastri, Anil Kumble, Javagal Srinath, Harbhajan Singh, Irfan Pathan, Zaheer Khan and Ravichandran Ashwin.
19
Number of sixes hit by Ravindra Jadeja in this season – most by an Indian batsman in any season. Harbhajan Singh had hit 17 in 2010-11.
63
Number of wickets taken by Nathan Lyon against India. Only one spinner - Muttiah Muralitharan (105) - has taken more. West Indies' Lance Gibbs also has a tally of 63 wickets against India.
19
Number of wickets lost by India in post-tea session in this series. 13 of them have been taken by Nathan Lyon!