Kumar Sangakkara failed to live up to expectations in the first innings of his farewell Test as Sri Lanka reached 140 for three in reply to India's first innings total of 393 on day two of the second Test, in Colombo, on Friday.
Playing his 134th and final Test, he was unable to carry on after getting off to a start and dismissed by Ravichandran Ashwin for 32. He and Kaushal Silva (51) added 74 runs to help Sri Lanka overcome the early loss of opener Dimuth Karunaratne.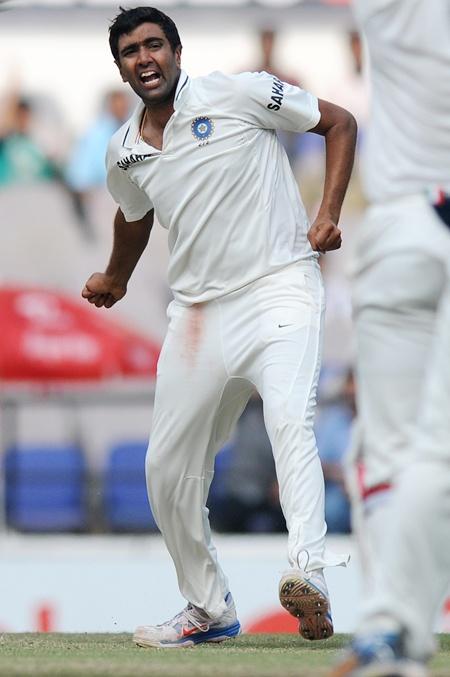 Ashwin is proving to be the spoilsport as far as Sangakkara's farewell is concerned, having dismissed him in all the three innings of the series so far.
Rajneesh Gupta presents some interesting numbers from Day 2:
- More numbers from the second Test: Day 1

55
Percent of Ravichandran Ashwin's victims are left-handers -- the highest percentage of left-handers for any bowler taking 100 wickets in Tests.

304
The difference between the run-aggregate of openers who took first strike in the series and openers who didn't. Batsmen from the both sides at No. 1 have so far managed just 22 runs in six innings, whereas those who have batted at No. 2 aggregated 326 runs in same number of innings!

6.66

Kumar Sangakkara's average against Ashwin. Sangakkara has scored 20 runs off 53 balls against Ashwin while getting out thrice. His average against Ashwin is his worst against any Indian bowler (minimum of 3 dismissals)

5
Number of maidens bowled by Umesh Yadav -- the most he has bowled in an innings. He did have same number of maidens on three other occasions, but bowled more overs then.

3
Consecutive innings in which Ashwin has dismissed Sangakkara in this series. This is the first time in his Test career that Sangakkara has fallen to the same bowler in three innings in a row in the same series!

2
Number of fifties scored by Wriddhiman Saha in the series -- the most by an Indian wicketkeeper in a series on Sri Lankan soil.