'If Tendulkar saw something he would come up to me himself and tell me'
'You don't have people of his stature come up and talk to youngsters like that'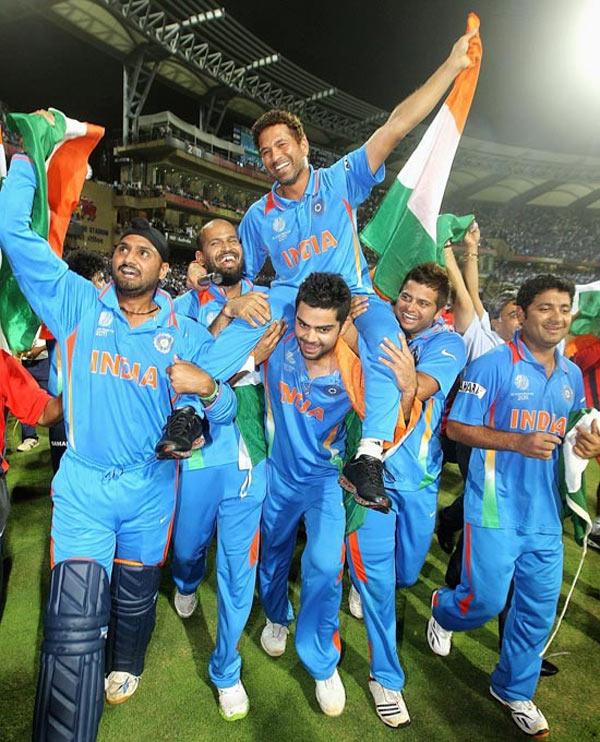 IMAGE: Virat Kohli lifts Sachin Tendulkar after India's 2011 World Cup triumph at the Wankhede Stadium.
Virat Kohli is in the form of his life and several former players, like Brett Lee, are comparing him to India's batting legend Sachin Tendulkar.
The hero of India's recent T20 series triumph in Australia was full of praise for the master blaster.
Kohli, who started playing in 2008 when Tendulkar was still in his pomp, called the Mumbai batsman his "main inspiration" in taking up the game.
Speaking to Australian power-hitter Glenn Maxwell for Cricket Australia's website, cricket.com.au, Kohli said, "I started playing cricket because of him (Tendulkar) and I was inspired to do the things that he did playing for the country.
"He really helped me with little things that I could improve on in my game. If he saw something he would come up to me himself and tell me.
"Which is quite rare. You don't have people of his stature come up and talk to youngsters like that."
Kohli also spoke of how the IPL has brought international rivals closer than ever before, providing more context for the on-field banter that is seen at the top level around the world.
"If I didn't know Starcy I would have never known what a sweet guy he is," Kohli said of his Royal Challengers Bangalore teammate Mitchell Starc. "He's a wonderful human being.
"You form perceptions without knowing people and I think the IPL lets you lift those boundaries and actually be friends with people who you play against."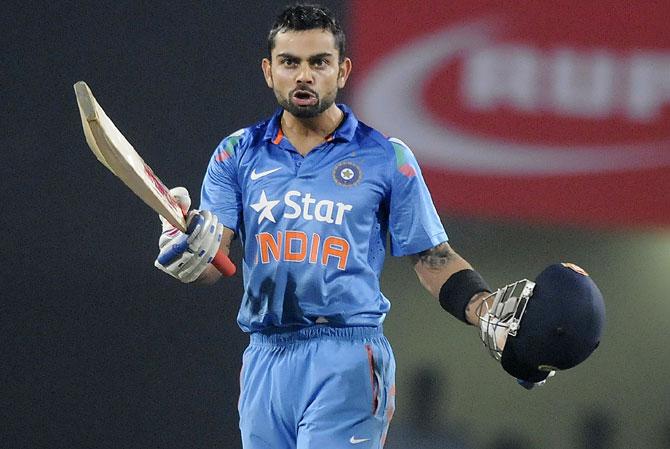 IMAGE: India's Virat Kohli reacts after scoring a century. Photograph: BCCI.
Kohli also spoke about his much-talked-about aggressive streak, saying that part of it is inherited from his family while the rest can be blamed on the tough system he fought through to break into the international scene.

"I think it has got to do with the family; my father was a Leo, he could fight. He always believed in himself. I think it comes a bit from the family plus growing up in the Delhi system.
"It wasn't easy, you always had to fight to go up the system and that makes you mentally tough. You stop worrying about things around you and focus on what you want."
The top-ranked player in T20Is said he always dreams of being a premium wicket for bowlers.
"When I came to the international level I wanted to be the player which the opposition wanted out. I never wanted to be just another player in the eleven.
"I always wanted to be somebody who the opposition wanted to get out first."