Urvi Malvania reveals STAR India's big plans for IPL-11.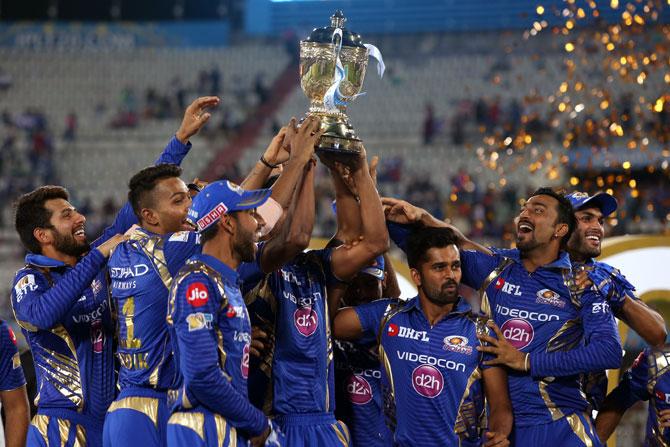 IMAGE: Mumbai Indians celebrate winning IPL-10. Photograph: BCCI
STAR India has big plans for the forthcoming 11th edition of the Indian Premier League as it prepares to host the annual Twenty20 extravaganza for the first time.
It has blocked a six-month calendar for the tournament, dedicated 10 channels on its sports network and innovated with technology to attract digital viewership and engagement.
The matches are scheduled to held from April 4 to May 31, but IPL-related telecasts will start from January itself.
"The IPL is the biggest property in India and the challenge for us was to reimagine it and, more importantly, scale it up," says STAR India Managing Director Sanjay Gupta.
"From two languages in 2017," Gupta explains, "we'll be taking it to six languages in 2018 across 10 channels. And when I say six languages, I mean six different feeds, each with localised packaging, commentary and pre/post-programming."
Scaling up of investment for the property is huge, "but nothing compared to Rs 55 crore (Rs 550 million) a match (in rights fee)," Gupta adds.
STAR India had won the global media rights to the IPL earlier this year for Rs 16,384 crore (Rs 163.84 billion) for five years.
As of 2017, the IPL was seen by 410 million people on TV and another 130 million on digital (Hotstar).
However, till last year, the viewership was fragmented and Gupta believes the full potential of the tournament has not been realised.
While the television rights were with Sony Pictures Networks, STAR India had the digital rights for four years.
In 2018, the IPL will have just one destination for the first time.
Using this to their advantage, Gupta and his team aim to capture more eyeballs this year, aiming at 700 million.
"I feel TV reach can increase to 510 million and the digital reach can touch around 200 million in 2018. That's the target for us," Gupta says.
This would lay the ground for attracting advertisers. Expanding the coverage to six months gives STAR a hefty inventory.
Gupta says this would also help push rates without alienating brands.
"I think with a longer calendar for the IPL and six language feeds, we are opening the scope for all 200 sports-relevant brands and those beyond them, too, to advertise on the IPL."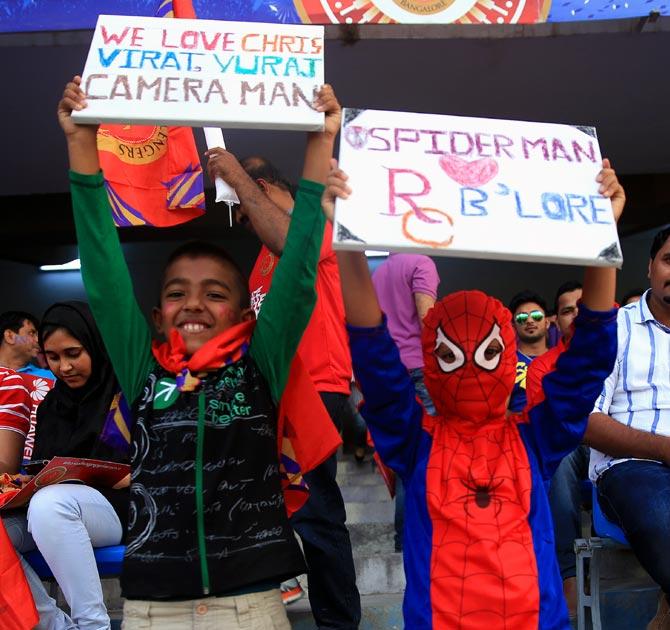 IMAGE: Young fans enjoy watching the IPL. Photograph: BCCI
The IPL is perhaps among the most expensive advertising avenues in the country.
STAR intends to make it possible for smaller local players and the national bigwigs to join the tournament.
As of 2017, 60 to 70 brands came on board for the IPL. Sony alone clocked ad revenue of Rs 1,300 crore (Rs 13 billion) on television while Hotstar clocked around Rs 200 crore (Rs 2 billion).
With a wider channel base broadcasting the IPL, and a longer tournament calendar, STAR hopes to increase the television inventory rate by around 20 per cent.
STAR has put its bets on two aspects of broadcast -- localisation and technology. "At Sony, the IPL played in the HSM belt," Gupta says. "At STAR, it'll be truly national. Localisation has helped the network grow in drama over the past 10 years and we've seen that growth mirrored in sports too."
Along with dedicated language feeds, the network will also have a Super Fan feed available across cable, DTH and on Hotstar.
This will be a curated feed for fans who want to watch more than just the match.
It will have data layers about the teams and players during telecast and multiple camera angle options.
The Super Fan feed is also a monetisation avenue for STAR on its video streaming platform Hotstar.
"We'll be looking at monetising this feed on Hotstar either through the direct-to-customer approach or through tie-ups with telcos," says Ajit Mohan, chief executive officer-digital, STAR India.
"Additionally, since this is the first time Hotstar will have live IPL (as opposed to the five-minute delayed telecast till 2017), we also plan to offer the live feed to our premium (paying) subscribers," Mohan adds.
Hotstar will include some engagement features to make viewing on the app a "community experience". The app will add check-in and emoticons features for users.
"While our first campaign said 'Go Solo' and talked about viewing Hotstar on the personal screen, sports is a more community experience. So we have introduced features where viewers can share the game (viewing) with their friends," Mohan says, "even if they are in different cities, and emote about the moments in it."
"Till now," Mohan adds, "the traction Hotstar got was because of ease of access and mobility while watching the IPL. Now we want to lead growth on the platform through engagements which will come from technology innovation."