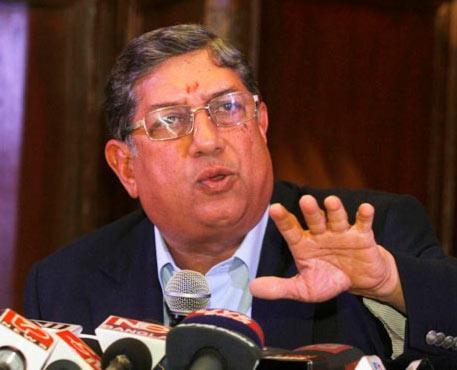 The Board of Control for Cricket in India's Working Committee members were unanimous in their opinion that a legal recourse must be planned against unrecognised Cricket Association of Bihar secretary Aditya Verma for 'spreading baseless rumours' against president-in-exile Narayanswami Srinivasan and Co.
- Why Srinivasan barred from contesting BCCI elections
"One of the Working Committee members today raised concerns about constant unsubstantiated claims made by one Aditya Verma and wanted working committee members to take due cognisance of the matter. The BCCI is planning extensive legal action against Verma, who has been constantly spreading canards about Srinivasan as well as raising claims of conflict of interest against Shivlal Yadav and Rajiv Shukla," a senior BCCI member present at the meeting told PTI on Sunday.
Yadav is interim president of the BCCI, while Shukla is the vice-president.
"In fact, don't be surprised if multiple BCCI affiliated units file legal petitions against Verma, who is allegedly a front of Shashank Manohar, Lalit Modi and A C Muthiah faction. In fact Srinivasan, who attended the meeting was very vocal about the kind of things being said about him and BCCI by some former presidents," a source added.
"Srinivasan himself raised the issue of Shivlal's alleged conflict of interest. He said 'this man Verma said that Shivlal's son (Arjun Yadav) works in my company. This is completely false. One ex-president went to Mudgal Commission and reported that IPL CEO Sundar Raman is my relative. I want to put it on record that Sundar is not my relative and he was recruited by Lalit Modi. So a lot of allegations are flying thick and fast and BCCI needs to address it'," the source said.
Interestingly, during the meeting Srinivasan did most of the talking and had complete control of the proceedings.