Even as Sri Lanka sweats over pacer Lasith Malinga's injury, skipper Angelo Mathews hopes to inspire his young team to defend its WT20 title, reports Harish Kotian/Rediff.com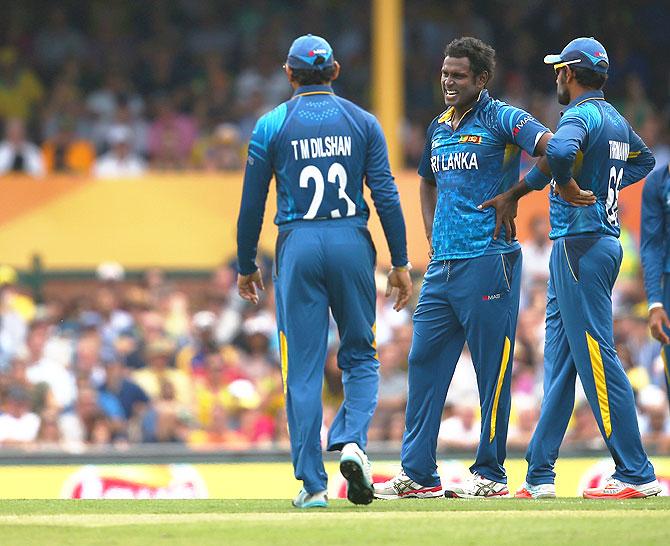 IMAGE: Sri Lanka will hope to bounce back from its dismal show at the Asia Cup. Photograph: Mark Kolbe/Getty Images
Defending champions Sri Lanka have endured a torrid time in the run-up to the World T20.
They have lost consecutive T20I series in New Zealand and in India, followed by a nightmarish display in the Asia Cup, where they won one out of four matches -- they lost to Bangladesh, India and Pakistan, the only win coming against minnows, the United Arab Emirates.
Things got worse when captain Lasith Malinga stepped down as the T20I captain following a slow recovery from a knee injury, which has rendered him a doubtful starter for the World T20.
A late decision was made to draft Angelo Mathews as captain for the World T20 on Tuesday, March 8, a few hours before the islanders left for India.
Mathews admitted he is not ready to take up the challenge at such short notice.
"But I have the experience of captaining for quite a few years now," Mathews said. "Every tournament is a challenge, every game is a challenge. Whether you are the captain or not, you have a certain role to play in the team."
"The selectors and Lasith have been planning for this tournament for a quite a long time," Mathews said in Mumbai on Wednesday, "so they worked together. Now it is a different situation. I have to get the best out of the team."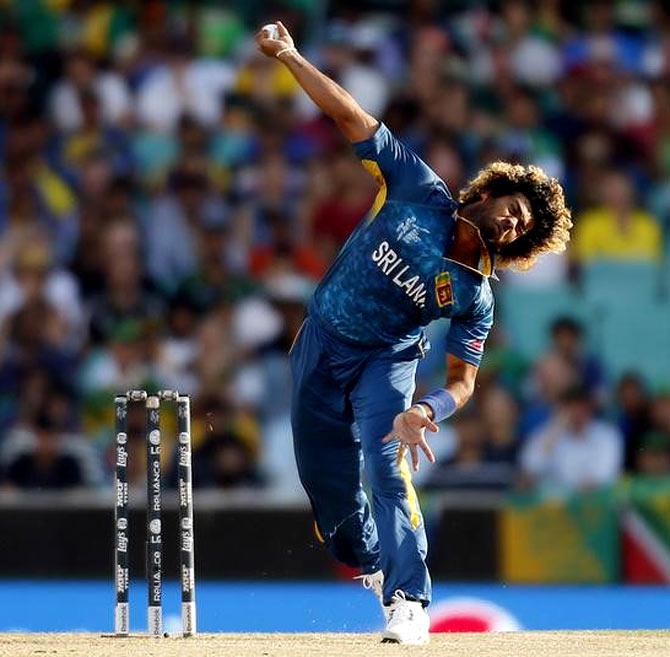 IMAGE: Lasith Malinga played only the opening game in the Asia Cup. Photograph: Jason Reed/Reuters
"I was told to lead the team, and how can I say no?" Mathews said, when asked about the arrangement. "I can't let the team and the country down. I will take this as a positive because I know they trusted me."
Sri Lanka hope Malinga can recover in time to play the first match, against a qualifier in Kolkata on March 17.
"As of now, he won't be playing the practice games," Mathews said about the Mumbai Indians spearhead. "We want him to rest and recover because we know the quality he has in him. He can train a couple of days and walk straight into a match. He is like that. We are hoping he'll get a couple of net sessions before the first game. That is only a hope."
"It was a challenging tournament for us," Mathews said, speaking about the Asia Cup. "We found it really hard to even compete sometimes. That is the truth. We didn't play good enough cricket to get to the final at least. But this is a fresh tournament for us."
"We have learnt so many things from the Asia Cup," he said, "and we will take that experience to the World Cup."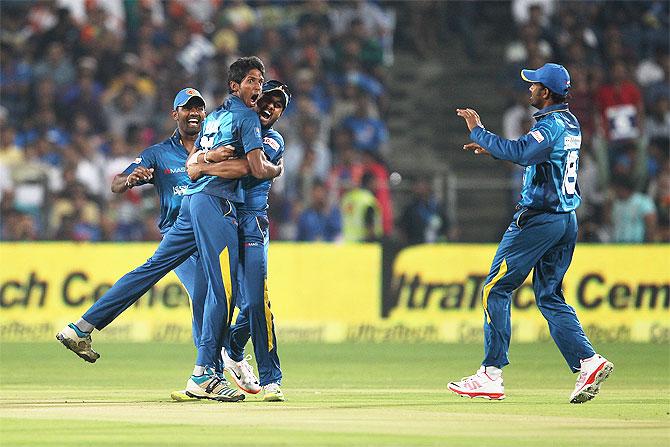 IMAGE: Sri Lanka pacer Kasun Rajitha celebrates after dismissing Rohit Sharma in the first T20 International against India in Pune last month. Photograph: BCCI
Mathews believes the team selection for the three-match T20I tour of India in February when they fieded several new players was not wise. Many of those players are not part of the World T20 squad.
The defending champions made two late changes to the squad on Tuesday when Lahiru Thirimanne and Suranga Lakmal were drafted in place of Niroshan Dickwell and Jeffrey Vandersay.
"Unfortunately, about five or six guys were rested because they had little niggles. The management didn't want to take a chance because we had the Asia Cup and the World T20, so that was not a great tour for us. The first game was pretty good, we beat India in India, it was a huge achievement. The rest of the games we didn't fare well."
"It was an inexperienced team," he added, "it was definitely a challenging tour for the players who toured. Unfortunately, the six or seven guys included in this squad didn't go to India, so it was not a massive learning curve."
Sri Lanka is in Group 1 of the Super 10 stage along with England, South Africa, the West Indies and a yet-to-be decided qualifier.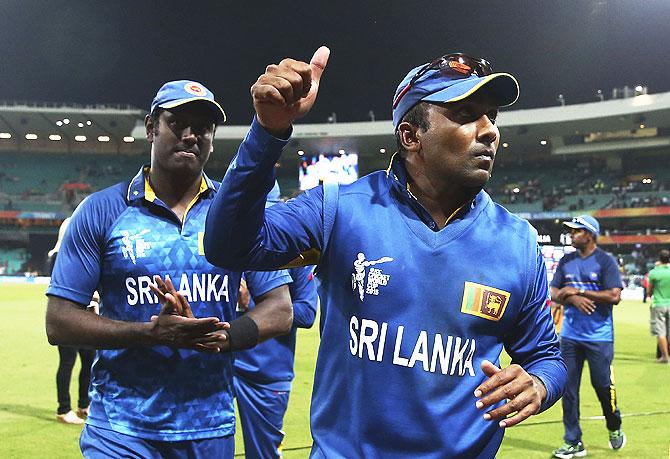 IMAGE: Mahela Jayawardene, centre. and Angelo Mathews. Photograph: Ryan Pierse/Getty Images
"Not going in as favourites is doing a favour for us," the skipper felt. "The morale is quite good. We are not mourning about the Asia Cup. It is done and dusted. We've left it behind. It is a fresh start for us. We are hoping we'll click. We are starting our campaign tomorrow (with a warm-up match in Mumbai) and hopefully we can go right till the end."
Mathews blamed Sri Lanka Cricket's faulty policies which left a big hole in the team after the retirements of Mahela Jayawardene and Kumar Sangakkara.
"To fill the shoes of Sangakkara and Mahela is going to take quite a bit of time," Mathews said. "We have got to have a bit of patience, try and build up the squad for the World Cup, which we didn't do. We were quite impatient."
"With a set of inexperienced guys you need to let them settle down a little bit. Unfortunately, this team is not quite settled. These players have not played matches together for a long time. We know we are quite a capable team, if we gel ourselves together, if we click, I am sure we can overcome any obstacle."