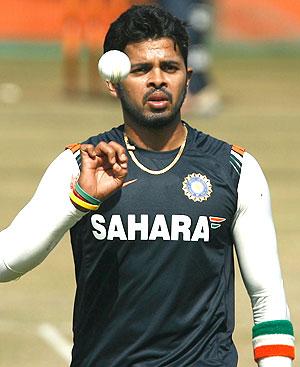 Cricketer Shanthakumaran Sreesanth on Friday moved the Kerala high court seeking its direction to the Board of Control for Cricket in India to grant a No Objection Certificate (NOC) to participate in the Premier League matches of Glenrothes Cricket Club in Scotland.

In a letter sent to the club on August 10, he said that he had sent a communication to BCCI to issue a NOC with immediate effect to enable him play for the club.
Sreesanth has also shared his apprehension that he doesn't think the BCCI will take a timely decision to grant him the NOC.

In his petition to the high court, the former India fast bowler said: "Without intervention of this court by issuing necessary clarification this petitioner reasonably apprehends that the BCCI may not issue such NOC."

The Premier League matches will conclude on or before September 9, the petition states.

In a relief to Sreesanth, the Kerala high court had on August 7 lifted the life ban imposed on him by the BCCI in the wake of the 2013 IPL spot-fixing scandal.

In his order, Justice A Muhamed Mustaque had also set aside all proceedings against Sreesanth initiated by BCCI.