A defiant Board of Control for Cricket in India president N Srinivasan insists he will attend the Working Committee meeting in Delhi on August 2 despite the Bombay high court ruling that the constitution of the spot-fixing probe panel, which gave his franchise Chennai Super Kings a clean chit, was "illegal and unconstitutional".
"Yes, I will be attending the BCCI working Committee meeting in New Delhi on August 2," Srinivasan told PTI over phone on Tuesday.
Asked specifically in which capacity he would attend, he shot back: "Come there and see for yourself as to what capacity I will be attending the meeting!"
Tamil Nadu Cricket Association is a permanent member of the BCCI Working Committee and Srinivasan might as well attend the meeting by virtue of being the president of the state association.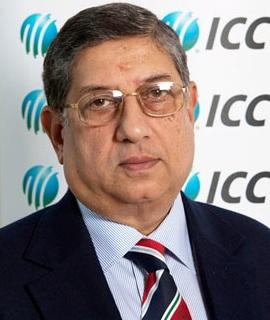 Normally, Srinivasan confidant and former India Cements employee Kashi Viswanathan represents TNCA at such meetings.
Srinivasan also took an aggressive stance when asked about the Bombay high court's ruling on the probe panel, which was formed to inquire into the IPL spot-fixing scandal.
- Lele says BCCI's spot-fixing probe was 'eyewash'
"I don't know why you people are making a big issue. A writ was filed and the court has given its verdict. The matter finishes there. I have no further comments to make on this issue," he said.
Srinivasan stopped discharging his duties as BCCI president after the formation of a two-member probe panel, comprising of Retd Justice T Jayaram Chouta and R Balasubramanian, to look into the allegations of betting and spot-fixing against his son-in-law, Gurunath Meiyappan.
Last Sunday, the probe panel cleared him, Meiyappan and Rajasthan Royals co-owner Raj Kundra of wrongdoing during the sixth edition of cash-rich Twenty20 extravaganza.
According to a BCCI source, the Working Committee on August 2 will take a decision on whether to immediately appeal against the verdict in the Supreme Court or wait till the police authorities complete their probe in the matter.
"We have succeeded and the court has accepted our contentions. It is now up to the BCCI to see what is to be done next," advocate Amit Naik, who appeared along with senior counsel Virendra Tulzapurkar and Birendra Saraf for the petitioner, said.
The BCCI and Srinivasan, in their reply affidavits, termed the petition "motivated and vested with personal interests".
Image: N Srinivasan