Young left-arm spinner Harmeet Singh has told the Board of Control for Cricket in India that he personally had no knowledge whether his three Rajasthan Royals' teammates who are implicated in the IPL spot-fixing scandal had any intention of wrongdoing.
In his reply to the show cause issued to him on September 4, Singh denied that he failed to report the matter to the BCCI or its designated anti-corruption unit, headed by Ravi Sawani, as required under the IPL Code of Conduct.
The BCCI's two-member disciplinary committee is slated to meet in Delhi on Friday to hear Harmeet and the three accused players – Shantakumaran Sreesanth, Ajit Chandila and Ankeet Chavan.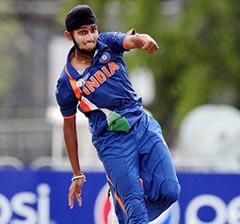 Harmeet assured the BCCI that he will appear personally, but requested that his lawyer be allowed at the deposition before the committee, comprising Arun Jaitley and Niranjan Shah.
Harmeet, through his lawyer, Ashok Paranjpe, further said the one-man probe commissioner appointed by the BCCI – Sawani - had never summoned him, as has been alleged in the BCCI's show cause notice.
He said, in fact, he voluntarily appeared before Sawani and narrated the facts, as appearing in the statement made before a Delhi magistrate.
The contents of the statement made before the magistrate were repeated before the Inquiry Commissioner, he added in his reply to the notice.
However, he said, to his shock and surprise, the inquiry report has statements contrary to those made by him before the magistrate.
"Also, they are exaggerated, twisted and words are put into my mouth under coercion by the Inquiry Commissioner."
Harmeet said the inquiry officer did not allow him to see what he had recorded and he (Harmeet) was compelled to sign the said report under coercion without reading it.
He said the Delhi police, which is investigating the case, had given him a clean chit and also concluded that he was not directly or indirectly connected with any of the accused in alleged spot-fixing in IPL matches.
Harmeet, a member of the victorious Indian under-19 World Cup team last year, is suspended by the BCCI pending the completion of the disciplinary committee's probe.
Image: Harmeet Singh