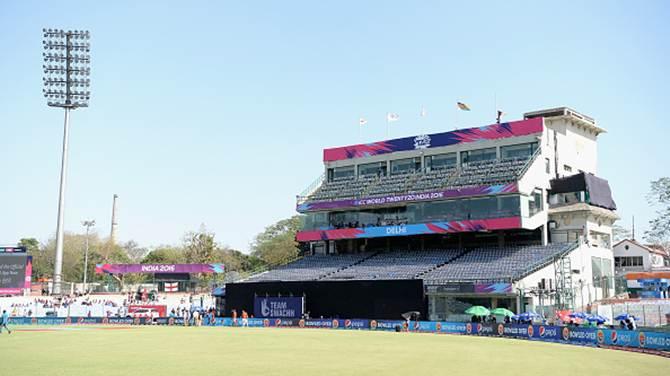 IMAGE: The R P Mehra Block at the Feroz Shah Kotla ground wears a deserted look during the ICC World Twenty20 Group 1 match between England and Afghanistan, on Wednesday, March 23. Photograph: Gareth Copley/Getty Images
Delhi got the go-ahead to host a World Twenty20 semi-final as scheduled on March 30 after the embattled Delhi and District Cricket Association was granted the requisite clearances to use the contentious R P Mehra Block at the Feroze Shah Kotla Stadium on Wednesday.
There was uncertainty over the match being held at the Kotla for lack of a completion certificate for the Mehra block.
The DDCA was given an extended deadline till 2pm Wednesday to furnish the clearance, which it did after its officials met with with Justice (Retd) Mukul Mudgal, the Supreme Court-appointed observer for cricket body.
"The DDCA stands have been cleared till 2017. Not only this match but all the IPL matches will go ahead as planned. Decks were cleared after Justice Mudgal was convinced that there would no legal problem in holding the matches," a DDCA official told PTI.
Wednesday's meeting with Mudgal was attended by DDCA working president Chetan Chauhan, treasurer Ravinder Manchanda and an ICC legal advisor.
The DDCA now has the go-ahead to use the R P Mehra Block, which has a seating capacity of around 2000.
Earlier on Tuesday, the DDCA withdrew its petition seeking direction to the South Delhi Municipal Corporation (SDMC) to issue the requisite certificate for the block, which is at the centre of controversy.
The Mehra Block hasn't been used for the World T20 matches played at the Kotla so far.
The ICC was concerned about the prospect of the matches being held at Kotla in front of empty stands, especially from the broadcast point of view.
Prior to this, the DDCA's attempt to get relief from the Delhi high court had failed.
The petition by the cricketing body seeking a direction to the South Delhi Municipal Corporation to issue the certificate for the block came up for hearing before Justice A K Pathak, who referred the plea to a division bench, observing that DDCA's issues are pending before it.