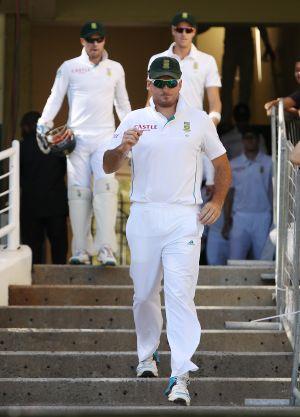 Graeme Smith has received an enormous compliment from former India coach Gary Kirsten, who called the just-retired South African legend the "best captain that has ever lived" in Test cricket.
The South African called time on his international cricket career after a successful run that saw him being handed over national captaincy at 22, following the 2003 World Cup.
Kirsten, under whom Kirsten played the final four Test series of his career, said, "Is he the greatest captain ever in Test match cricket? In my view he must be."
"I don't think anyone had led as long. We know that. He has taken South Africa to great heights. The kind of success he has had, the kind of success he has taken South African cricket to, I would argue that he is the best captain that has ever lived," Kirsten was quoted as saying by cricinfo.com.
The 33-year-old Smith led South Africa in all but the first eight of his 117 Tests, the most in the history of Test cricket.
According to the 46-year-old Kirsten, under whom India won the 50-over World Cup in 2011 besides attaining the No.1 position in Tests, the success Smith achieved as an opener despite the added resposibility of captaincy, was massive.
"For Graeme to end up with an average above 48 and then to have the type of leadership success he did have is absolutely a massive achievement," Kisten said.
"You look at his record in the fourth innings and his ability to make important contributions. That gave the team a lot of confidence. It gives your team a lot of comfort to know that the captain is walking the talk."
Image: Graeme Smith
Photograph: Morne de Klerk/Getty Images