South African player Vernon Philander has reportedly taken the No.1 spot on the ICC player rankings for Test all-rounders.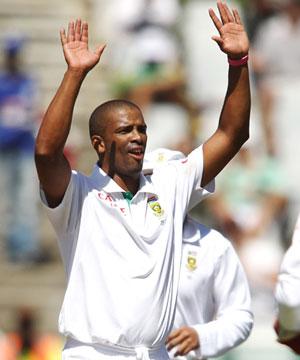 Philander has markedly improved his batting in the last while and almost helped South Africa claim a famous draw on the final day of the third Test against Australia at Newlands on Wednesday.
According to Sport24, the all-rounder, who scored 51 not out as the hosts lost by 245 runs to surrender the series 2-1, has moved up two places to the top of the all-rounders' table, pushing India's Ravichandran Ashwin to second and is now on 376 ratings points, three ahead of Ashwin.
However, Philander has moved the bowler rankings after he picked up just one wicket in the Newlands Test and subsequently moved down a place to third, with Australia's Ryan Harris, who ended with a match haul of seven for 95, moving up two places to a best-ever second position, the report added.
'Retired' Smith kept vigil at 'burnt' daughter's bedside hours
Meanwhile, as per reports retired South African Test captain Graeme Smith was reportedly with his wife keeping vigil at the bedside of his one-year-old daughter in hospital just hours before he took the field during his final Test.
Smith's daughter Cadence Christine Smith was burnt in an incident during the second Test against Australia two weeks ago and on Tuesday underwent surgery.
According to News.com.au, South African team manager Dr Mohammad Moosajee confirmed that Smith had been with his wife Morgan at his daughter's bedside at Life Kingsbury Hospital shortly before the start of the fourth day's play in Cape Tow, adding that the surgery was completed successfully.
Moosajee further said that like any father, it was important for Smith to accompany his daughter to surgery, adding that the management have always emphasised that players' families are as important as important as their careers.
Smith's daughter had tipped her brother's heated milk onto herself resulting in burns severe enough to require three operations, the report added.
Image: Vernon Philander
Photo: Getty Images