Smith suspended for one Test by the International Cricket Council
Bancroft escaped a ban and is therefore free to play in the fourth Test if selected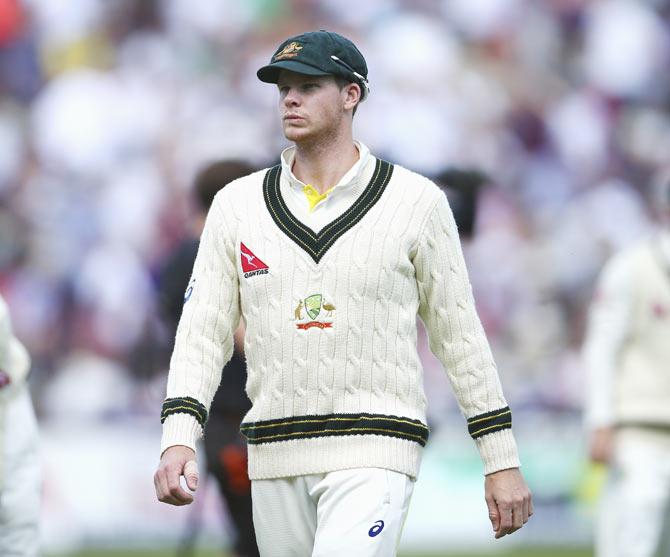 IMAGE: Steven Smith wears a dejected look. Photograph: Ryan Pierse/Getty Images
Steve Smith stepped down as Australia captain on Sunday and has been suspended for one Test by the International Cricket Council amid stunning ball-tampering revelations that have plunged the Test team into crisis.
Smith was also fined 100 per cent of his match fee, while opening batsman Cameron Bancroft, who was caught on camera attempting to alter the condition of the ball, was handed three demerit points and a 75 percent fine of his match fee.
Bancroft, however, escaped a ban and is therefore free to play in the fourth Test starting in Johannesburg on Friday if selected.
David Warner also resigned as vice-captain on Sunday amid shock and disappointment at the conduct of the team back home.
Cricket Australia said Smith and Warner had agreed to give up their leadership roles following 'discussions' with the governing body, with wicketkeeper Tim Paine to take the reins for the remainder of the third Test in Cape Town and mostly likely now the fourth.
Smith had admitted on Saturday that the ball-tampering carried out by Bancroft had been orchestrated by himself and senior players but although he was 'embarrassed' by the scandal, he had no intention of stepping down as skipper.
The series is currently poised at 1-1, though South Africa are in a strong position in the third Test having set Australia 430 to win.
The cost to Australia's reputation is high, with cricketing officials and former players across the globe branding the team cheats and fans castigating the players on social media.
South Africa coach Ottis Gibson had called for strong action from the ICC.
Australian newspapers described the scandal as the worst captaincy crisis since 1981 when skipper Greg Chappell instructed younger brother Trevor to bowl underarm with the last ball of a one-day match against New Zealand to secure a victory.
Michael Clarke, Smith's predecessor as captain, said the revelations were 'disgraceful' and that he had no doubt that the skipper would be 'crying in his hotel room'.
"I can't believe the senior players have made a decision to do that," he told Australian television. "It's disgraceful and it's not accepted by anyone."
Former captain Allan Border said it was a 'a bad look for Australian cricket' while former Test bowler Rodney Hogg was one of many who said that Smith could not continue in his role.