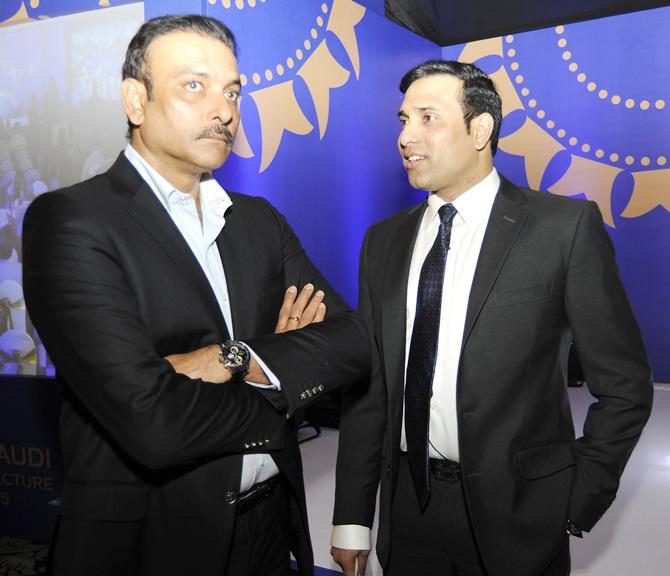 Ravi Shastri, Director of Cricket for the Indian cricket team, and former India batsman VVS Laxman at the third annual Pataudi Memorial lecture. Photograph: BCCI
Performing well overseas should be India's top priority and the Test squad needs "smart preparation" every time it embarks on a tour, says former India batsman VVS Laxman.
'Day-Night Test matches will add an exciting dimension to the game'
VVS Laxman's Pataudi Lecture: Full Text
Very strong at home, India's problems while travelling have been well-documented, the team losing 13 of their last 17 Test matches on foreign soil.
The last time India toured Australia they were blanked 4-0 and with another four-Test series starting on the bouncy tracks Down Under next month, Laxman feels India should reassess their preparation.
"In an ideal world, before we travel to Australia or South Africa, we would spend weeks together in camps, honing techniques against the bouncing ball or working out the lengths that are optimal to bowl on surfaces with pace and bounce," Laxman said, while delivering the annual Pataudi Memorial Lecture in Kolkata on Wednesday.
"But we do not live in an ideal world, with tours packed into the calendar. Today, we need to substitute extensive preparation with smart preparation."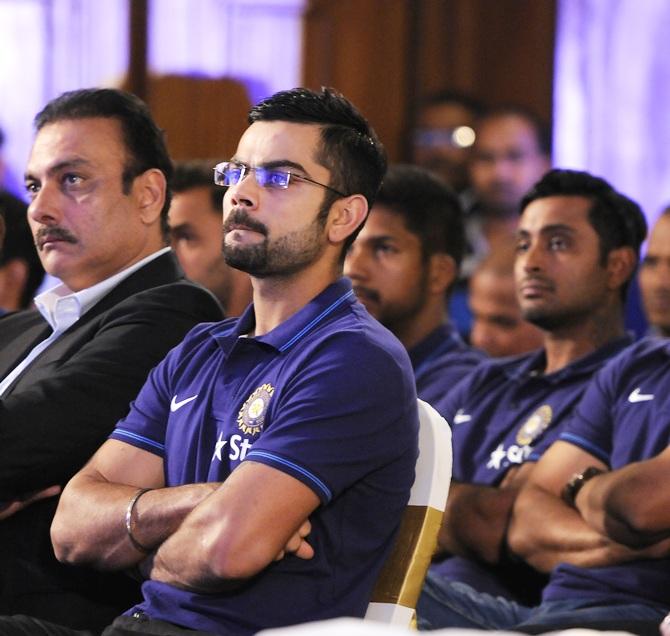 Virat Kohli, India's captain for the ongoing ODIs against Sri Lanka, with teammates and officials listen to VVS Laxman at the Pataudi Memorial Lecture. Photograph: BCCI
Laxman, who retired in 2012, said while India should not give up the home advantage of playing on spin-friendly tracks, they should identify centres across the country where they can try and replicate foreign conditions.
"India has been the number one test team in the past, a position we held for nearly three years," Laxman, who was a batting mainstay in India's middle order, said.
"As we seek to return to the top of the Test rankings, it therefore becomes non-negotiable that we improve our performances away from home."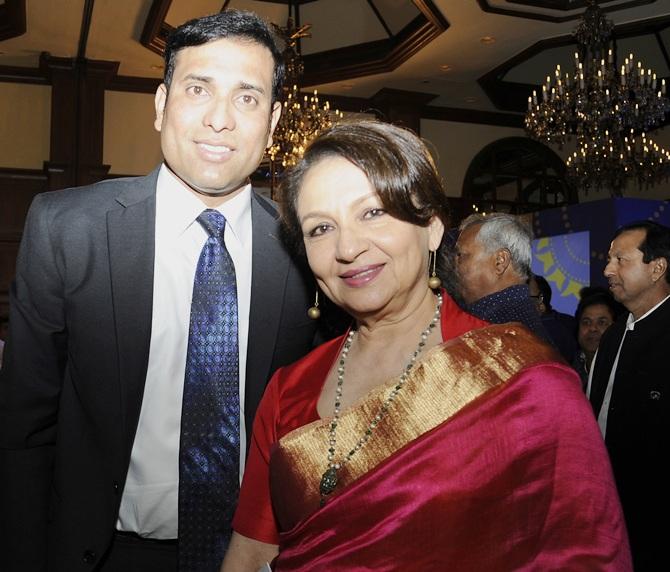 Sharmila Tagore, wife of late MAK Pataudi, and VVS Laxman during the third annual Pataudi Memorial lecture. Photograph: BCCI
Laxman also lauded the International Cricket Council's efforts to identify and sanction bowlers with suspect actions but called on the governing body to do more for the survival of Test cricket.
A big fan of Twenty20 cricket, Laxman wants both formats to co-exist and said drawing spectators to Tests was the 'biggest challenge' for administrators.
"The survival of the longer version of the game is critical for the future of cricket," the 40-year-old added.