By scoring over 300 runs New Zealand batted themselves to a comfortable position but Indian spinner Pragyan Ojha said they too did a good job by taking six wickets on a pitch which did not help the bowlers much.
New Zealand skipper Ross Taylor scored a century to help his side reach 328 for six on the opening day of the second Test.
"Zaheer Khan, Umesh Yadav, Ravichandran Ashwin and myself supported each other well to pick wickets. Getting six wickets on a pitch which did not help bowlers is good to boost bowlers' confidence," Ojha told reporters.
If the catch of Martin Guptill would have been held in the slips, there would have been a different story altogether as the ball was doing a bit in the morning, Ojha, who was the most successful bowler with four wickets, added.
Asked whether India were surprised with the aggressive tactics of the Black Caps, he said the visitors worked well on their gameplan to attack Indian bowlers on a pitch which did not have much in it.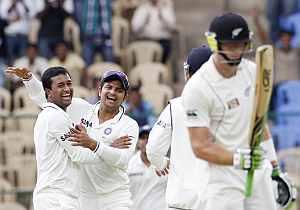 Ojha said it was difficult to predict how the wicket would behave from the second day onwards, but there was some turn when the ball was hurled at a slow pace.
"However I felt it was a good day one wicket," he said.
Ojha further said the wicket is good to bat on and expressed confidence that Indian batsmen would score on it.
The left-arm spinner said he was not surprised when Dhoni asked him to bowl the first over of the match.
"Dhoni bhai told me before the toss that I will be bowling the first over and I was ready for it. There was some moisture on the wicket in the morning and Dhoni decided to use it to India's advantage by asking me to open the attack."
He further said he did not think much when he opened the bowling, except that he concentrated to maintain a tight line, not giving much room for batsmen to score.
Replying to a query, he said he has brought variety into his bowling and was using bowling crease to increase the chances of taking wickets. However, he did not specify which wicket-taking delivery he was working on.
Photograph: Vivek Prakash/Reuters