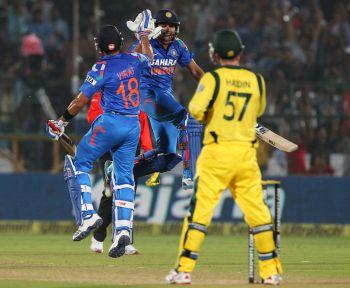 BCCI vice-president Rajiv Shukla praised Indian batsmen for pulling off the second highest ever successful run chase in ODI history against Australia and said the win in the second ODI has made the seven-match series exciting.
"2nd highest succsful run chase in ODIs was mde to look lke an effrtless task...Shikhar n Rohit's marvelous start really paved the way contd," Shukla tweeted.
"Virat has really dismantled Viru's record ... both his n Rohit's centuries wre magnificent to watch.. Makes the series even more exciting now," he said.
India pulled off an incredible nine-wicket victory over Australia in the second cricket one-dayer in Jaipur, achieving the second highest ever run chase in ODI history.
Rohit Sharma (141 not out), Virat Kohli (100 not out) and Shikhar Dhawan (95) were the main contributors as India chased down the 360-run target with 40 balls to spare.
Image: Rohit Sharma and Virat Kohli
Photograph: BCCI