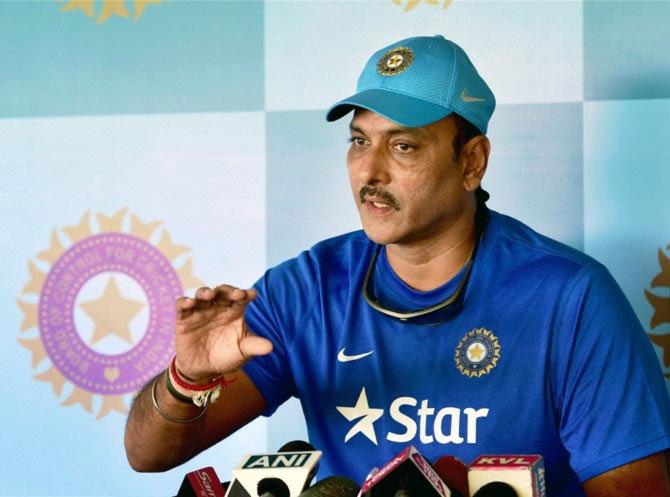 IMAGE: Former India Team Director Ravi Shastri is top contender for the Head Coach's job as he is believed to share a good rapport with India captain Virat Kohli. Photograph: PTI
Former Team Director Ravi Shastri will be the front-runner for the Head Coach's job of the Indian men's cricket team when the three-member Cricket Advisory Committee (CAC) meets in Mumbai on Monday to scrutinize candidates for the high-profile vacancy.
- VOTE: Who should replace Kumble?
For the record, the Indian cricket board (BCCI) has received 10 CVs -- Shastri, Virender Sehwag, Tom Moody, Richard Pybus, Dodda Ganesh, Lalchand Rajput, Lance Klusener, Rakesh Sharma (Oman national team coach), Phil Simmons and Upendranath Bramhachari (engineer with no cricketing background).
It is learnt that the CAC will interview six of the 10 candidates.
According to sources, the six likely candidates are Shastri, Sehwag, Moody, Simmons, Pybus and Rajput.
Klusener, as of now, may be kept on stand-by but has very little or no chance of getting the job.
The position had fallen vacant after former head coach and legendary spinner Anil Kumble resigned from the post before the West Indies series due to differences with skipper Virat Kohli.
After the Kumble-Kohli saga, the CAC will have to be prudent in its choice as the new coach will be given a two-year contract.
Shastri had initially not applied for the post but when the BCCI extended the deadline for acceptance of applications to July 9 (today), the former skipper jumped into the fray and has now become the hot favourite.
Given his cordial equation with Virat, Shastri, who had a successful tenure as team director with India reaching the semi-final of the ICC World Cup in 2015, is most likely to get the job.
However, what is still not clear is the viewpoint of Sourav Ganguly, with whom Shastri had a very public spat with both taking potshots at each other when the latter had applied for the coach's job in 2015.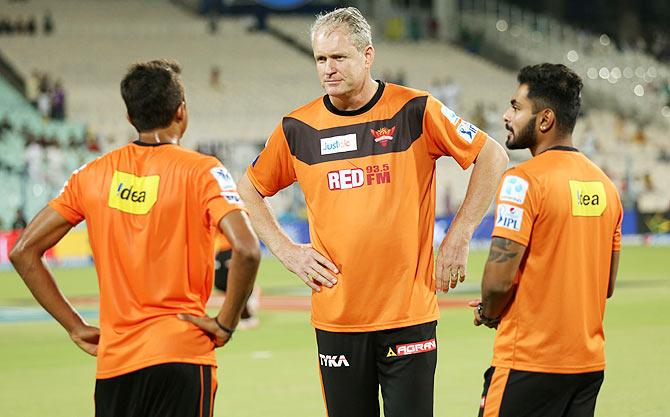 IMAGE: Former Australia all-rounder has served as coach of the Sri Lankan team and IPL franchise Sunrisers Hyderabad. Photograph: BCCI
Shastri had then alleged that Ganguly wasn't present when he was being interviewed via Skype. Ganguly had responded that had Shastri been serious, he should have appeared in person for the interview.
The other notable candidate is flamboyant opener Sehwag. Sehwag was a genius in his own rights, but his coaching credentials are yet to be proven.
A two-year stint as Kings XI Punjab mentor has not yielded the desired results.
Moody can't be totally ruled out because of his rich credentials as an international and franchise coach. He had coached Sri Lanka to the 2011 World Cup final and guided Sunrisers Hyderabad to an IPL triumph.
Moody had also appeared last year for an interview but lost out to Kumble, who was too big a name to be ignored.
What works in Moody's favour is his calm demeanour and ability to work from behind the scenes.
In case Moody comes in, McDermott could be a good choice as bowling coach, though both are from the same country.
If Shastri is picked, then Bharath Arun will be back as bowling coach of the team.
Klusener has also applied for the post with some experience of coaching provincial sides in domestic leagues in South Africa.
Simmons has been a good coach for smaller teams like Afghanistan and Ireland. He had a stormy stint with the West Indies team as he had issues with regards to team selection.