Australian vice captain Watson is not comfortable with the suggestion that he is the world's No.1 Twenty20 player, and still rates West Indian Chris Gayle as the best T20 cricketer. 
Watson can overtake Gayle as the West Indies opener will be absent from this month's Champions League tournament, as none of the Twenty20 franchises he represents, has qualified for the event, while Watson will be a key player in the Sydney Sixers' push for the title.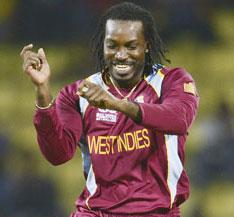 The Australian's standing in the shortest form of the game has sky rocketed in recent weeks, and he was named the best player in the recently completed World Twenty20 in Sri Lanka. 
"I know playing where I do as an opening batsman and bowling the overs that I do that I'm going to have some impact on the game good or bad," the Sydney Morning Herald quoted Watson, as saying.
"In the end, it's nice if people do say that, but there's no doubt that for me, Chris Gayle is one of the most amazing players you'll ever see.
"To see the things that he's done consistently in Twenty20 cricket in all competitions is pretty amazing. I think you really can't go past Chris."
Watson said Sri Lankan pacer Lasith Malinga was another contender for the No.1 player as he was a "bowler who's had a significant impact on games that he has played in all competitions."