Former Australian spinner Shane Warne is reportedly foraying into the nightclub industry along with football player Dermott Brereton in Melbourne, Sydney and India.
Australia newspaper The Age on Sunday reported that Warne and Hawthorn Premiership player Brereton are part of a consortium that will pay 3.5 million Australian dollars for a share in the club Silk Road located in Melbourne's central business district.
The deal is expected to be settled next week.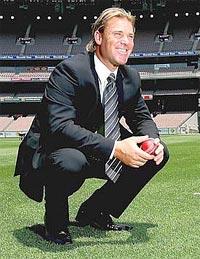 The site is owned by hospitality entrepreneur Nick Zampelis, who sold a 30 per cent stake to Warne and Brereton and property developer Mark Casey and former manager of Crown Casino's now defunct Heat nightclub, Robert Bottazzi.
The lavish club is in the heritage-listed former Shakespeare Hotel building on Collins Street and includes eight bars and several themed restaurants that cater to almost 1000 patrons.
Silk Road is a favoured haunt of celebrities and stockbrokers.
It has been learnt that Warne and Brereton also plan to change the name of the venue's private rooms to Club 23, after the number they both wore in their respective sports.
A representative of the pair had made approaches to more than 10 other venues, including the Marquee in South Melbourne, St Kilda's One Fitzroy Street and the former Barcode nightclub on King Street.
Asked about his plans on Saturday, Brereton said, "Not that I'm not looking at something but ... that is wildly inaccurate. From the bottom of my heart, there is no deal."