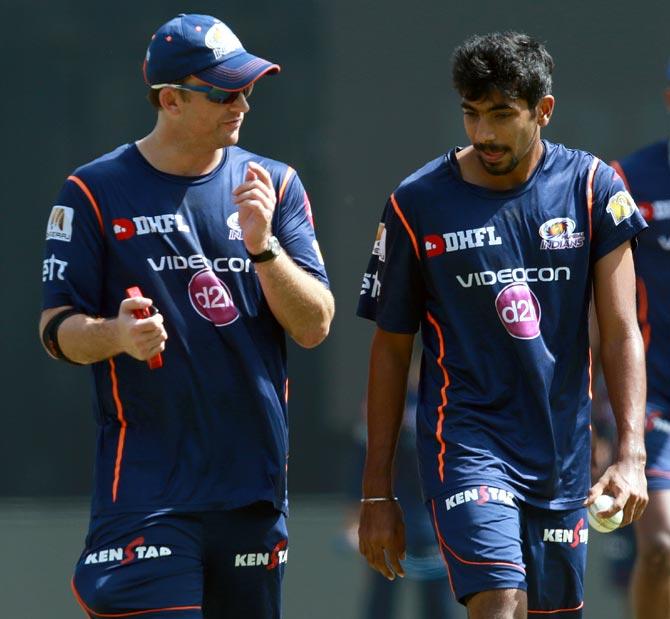 IMAGE: Shane Bond with Mumbai Indians fast bowler Jasprit Bumrah during IPL-10. Photograph: BCCI
Former New Zealand fast bowler Shane Bond has his eyes trained on the head coach's job in the Indian Premier League, saying he would 'love to be involved' in that position in the popular franchise-based league.

The 42-year-old Bond feels the time is right for him to become a head coach, particularly of an IPL franchise.

"I've got my sights on a head coaching role, but it's how it all lines up with everything else in your life," Bond was quoted as saying by the Dominion Post.

Bond is currently on a short-term contract as New Zealand 'A' coach for the tour of India, where they will play two four-day games and five one-day matches. He also has running contracts as bowling coach of Brisbane Heat in the Big Bash League and Mumbai
Indians in the IPL.
"I've got great opportunities with Brisbane and the IPL and I really enjoy them."
Bond refused to be drawn into speculation linking him to the role of England's bowling coach for the first three Ashes Tests in Australia later this summer, in place of Ottis Gibson.
The former West Indies fast bowler resigned as England's bowling coach at the end of the home summer to become South Africa's head coach.
"My kids are at an age where I want to be around and not miss them too much," he said.
"Every opportunity you've got to look at and weigh up what's best for the important people around you. I'd love to be involved with the IPL (as a head coach). I love the New Zealand cricket team and would like to have another period of involvement. I'm just not quite sure when that's going to be," Bond added.
Persistent injuries -- particularly multiple stress fractures on his back -- cut-short Bond's decade-long international career in 2010.
He picked 87 wickets at 22.09 in 18 Tests, 147 wickets at 20.88 in 82 ODIs, and 25 at 21.72 in 20 Twenty20 Internationals.