Eden Gardens set to host the country's first day-night match with the pink ball.
Mohun Bagan take on Bhowanipore Club under lights over four days.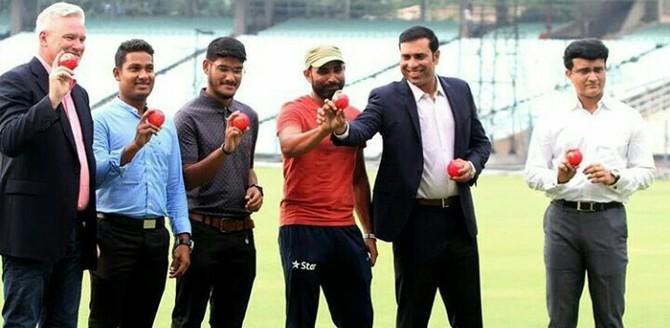 IMAGE: Former Australia batsman Dean Jones, captains of Bhowanipore Club and Mohun Bagan, Mohammad Shami, VVS Laxman and Sourav Ganguly pose with pink Kookaburra balls at the Eden Gardens. Photograph: Star Sports/Facebook
Mohammad Shami and Wriddhiman Saha are among the India players, who will get a first-hand experience of day/night cricket with the pink ball when local giants Mohun Bagan and Bhowanipore Club meet in Cricket Association of Bengal's Super League final, at the Eden Gardens, starting Saturday.
The brainchild of former India captain Sourav Ganguly, the four-day final will be a historic affair as it will provide a glimpse of what can be expected of the pink kookaburra under lights in sub-continent conditions.
If the experiment is successful, Ganguly's association will stand a good chance of holding the first ever Pink Ball Test in India that the Board of Control for Cricket in India is planning.
The spotlight will be on India pace spearhead and Mohun Bagan's Shami, who will be the first in the team to have a 'feel' of the pink Kookaburra ahead of the proposed first day/night Test against New Zealand in October.
Not to forget Saha, who faces the challenge of keeping wickets as well as batting against the pink kookaburra under floodlights.
Before the Duleep Trophy is played under lights, the India's leading players will certainly seek feedback from two of their teammates.
One interesting fact is that Saha is no stranger to the pink kookaburra balls as he had the experience of playing in an Emerging Series in Australia seven years back.
He kept against pink balls, green balls during that 'A' series in Australia back in 2009-10. Cricket Australia used those balls during the List A matches on an experimental basis.
Shami, for one, is excited about the new challenge and is keen to adapt quickly.
"The only change is the colour (of the ball). Obviously, it will be a new challenge but as the experts are saying it's the future and we have to adapt quickly," Shami said.
He added that he will get a proper idea once he analyses the initial behaviour of the track.
"Have to see how the pitch behaves initially. The ball will swing under lights and will make sure it's not heavily in favour of the batsmen. It will be an even contest between the bat and ball," he told reporters.
For the record, two India stalwarts, Virender Sehwag and Rahul Dravid have played a Day/Night longer version game with pink ball for MCC during the annual fixture against the County champions in the United Arab Emirates.
The BCCI's technical committee, headed by Ganguly, has already recommended the zonal Duleep Trophy to be day/night this season.
"It will give me some much needed match practice ahead of the Duleep Trophy. I'm looking forward to it," Shami added.
Ganguly and his team will pray that the heavens don't open up, what with the monsoon also clashing with the much-awaited club league final.
Showering praise on Ganguly, Mohun Bagan coach Palash Nandy said, "This match will go into history book. We could not have asked for more. All this could take place only because of Ganguly and his great ideas. We thank CAB for such a novel initiative."
While Shami will start with the new pink ball, in batting Saha will lend solidity and experience along with skipper Subhomoy Das and the in-form Joyjeet Basu, fresh from his 243, which knocked out East Bengal in the league stage.
Mohun Bagan may be boasting of the duo of Shami and Saha but the coach said they are not taking it easy against Bhowanipore Club, the reigning first division league champions.
Mohun Bagan lost to East Bengal and made a quarter-final exit in the CAB First Division two-day league but managed to win the two titles this season -- JC Mukherjee Twenty20 and CAB Knock-out one-day tournament.
Bhowanipore captain Writtick Chatterjee, an off-spinner and No. 3 batsman, made headlines this season, claiming 6-0 against Mohammedan Sporting in their First Division League match in April.
Chatterjee will hold the key as it will remain to be seen how the ball behaves for the spinners, a key to success in subcontinent conditions.
Bhowanipore coach Abdul Monayem is confident of putting up a fight against the heavyweights Mohun Bagan.
"Our main strength is bowling and pink ball will certainly give an edge to our pacers," he said about their three seamers -- Ayan Bhattacharya, Ravikant Singh and left-arm youngster Geet Puri.
Match starts: 2.30pm
Live on Start Sports 2, HD 2.