Pakistan's ODI captain Shahid Afridi landed himself into trouble with the Pakistan Cricket Board (PCB) slapping a showcause notice for making his differences with coach Waqar Younis public.
The flamboyant all-rounder also got a snub from the board over his attempt to meet with the PCB chairman Ijaz Butt.
Afridi who led Pakistan in the World Cup told the media on his return from the West Indies on Sunday that he didn't like people interfering in his work in the team.
Without naming the chief coach Waqar Younis, the all-rounder said he is not happy with this interference and would meet with the chairman of the PCB to outline his grievances.
But the board on Monday didn't waste any time in conveying to the ODI captain that they are not happy with his conduct.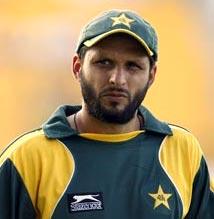 In a terse press release early on Monday morning, the PCB said it has taken notice of the statements made by Afridi in the media about the differences within the tour management in West Indies.
"It is a violation of Code of Conduct on part of Mr Afridi and an explanation has been sought from him for the reasons to make such statements publicly. PCB will take appropriate action after submission of the tour-report at the conclusion of the tour," the release said.
The differences between Afridi and Waqar have taken a more serious turn on the West Indies tour with sources confirming that the two had exchanged words over selection issues.
"I don't like people interfering in my domain. I think it would be better if everyone focussed on his job in the team," Afridi told reporters.
Both are members of the tour selection committee but had sharp differences over composition of playing XIs.
Pakistan won the ODI series 3-2 against a weakened West Indies side.