Pakistan's ODI and Twenty20 skipper Shahid Afridi says he has no intention of going back on his "emotional" decision to retire from Test cricket, as he has lost the desire to play the longer format of the game.
"I have no real desire to play Test cricket and the reason I lost this desire was because I was not selected consistently for Test matches," Afridi said.
"As it is I have a busy schedule and I don't think I have the time for Test matches," he added.
Afridi said before going public with his decision after the first Test against England, he had informed his successor Salman Butt and coach Waqar Younis.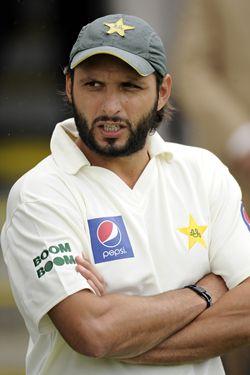 The flamboyant all-rounder also made it clear that he and other senior players including Muhammad Yousuf, Abdul Razzaq and Shoaib Akhtar had discussed the future and are keen to put the national team on the right track in the next two or three years before retiring.
"We want to retire after making a strong team and leaving behind a legacy of some good players," he said.
Afridi also disclosed while he was Test captain, he had told the team management in England to instruct the players to stay away from brothers, Mazhar and Azhar Majeed, whose names cropped up in a spot-fixing scandal which led to the suspension of three Pakistani cricketers.
"These brothers were agents for some of our players but what I didn't like was them coming to the hotel rooms. I told the manager about this and he also made it clear to the players under no circumstances should their agents be in the rooms or near the dressing room," he said.
"Unfortunately after I returned home I don't know what happened but I had a fear that these two brothers would get our players into trouble. I don't blame the team management because they can only warn or instruct the players to a certain extent. They can't stop the players from going out with their agents for dinner or receptions."
Afridi advised wicketkeeper Kamran Akmal, whose name has cropped up twice in match-fixing probes this year, to take a break from Test cricket before the 2011 World Cup.
"I know Kamran might not necessarily agree with my suggestion but I think he needs to start focusing on one-day and Twenty20 cricket formats for which he is a class player," Afridi said on Geo Super channel.
"I know he has struggled in recent matches because of which their is lot of pressure on him but he has been working hard to improve his keeping specially to the spinners but I think he needs to take a break," Afridi said.
Afridi pinpointed Zulqarnain Haider and Sarfaraz Ahmed as good wicket-keeping choices for Tests and limited overs cricket in future as Kamran needed a break to relieve the pressure on him and to be fresh for the World Cup.
He also disclosed that former Test spinner, Saqlain Mushtaq had introduced him to Azhar Majeed.
"For a while Azhar was my agent and got me a contract with Leicestershire but he then tried to dupe me in a commercial deal and I released him as my agent."
The Pakistan skipper agreed that the spot fixing controversy that erupted because of the allegations made by Mazhar Majeed had caused Pakistan cricket a lot of damage.
Afridi also said he was very confident about the team's chances of doing well in the World Cup.
"The pitches and weather suits us and we have a good one-day combination and hopefully before the event we will find some more exciting new talent," he said.