Captain Kohli and Coach Shastri's selection choices for the first two Tests against England, which India lost, were bizarre.
Why, for instance, did they drop Umesh Yadav and include Kuldeep Yadav for a seaming track at Lord's?
Instinct, gentlemen, can't overrule logic.
Time we helped Messrs Kohli and Shastri pick the side for the Trent Bridge Test.
What changes must India make for the must-win third Test?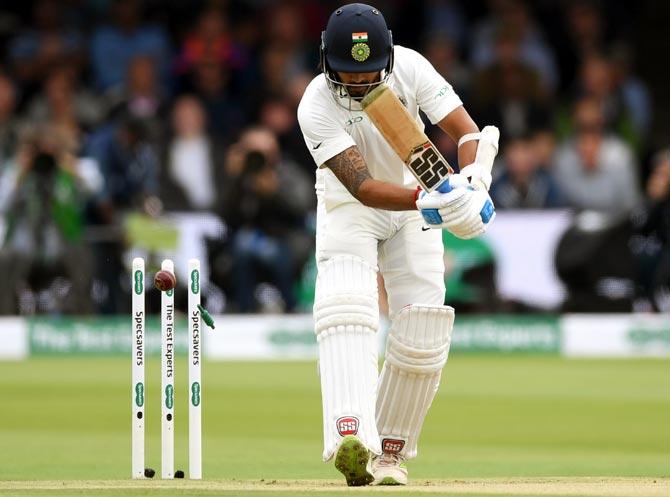 After being battered at Lord's, Team India must win the third Test against England in Trent Bridge, which begins on Saturday, August 18.
Other than their shoddy performances, the bizarre team selections have come under fire.
For the first Test at Edgbaston, Captain Virat Kohli and Coach Ravi Shastri preferred an extra fast bowler on a wicket which offered the spinners some assistance.
And for the Lord's Test, when the match started on Day 2 in heavy overcast conditions after the first day was washed out by rain, Kohli and Shastri opted for left-arm spinner Kuldeep Yadav instead of staying with Umesh Yadav, who English observers have noted can swing the ball at great pace.
The much heralded Indian batsmen have posted 162, 107 and 130 in their last three innings.
Except for Kohli, no other batsman has withstood the fiery bowling from Jimmy Anderson, Sam Curran, Stuart Broad, Ben Stokes or Chris Woakes.
Coach Shastri's role must also come under the scanner.
Unlike his predecessor Anil Kumble -- who questioned Kohli's instinct, perhaps the reason the skipper didn't want him to continue as coach -- Shastri is seen -- rightly or wrongly -- as someone complicit in the captain's choices.
The coach is paid Rs 8 crores (Rs 80 million) a year and surely the BCCI is right to ask Shastri searching questions if India loses the third Test.
The changes in the Indian side team for Trent Bridge must start at the top.
Opener Murali Vijay must lose his place after bagging a pair in the Lord's Test. Vijay has scored a paltry 26 runs in the first two Tests.
It is time to give Rishabh Pant his Test cap and ask him to open the innings with Shikhar Dhawan, who was dropped for the Lord's Test after scoring 39 runs in the Edgbaston game.
Sure, an untried left-left opening combination could end up a perilous experiment, but as they say: Nothing Ventured, Nothing Gained.
Cheteshwar Pujara needs to stay on at Number 3. He showed some fight in tough conditions at Lord's even though he scored just 18.
If Kohli's error had not seen Pujara run out in the first innings at Lord's, who knows?
Pujara, by the way, was in the middle for 112 deliveries overall, the highest among the Indians in the second Test.
It is also time to drop vice-captain Ajinkya Rahane who scored just 48 runs in four innings, with a best of 18.
Though he doesn't seem a favourite with the team management or scribes, it is time to give Karun Nair -- who scored a triple Test ton against England two years ago -- his first game.
Another player who must be dropped is Hardik Pandya. The all-rounder has done nothing special with either bat or ball.
If India need an all-rounder, it could well go with Ravinder Jadeja which gives them another leftie in the side and someone with a proven record against England.
With Rishabh Pant in the playing eleven, Dinesh Karthik's Test career could well be at its end given his poor display with bat and gloves at Edgbaston and Lord's.
Kohli and Shastri could have K L Rahul come in at no 6 instead of higher up in the order.
Jasprit Bumrah, who is said to have recovered from his injury, could be drafted straight into the playing eleven.
The Indian bowlers have been excellent in both Tests, except for crucial sessions at Edgbaston where they allowed Sam Curran to rescue England and at Lord's when they permitted Chris Woakes and Jonny Bairstow to run away with a match-changing partnership after England lost four wickets for 85 runs.
This is our playing eleven for Trent Bridge:
Rishabh Pant (wicket-keeper)
Shikhar Dhawan
Cheteshwar Pujara
Virat Kohli (captain)
Karun Nair
K L Rahul
Ravichandran Ashwin
Mohammed Shami
Jasprit Bumrah (if he is unfit, Shardul Thakur)
Ishant Sharma
Umesh Yadav
What is YOUR TEAM for the Third Test?
Please click the boxes below to select Your Indian Team for the Nottingham Test: