Recalled batsman Neil Broom scored his maiden one-day century and took two crucial catches as New Zealand completed a 67-run victory over Bangladesh in the second one-day international at Saxton Oval in Nelson on Thursday.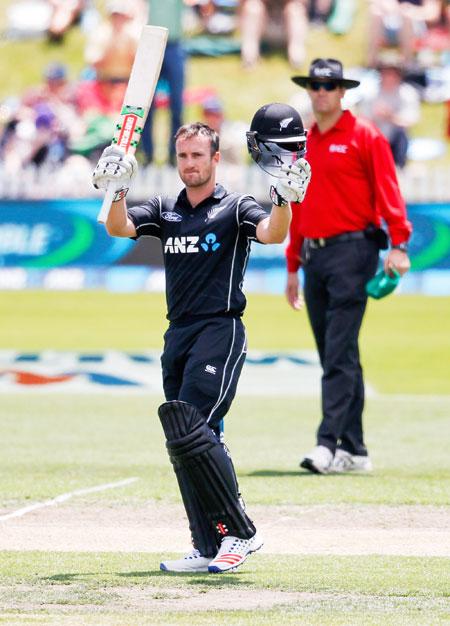 The victory allowed New Zealand to wrap up the three-match series with a game to spare as captain Kane Williamson chipped in with a throw that led to a run out, a catch and three wickets with his part-time off-spin.
Chasing 252 for victory, Bangladesh had been cruising at 105 for one in the 23rd over before Williamson sparked a collapse with the run out of Sabbir Rahman for 38 after he had combined in a 75-run partnership with opener Imrul Kayes.
Williamson then had all-rounder Shakib Al Hasan caught at backward point by Broom, who also snapped up Imrul off Tim Southee for 59, as the visitors slumped to 141-7 by the 33rd over.
They were eventually bowled out for 184 in the 43rd over.
Broom, who was recalled for the series six years after the last of his 22 previous one-day internationals, had propped up New Zealand's below-par 251 all out with a composed innings.
The 33-year-old, whose recall was partly necessitated by Ross Taylor needing time to recover from eye surgery, took his time to set a foundation and patiently built his innings on a wicket that was good for batting on when established.
He also combined in a 51-run partnership with Jimmy Neesham (28) and for 64 runs with Luke Ronchi (35), but they both got out when the home side needed them to stay with Broom to launch an assault in the final overs.
Broom, whose previous best was 71 against the same opposition in 2010, was on 99 when Lockie Ferguson was the ninth wicket to fall in the 47th over.
Trent Boult, however, survived the last ball of the over and Broom then pushed a single into the covers on the first ball of the 48th to bring up the milestone.
He finished on 109 not out, having hit eight boundaries and three sixes.
SCOREBOARD
New Zealand
M Guptill lbw Mushrafe 0
T Latham lbw Shakib 22
K Williamson c Shakib b Taskin 14
N Broom not out 109
J Neesham st Nurul b Mosaddek 28
C Munro b Mashrafe 3
L Ronchi c Tanveer b Taskin 35
M Santner c Mashrafe b Subashis 9
T Southee c Nurul b Shakib 3
L Ferguson c Nurul b Mashrafe 4
T Boult run out (Nurul/Taskin) 12
Extras: (b1, lb7, w4) 12
Total: (all out, 50 overs) 251
Fall of wickets: 1-0 (Guptill), 2-37 (Williamson), 3-47 (Latham), 4-98 (Neesham), 5-107 (Munro), 6-171 (Ronchi), 7-198 (Santner), 8-214 (Southee), 9-228 (Ferguson), 10-251 (Boult)
Bowling: Mashrafe 10-1-49-3 (2w), Subashis 10-1-45-1 (1w), Taskin 10-1-45-2 (1w), Shakib 10-0-45-2, Tanveer 8-0-47-0, Mosaddek 2-0-12-1.
Bangladesh
Tamim Iqbal c Latham b Southee 16
Imrul Kayes c Broom b Southee 59
Sabbir Rahman run out (Williamson/Ronchi) 38
Mahmudullah b Ferguson 1
Shakib Al Hasan c Broom b Williamson 7
Mosaddek Hossain c Neesham b Williamson 3
Tanveer Haider st Ronchi b Williamson 2
Nurul Hasan c Ronchi b Boult 24
Mashrafe Mortaza c Williamson b Boult 17
Taskin Ahmed st Ronchi b Santner 0
Subashis Roy not out 1
Extras: (b1, lb4, w10, nb1) 16
Total: (all out; 42.4 overs) 184
Fall of wickets: 1-30 (Tamim Iqbal, 2-105 (Sabbir Rahman), 3-112 (Mahmudullah), 4-128 (Shakib Al Hasan), 5-134 (Mosaddek Hossain), 6-136 (Imrul Kayes), 7-141 (Tanveer), 8-162 (Mashrafe), 9-175 (Taskin), 10-184 (Nurul)
Bowling: Boult 8.4-0-26-2 (3w), Southee 9-1-33-2 (2w), Munro 2-0-12-0, Ferguson 8-0-53-1 (2w, 1nb), Santner 8-1-20-1 (1w), Neesham 2-0-13-0 (1w), Williamson 5-0-22-3 (1w).
Image: New Zealand's Neil Broom celebrates on scoring his ODI maiden century during the 2nd ODI against Bangladesh on Thursday
Photograph: Martin Hunter/Getty Images