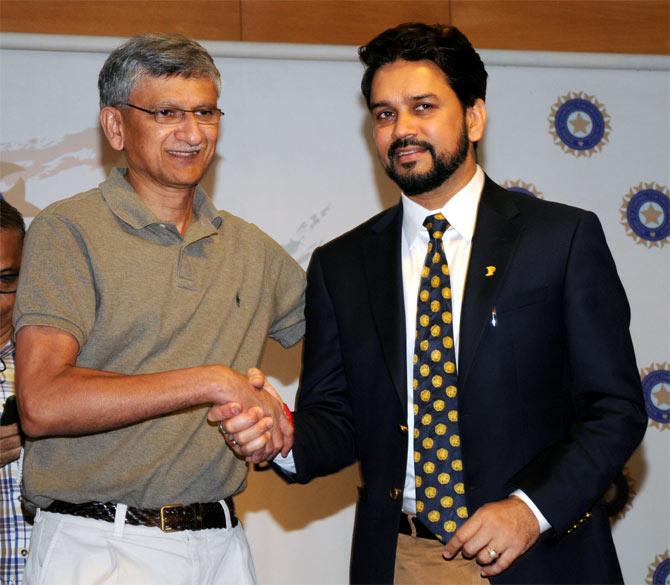 IMAGE: BCCI President Anurag Thakur (right) with board secretary Ajay Shirke. Photograph: Sahil Salvi.
The Supreme Court on Tuesday allowed the Board of Control for Cricket in India (BCCI) to disburse Rs.56 lakhs for the opening Test of the five-match series against England, starting from Wednesday in Rajkot.
Earlier on Tuesday, the BCCI had moved to the apex court to seek the disbursal of funds to Saurashtra Cricket Association for conducting the Rajkot Test, which will also see the application of Decision Review System (DRS) by the country for the first time.
Last month, the apex court had ordered the Anurag Thakur-led board to route all tenders and contracts through Justice (Retd.) R.M Lodha-led panel.
If the BCCI decides to go ahead with the IPL bidding process, which was originally scheduled to begin in Mumbai on October 25, without the Lodha committee's approval then it can face a danger of contempt of court.
The top court had also directed the BCCI not to release funds until the state associations file an affidavit implementing the recommendations of Lodha panel.
Meanwhile, BCCI president Thakur and board secretary Ajay Shirke were asked to file a compliance report affidavit within 10 days before the matter is taken up for further hearing on October 17.
However, the orders does not bar the BCCI from executing a cricket tour and paying for the visiting team from its rich reserves.
On Monday, Shirke told a prominent newspaper that their hands were tied as the Justice Lodha committee had neither set the threshold limit for them to award contracts nor had it appointed an independent auditor as per the October 21 directions of the Supreme Court.
Shirke had stated that board had, therefore, decided to file an interim application, insisting that certain basic agreements with specific vendors had to be entered into by the BCCI, and each of them would become a contract.
In case the Supreme Court does not pass an order allowing BCCI to engage in contracts, then the board does not see how the first Test could be played, Shirke had said.
Earlier, Shirke had also written to the England and Wales Cricket Board (ECB) that the board would not be able to execute the Memorandum of Association (MoU) between the two boards due to the financial restriction levied on it by the Supreme Court