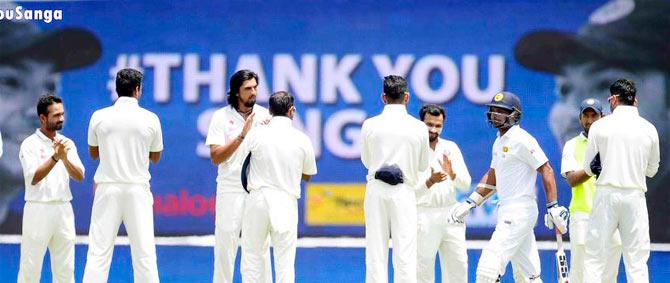 Sri Lanka's Kumar Sangakkara is given a guard of honour by India cricketers on Day 2 of the second Test in Colombo. Photograph: Sri Lanka Cricket/Twitter
Playing the final Test of his career, Sri Lankan batting legend Kumar Sangakkara was accorded a warm welcome by the rival Indian team, which formed a guard of honour as he walked out to bat in the second Test, on Friday.
Coming in at the fall of opener Dimuth Karunaratne's wicket in their first innings, Sangakkara jogged in at the P Sara Oval with the home team on 1 for 1, in reply to India's 1st innings total of 393 all out.
The whole stadium reverberated with applause when the 37-year-old left-hander walked out to the middle.
The standing ovation continued as Sangakkara walked past the guard of honour. The veteran batsman shook hands with India skipper Virat Kohli before taking the crease.
Sangakkara has scored 12,350 runs, including 38 centuries in 133 Tests, averaging 57.71.
In 404 ODI appearances, he amassed 14,234 runs, at an average of 41.98.
Although this on-going series is a three-match affair, Sangakkara will retire at the end of this Test.