Not only being a record-breaking cricketer, Sachin Tendulkar's involvement in social causes for the education of slum children in Mumbai through the NGO Apnalaya is commendable, according to his mother-in-law.
Tendulkar's mother-in-law Annabel Mehta, who is actively associated with Apnalaya for last 40 years, said the retiring batsman was deeply influenced by his father and he sponsors school children in his memory.
"Sachin is undoubtedly one of the greatest cricketers of all times, but what is more important to me is he is a fine human being. He was greatly influenced by his father and has grown up with strong family values. He is very much a family man," Annabel said.
"Sachin has known about my involvement with Apnalaya for a long time - since he started coming to our house and seeing me hurrying off to Apnalaya meetings. He started actively supporting Apnalaya after his father died by sponsoring school going children in his memory," she said.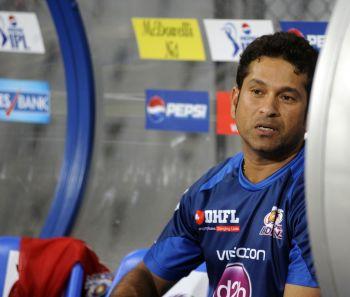 Annabel said Tendulkar was always there to help Apnalaya but could not visit the NGO often due to his busy schedule.
"Unfortunately, he has seldom visited Apnalaya because of his busy schedule. Also, it is very difficult to control the crowd when he goes anywhere, particularly the crowded slum areas where Apnalaya works," she said.
"I have seldom asked for his help, but when I have he has either guided us to people who could help us, or offered bats or tickets for auction, or spoken on our behalf at an event.
He even signed up to run in the first Mumbai Marathon we took part in, but the police did not allow him to participate," she added.
Mehta said the kids at Apnalaya are sad with Tendulkar's retirement from the game but there were no plans to take them to the stadium to witness his swansong game next month.
"The kids are sad and it would be wonderful to take the kids to stadium for his last game but we don't have such plans. I think tickets will be very hard to come by," she said.
Image: Sachin Tendulkar
Photograph: BCCI