Reader 
Anupa
sent us this picture.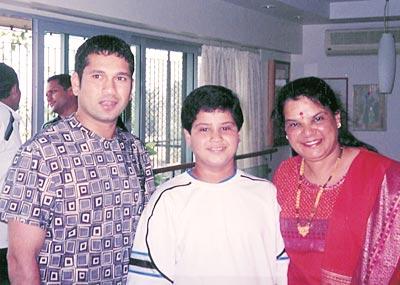 'Aakash Nagavalli (centre) was born in Fountain Valley, California in 1995. He was always admired as a cute kid who looks like Sachin Tendulkar as per close family friend Dr Anil Tulpulac. Anupa, Aakash's mother, decided that her son should meet Sachin Tendulkar on this visit as he had met Amitabh Bachchan on his earlier visit,' writes Anupa.
'A meeting was set up by one of Sachin's close friends and he informed Sachin that a kid from California who looked similar to him wants to meet him. It was very nice of him to give us time.
'Even though our flight was late from Hyderabad to Bombay he did not disappoint us. Instead he cancelled his afternoon meeting with the Bangalore Cricket Association.
'When we reached his home his wife Anjali welcomed us openheartedly. Anupa introduced Aakash to her. And when Aakash said, "I brought your husband's childhood face," she gave a broad smile. Sachin's uncle who was visiting saw Aakash and said, "Ya Sachin really used to look like him.
'We were getting ready with our cameras and the door opened and a smiling Sachin walked towards Aakash with open arms. After the brief introduction Sachin asked Aakash what kind of sports he plays? Akaash said he plays soccer, basketball and tennis. Sachin was impressed and said good. Between 10-12 minutes of a photo session and signing of autographs Sachin allowed Akaash to wear the India shirt that he signed.
'Aakash extended his invitation to Sachin to come with his family to see Disneyland and stay with us because he is not too far from Disneyland. Aakash was in India for the summer holidays and used to play cricket in his uncle's farmhouse.'
If you encounter your favourite cricket/sports personalities, please send your photograph to sportsdesk@rediff.co.in. We will feature the best images right here on Rediff Cricket or Rediff Sports.