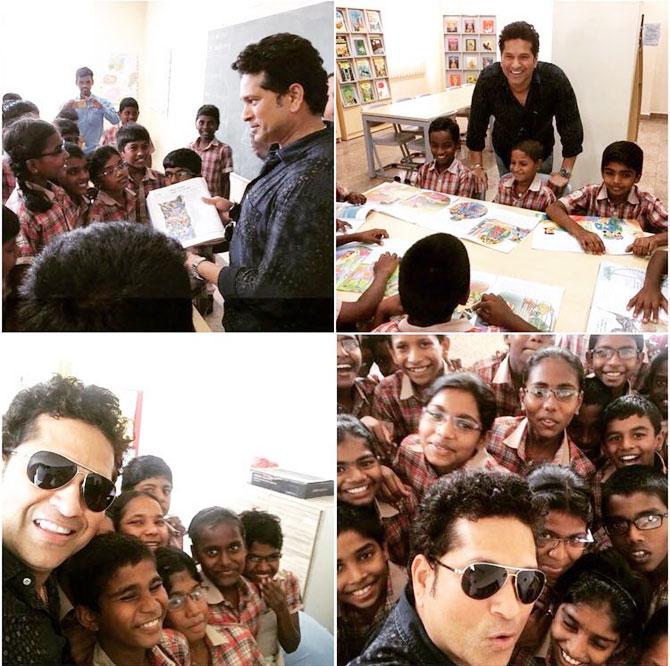 IMAGE: Sachin Tendulkar spends time with kids of Navaneeta Public School located in Nellore district of Andhra Pradesh on Wednesday. Photograph: Sachin Tendulkar/Twitter
Cricket legend Sachin Tendulkar has called for making the country 'Swachh' and 'Swasth' Bharat (clean and healthy India), while encouraging children to be more active in sports.
"We keep talking about Swachh Bharat because our honourable Prime Minister decided that we need to start cleaning up Bharat, which is extremely important.
"But I feel, along with Swachh Bharat, Swasth Bharat is also important. That is why, I distributed a few cricket bats, footballs and all those things for children to play," he said at village in Sri Potti Sriramulu Nellore district of Andhra Pradesh on Wednesday.
Tendulkar had adopted the village under Saansad Adarsh Gram Yojana (SAGY) on this day two years ago, and on Wednesday he visited it for the second time to take stock of the developments.
In all, the SPS Nellore district administration spent Rs 5.69 crore on laying concrete roads, building storm water drainage system, a community hall and an elementary school building in PR Kandrika village.
The sports legend, who contributed Rs 2.79 crore under SAGY for these works, inaugurated the newly-built community hall.
He has now announced a further grant of Rs 90 lakh for development of infrastructure in Nernuru and Gollapalli villages under Gudur mandal. A total of Rs 1.20 crore would be spent on laying roads, building drains and providing water supply in these villages.
"It is a very satisfying feeling. Things have already changed big time. Also, the icing on the cake is, it (PR Kandrika) is being declared ODF (open defecation free) village.
"That couldn't have happened without your support, without your will and desire to achieve certain things," he said.
The Rajya Sabha member told the kids: "You play hard, enjoy sport but also study at the same time. You should have the balance of both. You study when it is time to study. Play, because children should play. It is important to play, need to go out, enjoy yourself and stay together."