Wisden, regarded as the Bible of cricket, has named Indian batting maestro Sachin Tendulkar as the leading cricketer in the world for the year 2010.
The iconic batsman is the seventh recipient of the Wisden award after teammate Virender Sehwag, Australians Ricky Ponting and Shane Warne, England's Andrew Flintoff, Sri Lanka's Muttiah Muralitharan and South African Jacques Kallis.
The 148th edition of Wisden Cricketers' Almanack was launched on Wednesday and it is the first time that Tendulkar won the award since it was instituted in 2004.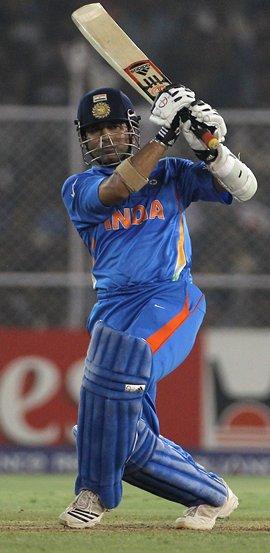 In 2007, Wisden identified Tendulkar as the player to have won such an award for 1998 -- had it been instituted then.
Tendulkar, who realised his long-cherished dream when India won the World Cup earlier this month in Mumbai, has also been named in Wisden's 2009 Test XI, at his accustomed number four position.
Sehwag, who took the honour the last two years, also found a place in Wisden's 2009 Test XI, forming an attacking opening partnership with Bangladesh's Tamim Iqbal.
The 37-year-old Tendulkar scored more than 1500 Test runs, including seven centuries in the year 2010 averaging 78.
In February, he became the first in world cricket to score a double-hundred in One-day Internationals, while in December he became the first man to score 50 Test tons, both landmarks achieved against the best pace attack in world cricket -- South Africa.
Tendulkar's citation read: "Wisden acknowledges his greatness by naming him as the Leading Cricketer in the World for 2010."
Wisden, this year, named just four cricketers – Eoin Morgan, Chris Read, Jonathan Trott and Tamim Iqbal -- instead of the usual five.
Tamim became the first Bangladeshi to secure an honour that dates back to 1889.
Five Indian players -- Sehwag, Tendulkar, Mahendra Singh Dhoni, VVS Laxman and Zaheer Khan  -- made it to Wisden's 2009 Test list.
For the first time since Wisden Test XI began in 2008, there was no room for an Australian while only two of England's cricketers -- James Anderson and Graeme Swann -- made it to the final eleven.
The panel that picked the Test team comprised former players Ian Bishop, Ramiz Raja and Ian Chappell and Wisden editor Scyld Berry.
The 2009 Wisden Test XI:
1.    Virender Sehwag (India)
2.    Tamim Iqbal (Bangladesh)
3.    Kumar Sangakkara (Sri Lanka)
4.    Sachin Tendulkar (India)
5.    Jacques Kallis (South Africa)
6.    VVS Laxman (India)
7.    Mahendra Singh Dhoni (India, capt and wk)
8.    Graeme Swann (England)
9.    Dale Steyn (South Africa)
10.Zaheer Khan (India)
11.James Anderson (England).