Rediff.com rates the Indian players' performances in the ODI series against South Africa.
India were comprehensively outplayed by South Africa in the fifth ODI in Mumbai on Sunday, humiliated as they were by a huge margin of 214 runs, their second biggest loss ever in the 50-overs format.
South Africa won the five-match series 3-2 to complete the limited overs double after having won the T20 series 2-0.
South Africa hammered a record 438 for four in the decider at the Wankhede stadium, with Quinton de Kock, Faf du Plessis and AB de Villiers all scoring centuries. The Indian bowlers were a hapless lot and suffered one of their worst hammerings in recent years, while the batsmen fared no better.
While the spinners Harbhajan Singh and Amit Mishra performed well with the ball right through the series, the fast bowlers clearly struggled to make an impact.
Rediff.com rates how the Indian players performed in the series.
Mahendra Singh Dhoni (4/10)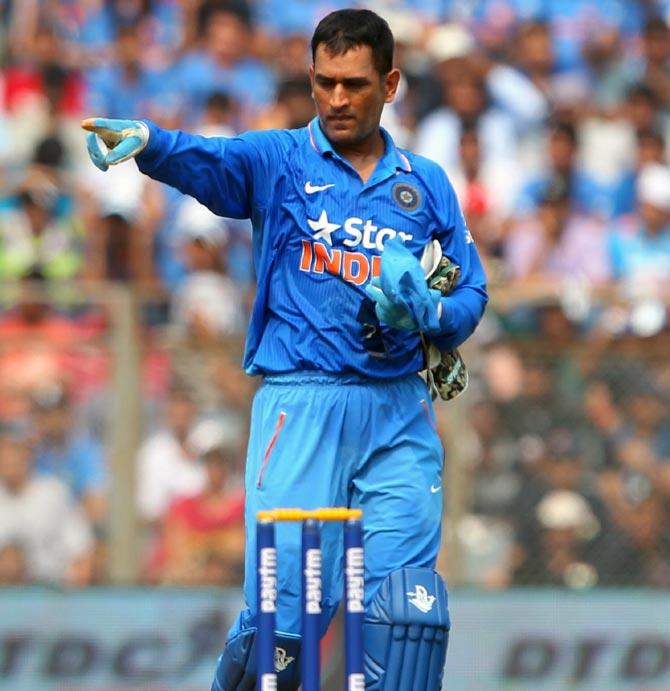 IMAGE: India captain Mahendra Singh Dhoni. Photograph: BCCI
This was possibly Captain Cool, Mahendra Singh Dhoni's worst series as a batsman and as captain in the limited overs format.
He might have finished with 212 runs at an average of 53 but his batting, except for the match-turning knock of 92 from 86 balls in the second ODI in Indore, was a huge disappointment.
Not many will forget when he failed to finish the game with 11 needed from the final over against the young pace bowler Kagiso Rabada in the first ODI in Kanpur.
A captain is supposed to back his players, but with Dhoni publicly questioning Ajinkya Rahane's ability as an ODI player ahead of the series, it was also not a sign of a great leader.
Plus, in recent months Dhoni seems to be struggling to clear the boundary ropes in the final overs against quality fast bowling.
Virat Kohli (8/10)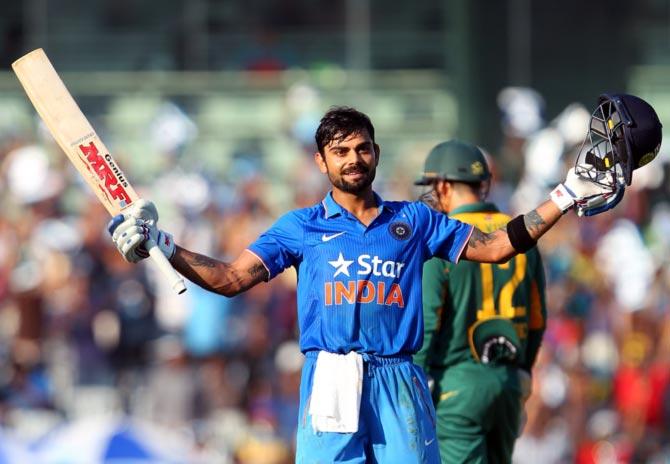 IMAGE: Virat Kohli celebrates after hitting a century in the fourth ODI against South Africa in Chennai. Photograph: BCCI
He struggled at the start of the series with two failures in the first two games before he struck form in the third ODI in Rajkot but then his knock went in vain.
Interestingly, he failed in both the innings he was sent in at No. 4 but struck form when restored to No. 3 as Dhoni's gamble of toying with the batting proved to be a big flop.
The match-winning century in the fourth game in Chennai helped Kohli finish the series with 245 runs at an average of 49.
Rohit Sharma (6/10)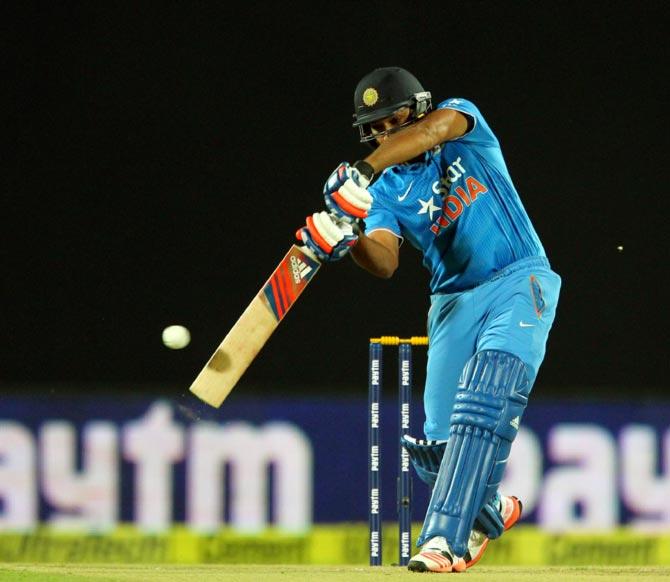 IMAGE: Rohit Sharma in full flow. Photograph: BCCI
Rohit Sharma was in superb touch right through the ODI series and must rue not making most of his good form.
He started the series with a cracking knock of 150 in the first match which went in vain as India's middle order struggled to finish off the game.
He played another good innings of 65 in Rajkot, but that also came in a losing cause.
Those two big knocks ensured Rohit finished as India's top run-getter in the series with 255 runs in five matches at an average of 51.
Ajinkya Rahane (8/10)
IMAGE: Ajinkya Rahane drives through the off-side. Photograph: BCCI
Ajinkya Rahane deserves special praise for the way he played in the series. Under pressure from his own skipper to justify his place in the India ODI team, Rahane rounded off a brilliant series with the bat.
He played at No. 3 in the first two games and responded with two good knocks of 60 and 51. In Chennai, when he came in at No. 4 he played a good hand of 45 in a 104-run stand with Kohli to lay the foundation for India's big total.
In the fifth ODI in Wankhede, he came out all guns blazing and was the lone bright spot for India in a disappointing contest.
The Mumbai right-hander stroked a quickfire 87 from just 58 balls, hitting nine fours and three sixes. Hopefully, his showing in the series will help erase all his captain's doubts and seal his ODI spot.
Rahane finished the series with 247 runs at an impressive strike rate of 93 with three half-centuries.
Shikhar Dhawan (5/10)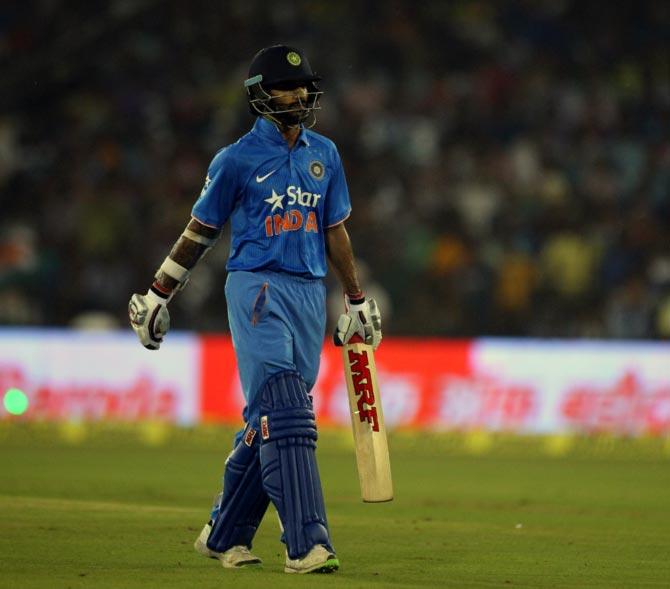 IMAGE: Shikhar Dhawan walks back to the pavilion after his departure. Photograph: BCCI
Shikhar Dhawan was lucky to survive the axe as he played in all the five games despite his failure with the bat in the first four matches.
Dhawan found the extra pace of the South African fast bowlers a bit hard to handle. In fact, he himself was guilty of not making the most of a good start in the first two games, as he was dismissed for 23 in both the matches.
His only innings of substance was the 60 he made in the final ODI but despite that he finished with just 126 runs in the series at an average of 25.
Suresh Raina (4/10)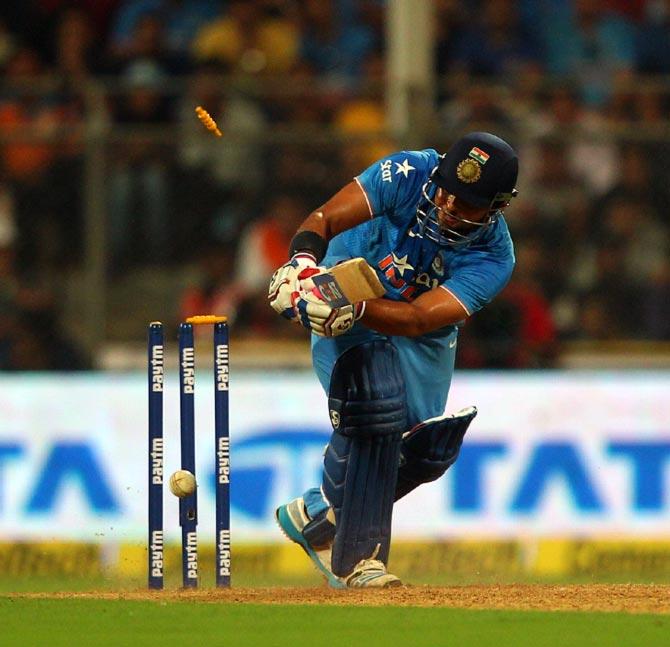 IMAGE: Suresh Raina is bowled by Kagiso Rabada during the fifth ODI in Mumbai. Photograph: BCCI
Suresh Raina was a big letdown with the bat. His failure to get going in the final overs hampered the hosts big time in the series, with Dhoni also struggling at the end.
He had just three runs from the first three games, including two ducks, before the 53 in Chennai saved him the axe in the last game.
Raina never looked comfortable right through the series, with South African pacers troubling him with short balls directed at his body, while Tahir's googly also had him in a spin.
Axar Patel (6/10)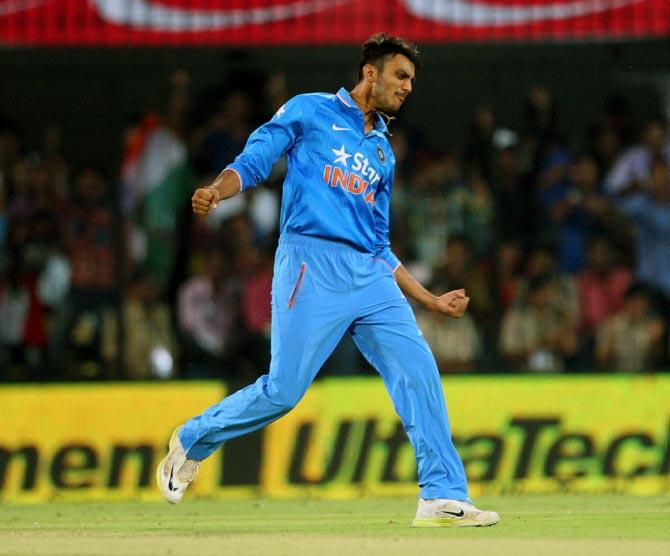 IMAGE: Axar Patel celebrates the wicket of Hashim Amla during the second ODI in Indore. Photograph: BCCI
Left-arm spinner Axar Patel registered a good performance with the ball in the series. Though he was effective in the second match, managing a good spell of three for 39, he never looked like a bowler who could win you matches on his own.
At the most, Axar can only be used a third spinner, who can be relied to keep his end tight and build up the pressure.
Dhoni had claimed that Axar was drafted into the side as an all-rounder but his performances hardly justified the tag.
With the ball, Axar bagged just five wickets in four games, and never really looked good enough with the bat, to end with 37 runs at an average of 18.
Harbhajan Singh (8/10)
IMAGE: India off-spinner Harbhajan Singh. Photograph: BCCI
The experienced Harbhajan Singh led the bowling attack remarkably well in a tough series for the bowlers.
He didn't play in the first game but an injury to Ravichandran Ashwin meant that Harbhajan had to transition from being on the bench to the main strike bowler for the team.
And he responded in a superb manner. His innings of 22 proved crucial in Indore, where he also bowled a good spell, claiming two wickets at important stages.
He bowled well in the next two games too before coming undone against the South African onslaught in the final one-dayer in Mumbai.
Overall, Harbhajan showed glimpses of his old form, taking six wickets at a good economy rate of 5.3.
Amit Mishra (7/10)
IMAGE: India leg-spinner Amit Mishra. Photograph: BCCI
Leg-spinner Amit Mishra made a good comeback into the ODI side following his strong performances in the Test side in Sri Lanka recently.
He started off well in the first match, taking two for 47, before Dhoni surprisingly dropped him for the second game in Indore, playing an extra pace bowler instead.
Mishra was promptly restored to the side for the remainder of the series after Dhoni realised his fault.
He bowled exceedingly well in the third ODI and also in Chennai, despite being taken for runs.
He would like to forget the Wankhede match in a hurry where he was hit for 78 runs in 10 overs, apart from seeing three catches dropped off his bowling. Amidst all the carnage, Mishra produced an unbelievable moment when he gave away just five runs in the 48th over after he had conceded just six runs in the 42nd despite bowling to the well-set AB de Villiers and Faf du Plessis.
Bhuvneshwar Kumar (2/10)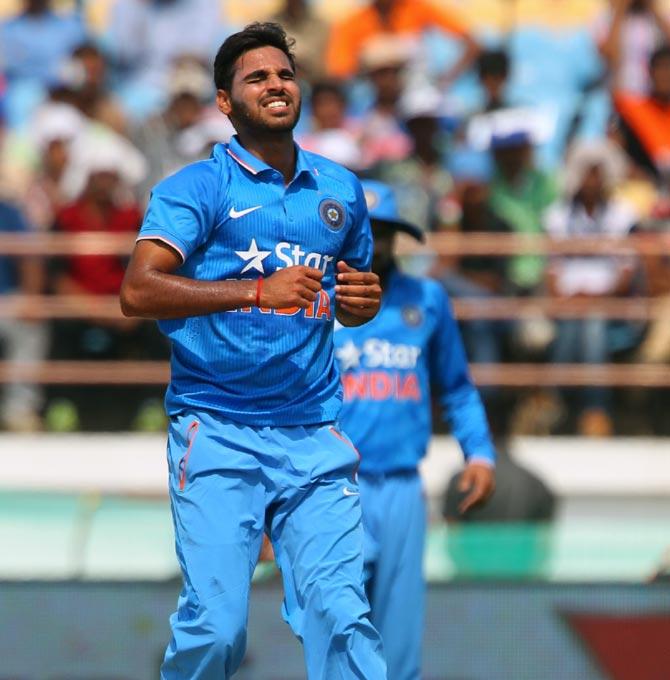 IMAGE: India fast bowler Bhuvneshwar Kumar. Photograph: BCCI
Bhuvneshwar Kumar was thoroughly exposed by the South African batsmen in this series, especially in the Wankhede match.
When the ball does not swing, Bhuvneshwar, with his slow medium pace bowling, struggles not only to pick wickets but also to keep the runs down.
His only performance of note was in the second match in Indore, where he took three for 41, but other than that he did nothing of note.
But no one can easily forget his nightmare showing with the ball in Mumbai when he was carted for a massive 106 runs in 10 overs. His series returns were poor overall, with seven wickets from five matches at an economy rate of 7.13.
Mohit Sharma (4/10)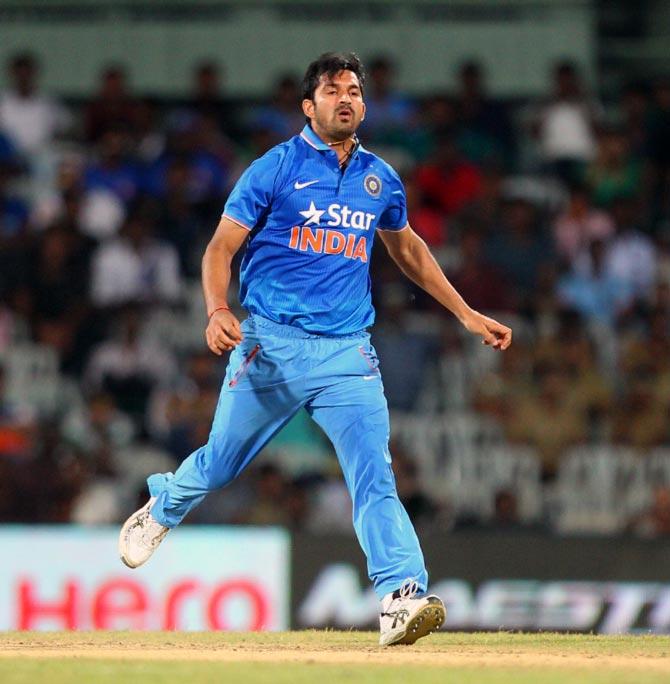 IMAGE: India fast bowler Mohit Sharma. Photograph: BCCI
Pacer Mohit Sharma also didn't make much of an impact with the ball and rarely troubled the South Africans.
Captain Dhoni claimed that India preferred to use medium pacers rather than fast bowlers in the series to try and keep the South African batsmen under check.
But the ploy backfired as Mohit also lacked imagination with the ball, finishing with just five wickets from five games, at an economy rate of 6.93.
Umesh Yadav (2/10)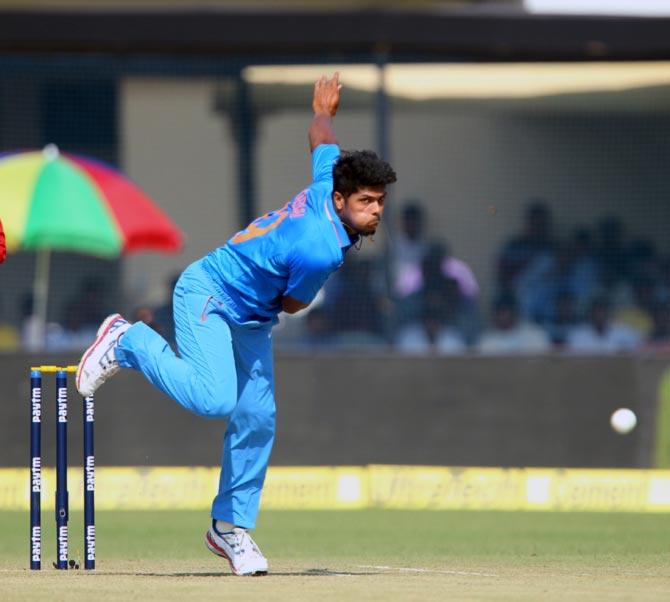 IMAGE: India fast bowler Umesh Yadav in action. Photograph: BCCI
Umesh Yadav has the extra pace but struggles for control, especially in ODIs.
In this series, he played just two ODIs before he was promptly packed off to play domestic cricket for Vidarbha.
In the first match in Kanpur, he was carted for 71 runs in 10 overs, while in the second game he conceded 52 runs in eight overs before Dhoni finally lost patience with his wayward bowling.
Stuart Binny (2/10)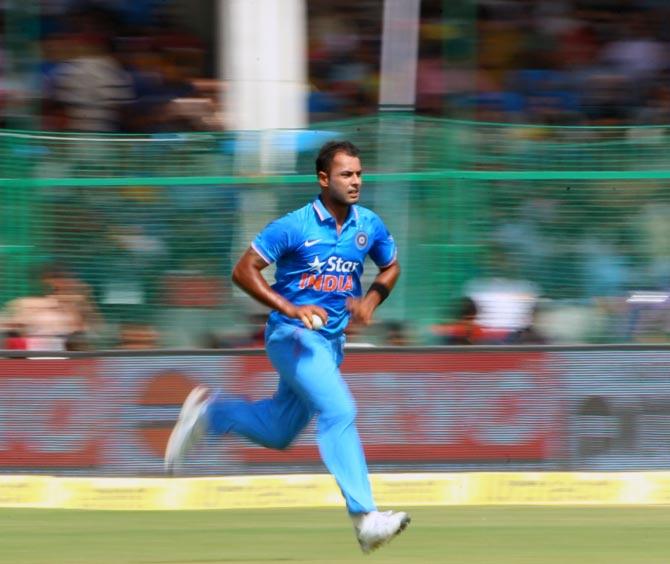 IMAGE: India all-rounder Stuart Binny in action. Photograph: BCCI
Captain Mahendra Singh Dhoni seems to be confused about playing Stuart Binny or not. The Karnataka all-rounder has been with the Indian team for quite a while now but has struggled to seal a permanent slot in the playing eleven.
In this series, Binny was played in the first game in Kanpur where he was hit for 63 runs in eight overs and didn't do anything at all with the bat, scoring just two runs.
As expected, he warmed the bench for the rest of the series.
How he fits in and whether he fits in at all in the Indian ODI squad is a mystery to everyone, perhaps even to Dhoni.
(Ravichandran Ashwin bowled just 4.4 overs in the first ODI, taking one for 14, before sustaining an injury which ruled him out for the rest of the series, while Ambati Rayudu, Gurkeerat Singh Mann and Sreenath Aravind failed to get a single game.)