'Lot of special memories attached to this ground.'
'It is a special opportunity for me to captain the Indian side at my home ground.'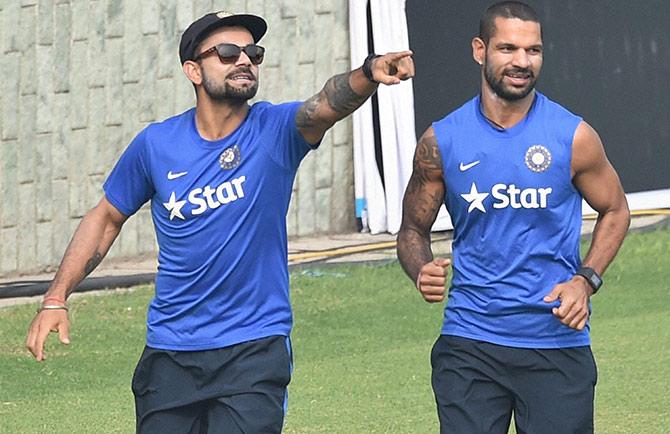 IMAGE: India captain Virat Kohli with Shikhar Dhawan during a practice sesion in New Delhi. Photograph: PTI
It's a matter of pride for any cricketer to lead his side, but it becomes a special homecoming when he gets to lead his country in front of his own people at the ground where it all started for him.
Virat Kohli must be going through a gamut of emotions as he prepares to lead India against South Africa in the fourth and final Test of the series for the first time at the Feroz Shah Kotla.
On the eve of the match, which starts Thursday, the 27-year-old walked down memory lane, recollecting his first century in a trial match for an age-group team to scoring an ODI hundred at the venue.
"My cricket started here with the state team. Played my first Ranji match here. Lot of special memories attached to this ground. It is a special opportunity for me to captain the Indian side at my home ground," Kohli said, when asked about the feeling of leading the side at Kotla.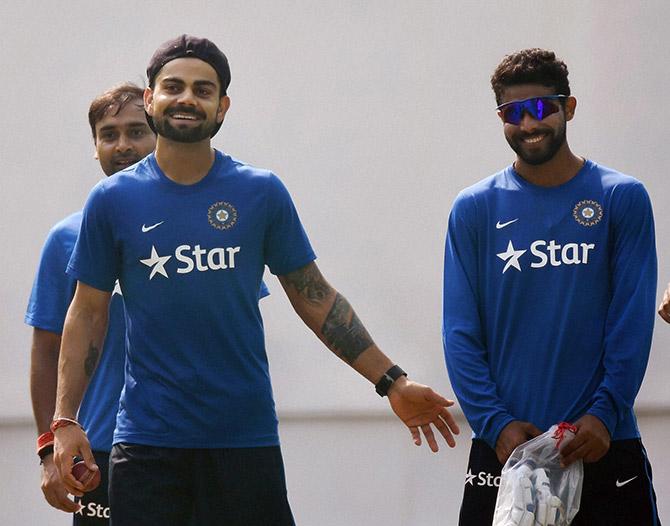 IMAGE: Indian captain Virat Kohli sharing light moment with Ravindra Jadeja as Amit Mishra looks on during a practice session. Photograph: PTI
"This is the ground where everything fell in place for me. This is the ground where I scored a century in a trial game. All the selectors and administrators were watching and probably were impressed. That's how I was drafted into the team after being rejected the earlier year. This ground literally saw me start my career," he said.
Reflecting on his achievements on the venue, he said: "Ranji Trophy debut was special day. Scored a lot of runs in IPL, in ODIs, I have got a hundred and a 70-odd against West Indies. I really like the feel of the ground. I can relate to the ground. I like batting out there in the middle."
Playing for the country is a big enough achievement but leading the side at home is something no player can actually target, feels Kohli.
"I did not imagine that this day will come in my life. When you start as a cricketer, you dream to play for India. But captaincy is one thing that you can never target. Responsibility entrusted to me; I am lucky that I have captained at various levels. So I love it and enjoy it," added Kohli.