'The wicket is getting a little bit slower and we need to try and get the batsmen on the bounce and flight.'
Off-spinner Ravichandran Ashwin, who claimed five for 32 in South Africa's paltry first innings of 79, says the home side needs to be patient on Day 3 as things will be different in the second innings. Harish Kotian reports from Nagpur.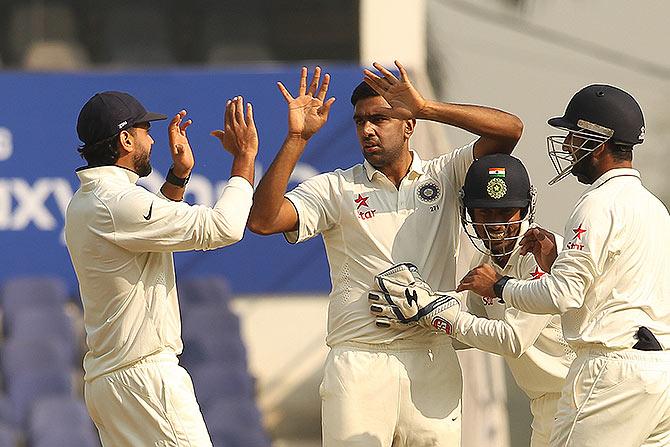 IMAGE: India's Ravichandran Ashwin celebrates the wicket of Hashim Amla. Photograph: BCCI
Ravichandran Ashwin ran through South Africa's batting to put India in the driver's seat on Day 2 of the third Test in Nagpur on Thursday.
The off-spinner claimed five for 32, and left-arm spinner Ravindra Jadeja four for 33, as the visitors were shot out for a paltry 79, in reply to India's first innings total of 215.
Then it was India's turn to taste some of their own medicine, as leg-spinner Imran Tahir's five for 38 sent them crashing for 173 in the second innings.
But the huge 136-run first innings lead meant that they were able to set South Africa a stiff target of 310 runs on a track dominated by spinners from the outset.
With 20 wickets falling on the second day, the match looks set for a third day finish, like the first Test in Mohali, which also ended in as many days.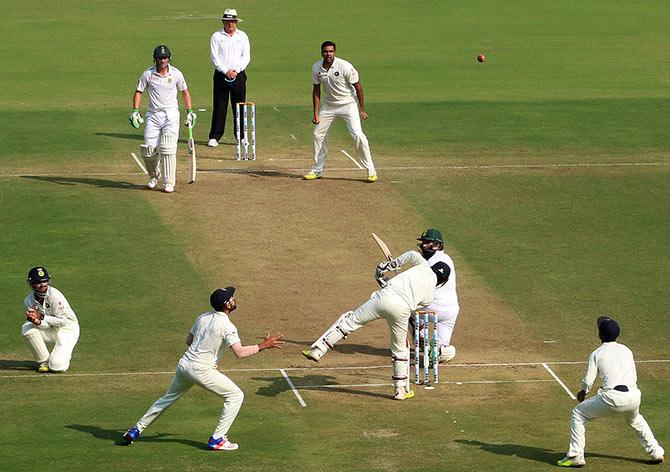 IMAGE: India's R Ashwin looks on as JP Duminy of South Africa edges the ball to the slips. Photograph: BCCI
Ashwin, who has 18 wickets in the three Tests so far and sits atop the bowlers' charts, believes the batsmen from both sides haven't shown enough patience to survive on the wicket.
"I think this wicket is actually something where the batsman actually needs to plan and come out to bat. The area for scoring is pretty limited. As I am going to bat I am able to figure out what particular areas I can get my runs off and what is of paramount importance.
"When you put your feet down and defend properly it is still quite a hard wicket to get through the defence," he said.
With the wicket getting a bit slower he also revealed his plans to bowl out the South Africans in the second innings on Day 3.
"On a pitch like this, the person who can get the ball to go straight on is definitely going to bring both sides of the edge into play. That is exactly what my plan was in the first innings.
"In the second innings, I would definitely like to reverse the plan a little bit; the wicket is getting a little bit slower and we need to try and get the batsmen on the bounce and flight and all that. It is going to be different definitely in the second innings and we got to be very patient.
"We were very disciplined this morning and it is the same thing we will have to apply tomorrow (Friday) morning as well."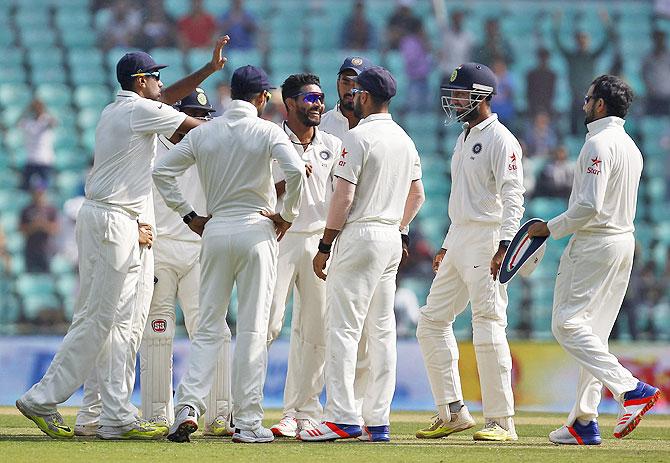 IMAGE: India's Ravindra Jadeja (centre) celebrates with team-mates after dismissing South Africa's Faf du Plessis. Photograph: BCCI
Ashwin dismissed Stiaan van Zyl early in the South African second innings late on the second day. It was the fifth time in five innings that he accounted for the South African left-hander, who failed in both innings of the match.
The off-spinner admits that he is enjoying a mental edge over some of the South African batsmen, including van Zyl.
"I think van Zyl has changed his stance about two or three times in the series. He has managed to stand on middle stump, he has managed to stand outside leg stump this innings. There was a plan; he has looked to hit me inside out. Every time there is a plan that I see in front of me I try to adjust to it and, thankfully enough, I have been able to adjust so far.
"I think it is mental. If you keep getting out to a particular bowler, you feel like you are going to nick one ball off anytime."
He also lauded South Africa captain Hashim Amla for walking in the first innings even before the umpire had given him out. He was caught at first slip off the back of the bat as he tried to sweep Ashwin, but failed to make connection.
"I think the game is a very, very even leveller. I walked in Sri Lanka. He has walked for me here. I'm very pleased about it, I have a wicket and Hashim Amla is a wicket that I would prize any day," he said.