India has seen the emergence of quite a few good, young fast bowlers in the last couple of years, but, at the same time, the decline of one. Bhuvneshwar Kumar!
Just around a year-and-a-half ago, the Uttar Pradesh pacer was India's best fast bowler, having excelled in England, claiming 19 wickets in five Tests.
However, he struggled to make it to the playing eleven in Australia and featured in only the fourth and final Test of the series, in January, in Sydney, where he claimed just one wicket from 42 overs in both innings. After that he did not get a single game in the three-Test series in Sri Lanka.
Rediff.com's Harish Kotian lists five reasons why Bhuvneshwar is in the wilderness.
- Rain washes out Day 2 of India-SA 2nd Test in Bengaluru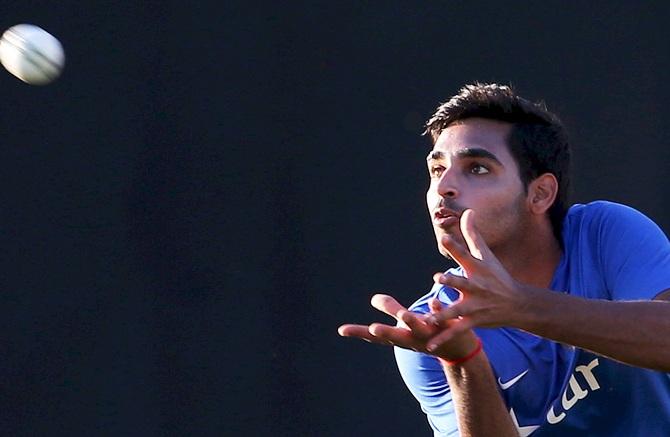 IMAGE: India's Bhuvneshwar Kumar during a practice session. Photograph: Adnan Abidi/Reuters
1. He was torn apart by the South Africans in the ODI series, including the match at the Wankhede stadium, in Mumbai, where he was smashed for 106 runs in 10 overs, the second worst figures in 50-overs' cricket.
2. Apparently, Bhuvneshwar's slide coincided with him changing his style of bowling, trying to increase his pace. It resulted in him losing his trademark swing.
India's bowling coach, Bharat Arun, said he should be given time to adjust to the recent changes he's made in his bowling and it won't be long before he is back to his best.
"Pertaining to Bhuvneshwar, there are people who bowl 140-plus (kmph) and still swing the ball. Bhuvi's USP was swing. He has now definitely put more yards in his pace. It's only matter of time (before he gets back to his best). It's not like he's not swinging the ball; he needs to be consistent. With work, he will definitely come back," said Arun in Bengaluru on Sunday.

3. Following the Wankhede ODI against South Africa, India's ODI captain, Mahendra Singh Dhoni, also seemed to indirectly hint about Bhuvneshwar's struggles and his failure to develop his bowling since making his debut in 2013.
'If you see any other Test or ODI-playing nation, the fast bowlers come and in one or two years they graduate to the next level - they become the strike bowlers or they learn what their strength is and bowl according to that. To some extent, we have not been able to do that... and, also, once you put in a lot of time and effort in a particular individual and if it doesn't come up good, then a vacuum gets created where you have to look for the individuals,' Dhoni had said.
4. During the Rajkot ODI against South Africa, Bhuvneshwar insisted that he hasn't lost out on his swing and it was all down to the conditions he bowled in.
'I don't think I have lost my swing,' he said last month.
'I have told this in the past as well that I need proper conditions to assist my swing-bowling as well. If I have conditions on offer I would swing the ball a lot better than the rest of the bowlers,' he added.

5. While Bhuvneshwar still continues to be part of India's limited-overs' squad, he is unable to find a place in the Test-playing eleven. That is mainly due to the emergence of fast bowlers like Umesh Yadav and Varun Aaron, who have genuine pace.
Another major factor going against Bhuvneshwar is India's Test captain Virat Kohli's preference for fast bowlers with genuine pace.
He has made it amply clear that he believes in having fast bowlers who are effective enough in any conditions and capable of making things happen rather than wait for them to.
'I would rather have a guy who will give me control in an important time in the game rather than someone who will just get the overs out of way,' said Kohli in Bangalore, on the eve of the second Test against South Africa.