Off-spinner Ravichandran Ashwin became India's highest wicket-taker in Twenty20 Internationals during the second T20 against South Africa in Cuttack on Monday.
- Crowd trouble mars Cuttack T20I as India lose to SA
Rajneesh Gupta presents some interesting numbers from the match, which India lost by six-wickets.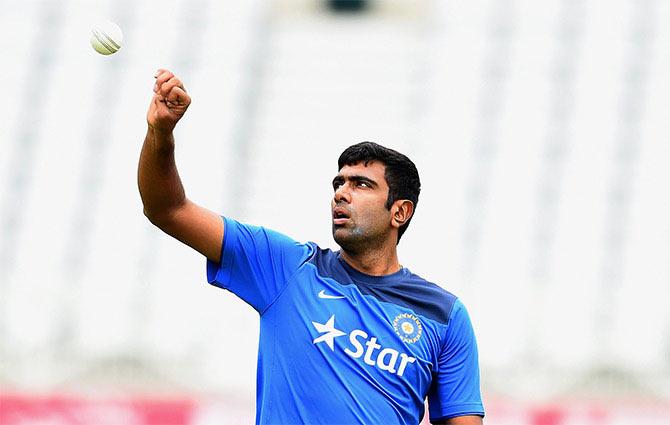 IMAGE: India's Ravichandran Ashwin. Photograph: Laurence Griffiths/Getty Images
4 Number of times India have been bowled out in a Twenty20 International.
1 India provided the first instance of a side being bowled out in a Twenty20 International on Indian soil (in 24 innings).
3 Number of times AB de Villiers was dismissed by Ravichandran Ashwin in Twenty20 Internationals. Ashwin is the only Indian bowler to dismiss a particular batsman on three occasions in this format.
4 Number of consecutive T20Is lost by India under Mahendra Singh Dhoni, starting from the World T20 final loss to Sri Lanka. This equals India's longest losing streak under his captaincy. India also lost four matches on the trot under Dhoni in 2009.
29 Number of wickets taken by Ashwin in T20 internationals -- the most by any Indian bowler. The previous record was held by Irfan Pathan, with 28 wickets.
92 India's total – their lowest in a Twenty20 International, after the 74 they scored against Australia at Melbourne in 2008.
107 The difference in India's totals between the first and second Twenty20 International – their highest ever in two consecutive matches.
39.13 Dhoni's win-percentage in bilateral Twenty20 International contests. In the World T20, it shoots up to 64.29 – a difference of 25.16!