Troubled New Zealand player Jesse Ryder's attempt to return to cricket ahead of the IPL turned out to be a stormy affair as he got into an altercation with a rival player during a club game and was reported for indiscipline by the umpires.
"Jesse Ryder has been charged with breaching Cricket Wellington's code of conduct, following an incident during a club match on Saturday," the media here reported.
Ryder, who will represent Pune Warriors during the IPL, was playing his first match after taking a sabbatical from the game due to his drinking problems.
The altercation happened during an appearance for his Naenae Old Boys' club.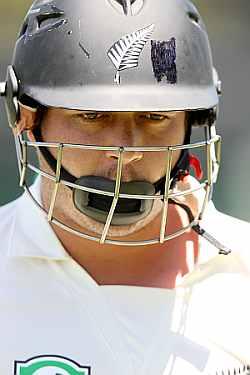 "Ryder reacted angrily to a comment made to him by Wellington team-mate Harry Boam, who was playing for Karori, and the pair had to be separated by umpire Stu Bullen," a report said.
Ryder left for India today, a day later than originally scheduled.
"Bullen, and fellow umpire Jeremy Busby, filed their report from the Naenae-Karori match with Cricket Wellington this morning, in which they alleged that Ryder breached the players' code of conduct."
"CW have reviewed the report and decided it did warrant a hearing. None has been scheduled yet, although it is expected one will take place this week. Ryder's evidence can be heard in absentia," CW chief executive Peter Clinton was quoted as saying.