Fines don't work any more: Lillee
Australian fast bowling great Dennis Lillee believes cricket should adopt a sin bin system and send players off the field when they are guilty of intolerable behaviour.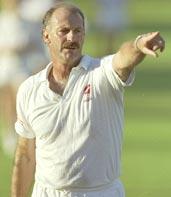 Lillee has spoken out in his new autobiography released in Australia this week.
"Fines don't work any more," Lillee wrote.
"I laugh when I see a tennis player fined $5000. It's pin money for most top players. They have to be hit where it hurts, something to make them think twice the next time they are considering the same offence.
"In cricket, you can hurt the cheats by hurting the team. Perhaps a set of regulations could be drawn up, enforced by a warning followed by a yellow card. Then, if someone oversteps the mark again he is sent from the field for a session.
"If it's a batsman, maybe he should have a portion of his runs deducted. They have to be hit where it hurts, something to make them think twice . . . sin bin a player if he's bad and he will soon have his coach and officials in his ears."
Lillee said catches claimed off a bump ball may also be an offence, as would the "nasty habit" of bowlers and fieldsmen running at umpires as they appeal.
Lillee believes that Australia let their cricketers play too long.
"We let people play too long – myself included," he wrote.
"It's hard to know when to quit a game you love as a player. You want to extend it for as long as possible, particularly now with so much money involved... if you go on for 15 years you can impede the next generation of players.
"Australia has to be careful, otherwise a few years down the line we may face a thin period, particularly with the batting as I don't see a lot of players coming through.
Akram backs Twenty20 experiment
Former Pakistani legend Wasim Akram has given his backing to the Twenty20 Cup ahead of its much-anticipated debut.
The new 20-overs-per-side competition gets under way with five matches on Friday.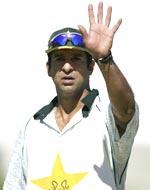 "I think it is very exciting," said Wasim, preparing for Hampshire's home game against Sussex.
"It is a very good idea to get youngsters involved.
"The second step is to help them with coaching but first it is important to get them involved."
Replacing the time-honoured B&H Cup, Twenty20 has been criticised because of its gimmicky format and thirst for quantity over quality.
But Wasim disagrees, reckoning the players will take it seriously enough for it to become an established competition.
"In Pakistan, we have a 25-overs competition which all the top teams play and they take it quite seriously," he added.
"I am sure it will catch on."
Wasim, with 502 wickets the all-time leading one-day wicket-taker, feels Hampshire have a real chance of lifting the Twenty20 Cup.
"We are a good team. We have some good all-rounders, the batting is getting better and all the boys are working very hard.
NZ prepared for long wait over ICC payment
It could be two years before the final decision on the International Cricket Council's decision to withhold $US2.5 million from New Zealand Cricket (NZC) for refusing to play its World Cup game in Nairobi.
NZC chief executive Martin Snedden leaves on Friday for the ICC's annual meeting in London and holds little hope for a speedy resolution.
Snedden's attitude is based on the Global Cricket Corporation, the ICC's commercial partner, still not having made its claim against New Zealand for its loss of revenue through the forfeiture.
"This is not going to advance very quickly and my guess is it could take up to another two years," Snedden said.
The two pressing issues on the ICC's agenda are the ongoing security issues facing the game and the players' concern at the volume of cricket being played.
Already NZC has requested New Zealand not play a one-day match in Karachi in November after witnessing a fatal bomb blast on their last visit to the Pakistani port city.
The ICC might look at the volume of cricket with some bemusement given the tendency of elite players to scoot off and play county cricket whenever there is a break in the international schedule.
A radical Australian plan to shake up one-day cricket is likely to be discussed but equally unlikely to have much impact.
It proposes abolishing the present, crowded limited overs schedule and substituting it with a world championship.
Bangladesh name squad for Australia
Sacked World Cup captain Khaled Mashud has been recalled by Bangladesh for the upcoming two-month tour of Australia.
Bangladesh depart on 22 June to play two Tests and three limited-overs matches against the world champions.
The matches are to be held in Cairns and Darwin, venues never before used for international cricket.
Bangladesh will be captained by all-rounder Khaled Mahmud, who replaced keeper Mashud after Bangladesh's dismal World Cup performance in South Africa.
Five pace bowlers were included in the squad by a selection panel including new coach Dav Whatmore, the former Sri Lankan coach.
Team: Khaled Mahmud (captain), Javed Omar, Khaled Mashud, Habibul Bashar, Mohammad Rafique, Hannan Sarkar, Mohammad Ashraful, Al Shahriar, Manjurul Islam, Alok Kapali, Sanwar Hossain, Tareq Aziz Khan, Mashrafee-bin-Murtaza, Tapash Kumar Baishya, Anwar Hossain Monir.
(Tushar Imran and Habibul Hossain are to join the team for the one-day matches.)