What's the role of a pitch curator?
The role needs him to assess weather, decide on a type of soil mixture and clay content needed to prepare a pitch in a particular region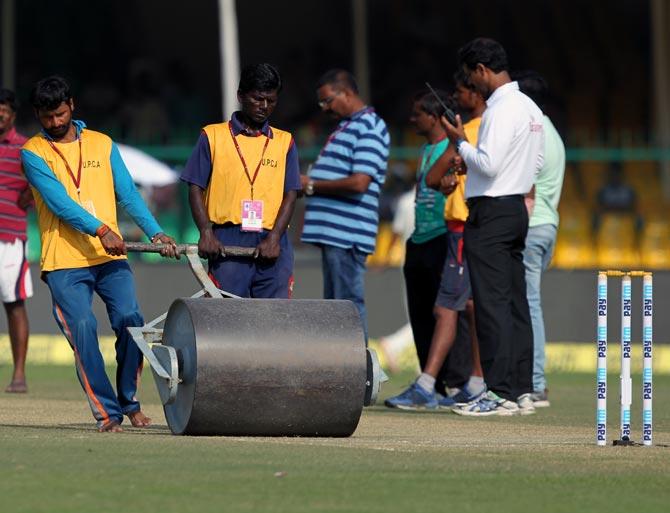 IMAGE: The ground staff work on the pitch. Photograph: BCCI
Salgaoncar's fall from grace has suddenly shifted focus on pitch curators – a section in cricketing community who have a major role to play but are grossly underpaid.
Till the 1960's, there were odd groundsmen or 'Malis' as there was no formal pitch preparation. It was the time of uncovered wickets where batsmen's technique would be tested to the limit.
Incessant rain left pitches damp. It was in the mid 70's that pitch preparation was taken seriously with association keeping the surface under cover.
The term pitch curator came in vogue during the 1980s as some of the earlier groundsmen with knowledge of soil and weather were considered good enough for the job.
So what's the role of a pitch curator? The role needs him to assess weather, decide on a type of soil mixture and clay content needed to prepare a pitch in a particular region.
The curators in India normally start working once the monsoon season gets over and try to prepare pitches before the Diwali season when domestic cricket across age groups and senior level starts.
This is also the time when Indian team plays at home.
The BCCI has a pitches and grounds committee which is currently headed by Daljeet Singh and under him are a number of curators, who have passed the board's curators exam.
These men normally oversee preparation for international and Ranji Trophy matches guiding the local curators.
Now how much of a role can curator can play in influencing the result of a match? Well, they can provided they get the conducive conditions.
The Indian teams since 90's have been notorious for demanding rank turners (ball turning at right angles).
It's like the rule of O'Marta where it is an unspoken code. There would be no demand from the team management in writing but curators would be sent feelers to meet their demand.
Accordingly, seven days before a Test, if there is bright sunshine, the curator stops watering the pitch. And come game time, it starts turning from first hour.
It happened in Kanpur (India vs SA) in 2008 and in Nagpur (India vs SA) in 2015. Both pitches were rated poor by match referees.
The ideal turner is when one stops watering couple of days before the game so that ball starts turning from day 3 onwards.
In India, not many bouncy pitches are found but Mohali during 90s under Daljeet was the bounciest in the country The track in Dharamsala at a high altitude helps seam and swing movement due to cooler conditions.
Similarly, Eden Gardens helps seamers due to its proximity to Hooghly river.
"Curators can be determining factor only when conditions are complementary. Or else he can't do anything in even a month. Pandurang Salgaoncar was bluffing, " a BCCI curator, scared to come on record said.
The BCCI curators are paid in the range of Rs 35,000 to 70,000 depending on their experience. The state associations are worse pay masters with some of them paying less than Rs 20,000 making them a vulnerable lot.