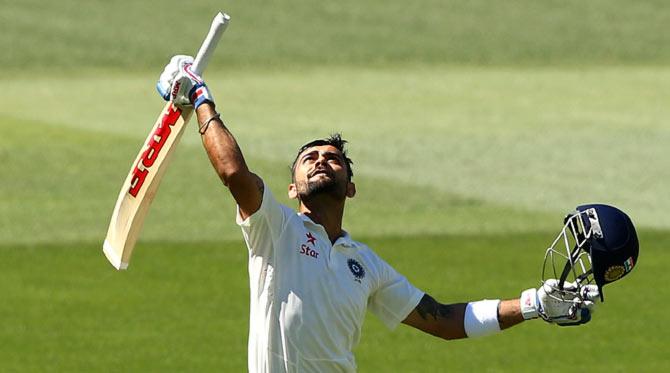 IMAGE: Virat Kohli celebrates after completing his century. Photograph: Robert Cianflone/Getty Images
Board of Control for Cricket in India (BCCI) president Anurag Thakur on Thursday informed that star Test skipper Virat Kohli failed to make it to the International Cricket Council's (ICC) Test Team because voting happened in September and he made all the runs after that month.

Despite being adjudged as the Man-of-the-Series with 655 runs in the recently concluded five-match series against England which the World No. 1 Test team won 4-0, Kohli missed a berth in the ICC Test team of the year 2016.

"Unfortunately, Virat Kohli, who has turned into a big player , did not make it to the ICC's Test Team because voting happens in September window and he made all the runs after this September," Thakur told ANI.

England captain Alastair Cook, who is under the scanner following the recent thrashing in India, has been named as the captain of the ICC team, which includes four Englishmen, three Australians, and a player each from New Zealand, India, Sri Lanka and South Africa.

Thakur also congratulated off-spinner Ravichandran Ashwin and all-rounder Ravindra Jadeja for making it rare instance of two India bowlers topping the ICC Test rankings.

"I would like to congratulate both of the players for performing tremendously well and guiding the team to repeated victories as well as to the No.1 spot in rankings," the BCCI chief said.

Jadeja's maiden 10-wicket match haul during the fifth and final Test against England in Chennai has propelled him to the second spot behind teammate and star off-spinner Ashwin in the latest ICC Player Rankings for Test Bowlers.

Jadeja's performance has earned him 66 points and brought him within eight points of Ashwin.

This is just the second time that the top two spots in the ICC Player Rankings for Test Bowlers have been occupied by India players, with the pair emulating left-arm spinner Bishan Singh Bedi and leg-spinner Bhagwath Chandrasekhar, who were ranked one and two in 1974.

Thakur further hoped that Kohli-led side continue to remain number one team in the world and achieve greater heights in the coming future.

"I hope Team India continue to remain the No. 1 team under the guidance of Virat Kohli. And the way Mahendra Singh Dhoni and then Kohli led the team to victories clearly shows that the team will continue to achieve greater heights in the coming future," he said.