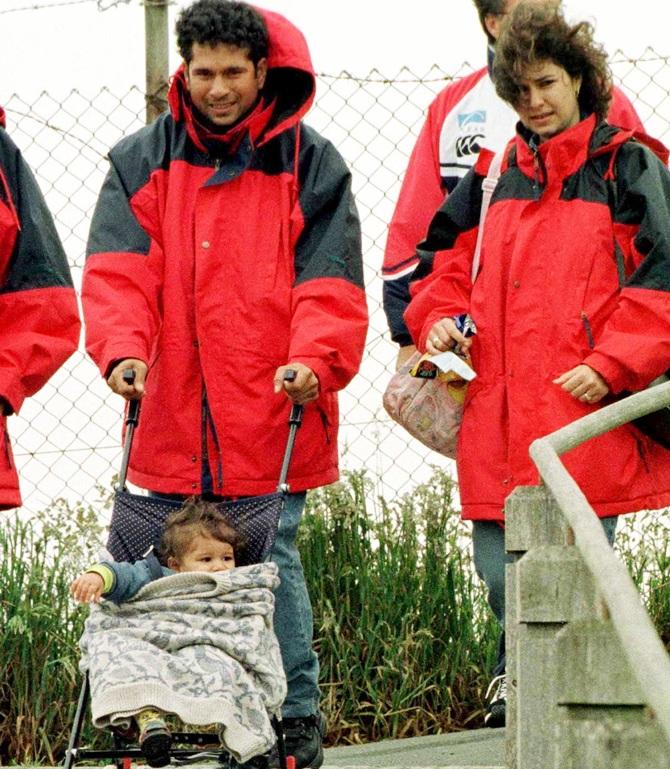 Indian batsman Sachin Tendulkar, his wife Anjali and 14-month-old daughter Sara, visit the Royal Albatross Colony on the Otago Peninsula north of Dunedin, December 20, 1998. Photograph: Simon Baker/Reuters
Indian cricket legend Sachin Tendulkar has revealed what he loved and hated during his New Zealand tours in his playing days. Tendulkar claimed that the windy and cold conditions, the food poor, boundaries short and the accent was impossible to master in New Zealand.
Buy the Book Right Here on Rediff
Tendulkar's wand is his willow, not his quill...
During his first Test outside the subcontinent, in Christchurch in 1990, Tendulkar received a not so friendly reception. He was bowled for a duck by Danny Morrison and said that the delivery was good, but the send-off more interesting.
Tendulkar in his autobiography, Playing it My Way, said that he could hear most of the New Zealand players calling him a schoolboy, with plenty of F-words thrown in. He added that they kindly advised him to go back to playing cricket with his school friends, suggesting that he wasn't fit to compete at international level, Stuff.co.nz reported.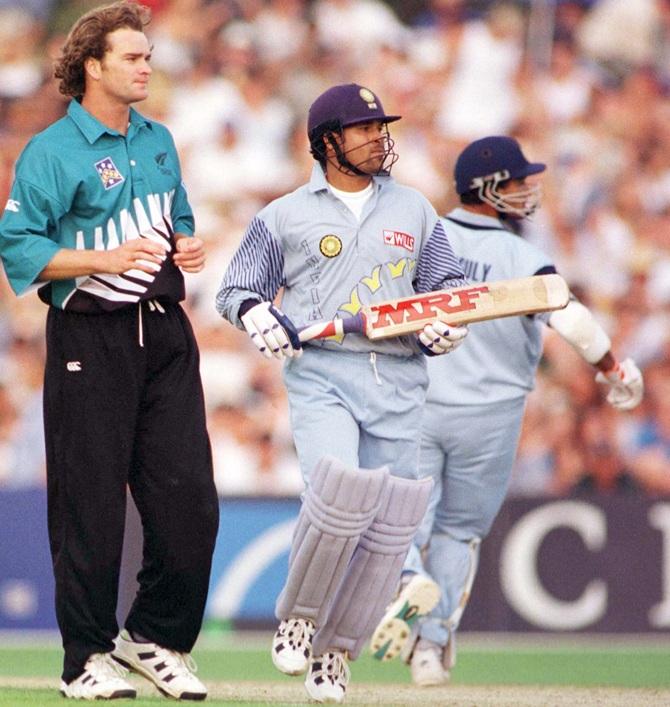 New Zealand's Dion Nash watches as India's Sachin Tendulkar runs. Photograph: Ross Setford/Getty Images
In that first tour he had expected to get his first century, but instead the New Zealand captain, John Wright, got him for 88. He said that he was heartbroken and as he walked back to the pavilion he couldn't control his tears.
The best part of that tour, Tendulkar claims, was the coincidence of being able to see the great Indian playback singer Asha Bhosle in concert in Wellington.
Playing at the Basin Reserve did not impress him, saying that in the wind, some of the Kiwi bowlers were unplayable. The wind can reduce the pace by at least 10 kilometres per hour.
Tendulkar said that batsmen have to be able to make subtle adjustments to adapt to conditions like these. He added that one problem with looking into strong winds is that one can't keep ones eyes open for too long at a stretch.
The 'Master Blaster' went on to become India's most celebrated cricketer ever, some say the world's best cricketer, having scored 100 international centuries. He is the first batsman to score a double century in an One-day Internationals and the only player to surpass 30,000 runs in international cricket.
In a drawn out story Tendulkar revealed about Manoj Prabhakar wanting hotel housekeeping to send him up a power adapter. He claims that in a few minutes there was a knock on his door and he opened it to find a doctor standing there.
Tendulkar wrote that the staff had heard 'doctor' for 'adapter' partly because they pronounced 'doctor' as 'dactor' and had sent the resident physician to Prabhakar's room.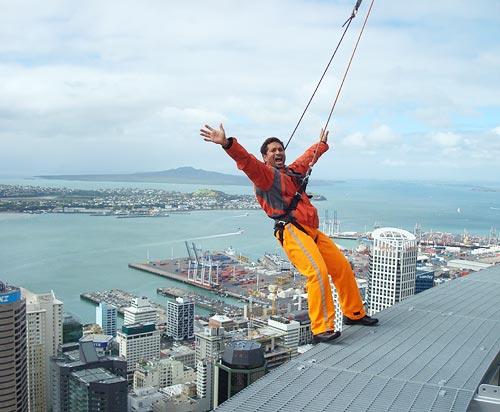 Sachin Tendulkar. Photograph: Rediff Archives
However, the capital seemed full of dark memories for Tendulkar though as in 1998-99 the India team had found themselves staying in Wellington on Christmas Day with all the restaurants, even those in hotels, closed.
Tendulkar said that they were left to themselves until rescued by a Patel family in the city, who he refers to with the Gujarati respect term bhai for 'brother'. He wrote that Mori bhai, Ilesh bhai and Nanu bhai are residents of Wellington, and on Christmas Day they came over to their hotel with all sorts of amazing food.
He added that they all enjoyed feasting on the fantastic Indian food that had been specially prepared for them. He further wrote that apart from not starving on Christmas Day, it meant we could also get a taste of fantastic home-cooked Indian food.
Tendulkar says Mori, Ilesh and Nanu came to all the Indian games in New Zealand, armed always with desi chai and food.
Tendulkar also claimed that taking the SkyWalk on Auckland's SkyTower was one of the scariest experiences of his life.