'Dravid is very much in our scheme of things'
'All these legends will have a big role in cricketing matters as well as in selection'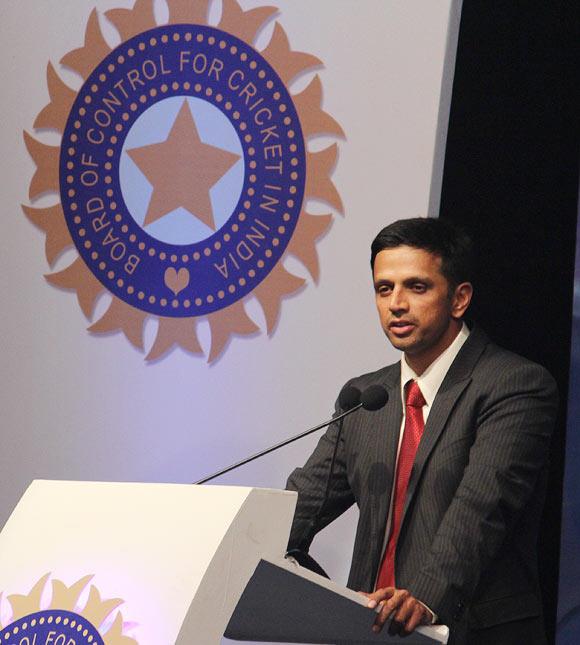 Rahul Dravid. Photograph: Hitesh Harisinghani/Rediff.com
Board of Control for Cricket in India president Jagmohan Dalmiya reiterated that former India captain Rahul Dravid is very much in the scheme of things and the country's cricket would be "incomplete" without the star batsman's contribution.
Speculation is rife that Dravid opted out of the advisory committee after Sachin Tendulkar, Sourav Ganguly and VVS Laxman were named in it, but the BCCI made it clear that there is a definite role for 'The Wall' in the near future.
"He (Dravid) is very much in our scheme of things. We have put a structure in place. We would like Rahul to take up a role. Indian cricket's restructuring will be incomplete without Rahul Dravid's contribution. We would want everyone to co-operate in this endeavour," Dalmiya told a news channel.
The veteran administrator, however, did not clarify whether Ravi Shastri's appointment is a short-term one.
"It is for the tour of Bangladesh and with time we will add people. But that does not mean that we are going to leave people by the wayside and tinker with the support staff combination," the septuagenarian said.
He said a new initiative could not have had a better start than this with Sachin Tendulkar in it.
"All these legends will have a big role in cricketing matters as well as in selection of support staff. Have patience as we will expose (he meant unveil) new names in the coming days. We will certainly implement their recommendations, as if we don't then it will be a failure on our part," Dalmiya said.