There were moments during the Sri Lanka Triangular Series at Dambulla when India looked pedestrian, and unworthy of the second ODI spot. But they are still there; convincingly if you consider the Rediff ODI Rankings, and by the skin of their teeth if you consider the ICC Reliance Mobile ODI rankings.
While Australia (72.1) and India (56.9) hold the top two places, the battle hots up below. Sri Lanka (51.4) and South Africa (51.1) are in a tussle for the next two positions, and New Zealand (50.6) and England (49.8) are locked in a tight race for the next two positions.
Table A shows the current rankings.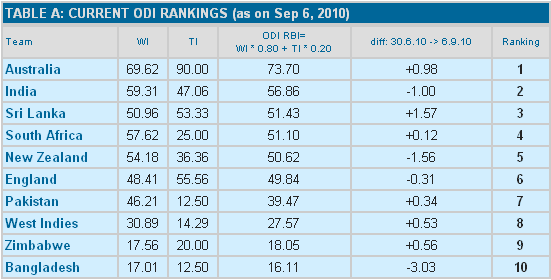 The corresponding Reliance Mobile ICC ODI rankings (as on September 6, 2010) are Australia (132), India (115), Sri Lanka (115), South Africa (115), England (113), New Zealand (112), Pakistan (98), West Indies (67), Bangladesh (53) and Zimbabwe (36).
It remains a matter of some amusement that three of the top ten teams are tied with the same points (115). Surely ranking schemes must possess the ability to extricate the ODI teams better from this tangled mess. But, in all fairness, we see a very similar clustering even with the Rediff ranking scheme.
Details
The Rediff ODI rating is a judicious combination of every team's weighted index (WI) and tournament index (TI).
The WI, based on recent ODI encounters between every pair of teams as shown in Table B, is essentially a weighted average that considers the 'opposition strength' (because wins against strong opponents must be rewarded more) and the 'home-away-neutral' factors (because teams usually win more at home, and lose more playing 'away').
The TI factors in a team's performance in tournaments and series (and thereby seeks to better reward wins in 'big' matches). The TI is currently based on a time window spanning the last 12-13 months, i.e. September 2009 to September 2010.
�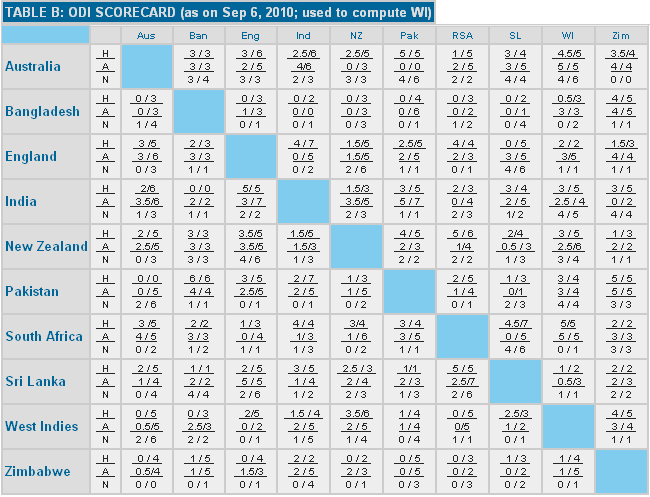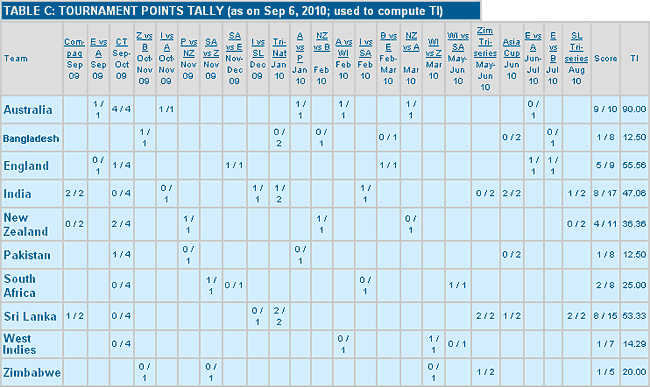 Our next update will appear after the England-Pakistan series in England and the India-Australia series in India.