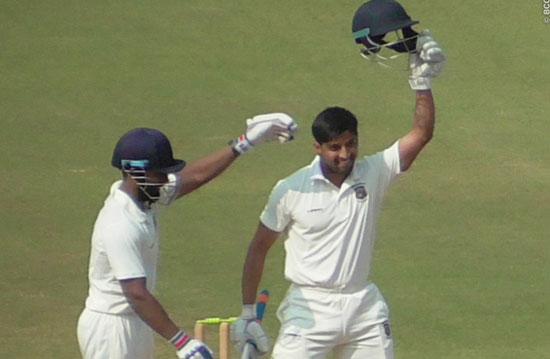 Swapnil Gugale and Ankit Bawane, the Maharashtra batting duo, who stitched together a record partnership of 594 runs in the Ranji Trophy match against Delhi, on Friday, regretted when informed that they were 30 runs short of breaking the world record 624-run partnership held by Sri Lanka's Kumar Sangakkara and Mahela Jayawardene.
- Maharashtra's Gugale-Bawane break Ranji Trophy record
Gugale, who was leading the team for the first time, struck his maiden triple-century (351) -- the seventh highest score in the Ranji Trophy -- and Bawane (258) made his first double-century, before the team declared the innings at 635 for 2.
"While batting we were not aware of it, but we kept on batting. But we regret that we could not break the record (of 624 runs held by Sangakkara-Jayawardene). Had I known earlier, I wouldn't have declared," Gugale said.
"We were not concerned about a record but we had a plan to keep on playing. Although we are feeling bad that we failed to create world record, yet we are happy to have made a new record. I think this is a beautiful day for Maharashtra," Bawane said.
Describing his knock, the 25-year- old said, "I felt tired, my body was not responding as I want it to be. But, despite that I went on, because I always knew that if i push harder something will be rewarded."
The duo feels that their knock would act as morale booster for the team, which lost its first match in the Ranji Trophy.
Gugale and Bawne batted together for close to 12 hours against Delhi and put on the highest partnership in the Ranji Trophy, surpassing Vijay Hazare and Gul Mohammad's 577 for Baroda against Holkar in the 1946-47 final.
Maharashtra opened the day with 41 for 2 in the first hour after opting to bat.
At close of play, Delhi trailed Maharashtra by 614 runs with 10 wickets remaining in the 1st innings.
Image: Maharasthra's Swapnil Gugale and Ankit Bawane during their 624-run stand against Delhi in the Ranji Trophy match on Friday
Photograph: BCCI/Twitter