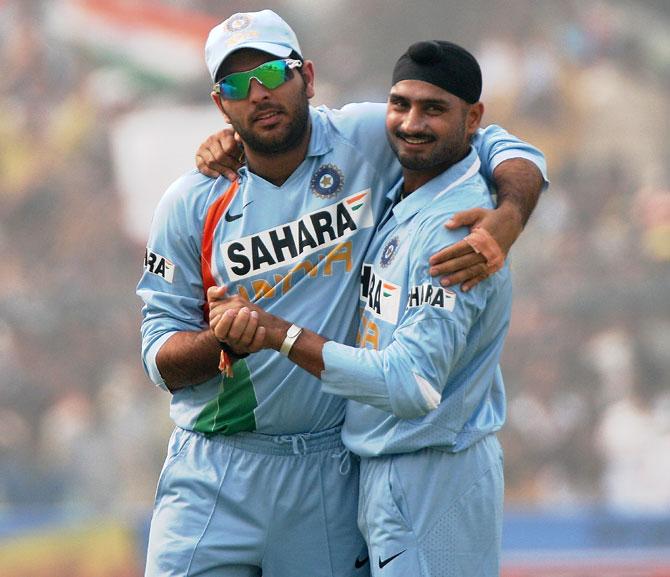 IMAGE: Yuvraj Singh (left) with teammate Harbhajan Singh. Photograph: Julian Herbert/Getty Images
India's Team Director Ravi Shastri has said that while "experience cannot be bought in super market" the likes of Yuvraj Singh, Harbhajan Singh and Ashish Nehra will play only if they fit into the combination that the team is looking for, going into ICC World Twenty20.
India will start their preparations for the ICC World Twenty20 with the three-match series against Australia, in Adelaide on Tuesday.
Shastri sounded positive about the return of India's veteran trio.
"They are raring to go. Every match from hereon until the World T20 will be extremely important. It gives us a chance to try different players and see what combination works best. It is about getting the right combination for the conditions you are playing in (Australia or at home). If it means senior players have to play they will play. Again, if that means juniors have to play, that will be so. It's about getting the combination right," Shastri said on the eve of the opening T20 International.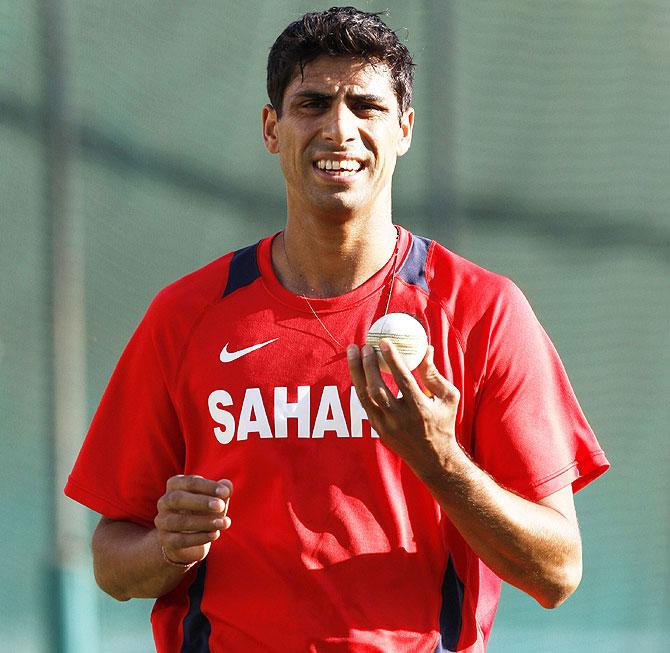 IMAGE: India's Ashish Nehra prepares to bowl in the nets during a practice session. Photograph: Amit Dave/Reuters
"It is important to have the right mix of experience and youth. There is no shortcut to experience when it comes to the T20 format and bowling in the death overs. The scores in ODIs were 300-plus in every game. Five years ago 260 would have been enough here. But with T20 cricket coming in, batsmen take chances early and they play the big shots. As a bowler you have to have experience there to stop that hitting, Shastri added.
When talking of experience at the death, one is reminded of Nehra and of the bowler Shastri said: "Experience is not bought or sold in the market so when you get it, use it. He has got experience. He has played 2-3 World Cups if I am correct. And, he has played a lot of T20 cricket. He is just coming from a domestic T20 competition at home."
About 36-year-old Nehra's presence in the ODI team Shastri said: "In ODIs, fitness makes a big difference than it does in T20s. You have 30 extra overs of fielding and that can take its toll. Plus there are six extra overs to bowl. So that's a big difference, and at the moment we will just wait and see how he goes in this format."
- ALSO READ