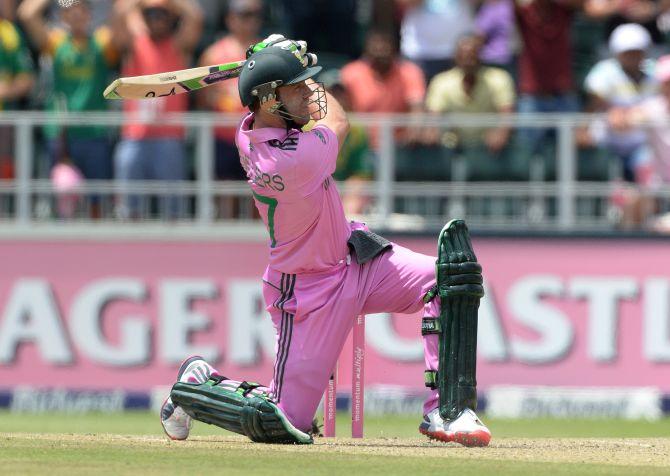 One of the most exciting batsmen to come out of South Africa, AB de Villiers announced his shock retirement from all forms of cricket on Wednesday.
The news came as a surprise to everyone in the cricketing fraternity. From Sachin Tendulkar to Virender Sehwag and Harsha Bhogle voiced their opinions on Twitter. Here's what they had to say:
CEO of Cricket South Africa Chris Nenzani said in a statement:
"AB is one of the all-time greats of South African cricket who has thrilled spectators around the world with his sheer brilliance, coupled to his ability to innovate and take modern day batting in all three formats but particularly in the white ball ones to new levels.
"What is probably more important is the inspiration he has been to his team mates whether playing at international or domestic level and the wonderful role model he has been to all our aspiring youngsters. It goes without saying that he is going to be greatly missed wherever international cricket is played."
De Villiers' Indian Premier League side Royal Challengers Bangalore tweeted:
"Sudden but we're confident there was immense thought and contemplation behind the decision. You have to come back to Bengaluru in 2019."
"Must admit to being a bit shocked by @ABdeVilliers17 decision to quit all international cricket. We knew it was coming but I thought he would give the World Cup another shot. I said in a blog sometime back that @ABdeVilliers17 was the true natural successor to Lara. He too can ask " Did I entertain?" And the answer would be a resounding "Yes. Yes!" The fans gave @ABdeVilliers17 a second home in Bengaluru but all over India there will be disappointment. He is the most popular overseas cricketer to play in India," tweeted Harsha Bhogle.
"Like your on-field game, may you have 360-degree success off the field as well. You will definitely be missed, @ABdeVilliers17. My best wishes to you!," tweeted Tendulkar.
The BCCI also wrote a few words wishing luck to the former SA captain.
"As the Proteas legend @ABdeVilliers17 calls it a day on his international career, we at BCCI would like to wish him all the very best for his future endeavours," a tweet from the Indian cricket board read.
Former England captain Michael Vaughan tweeted: "Such a shame for international cricket @ABdeVilliers17 ... But he has been an unbelievable advert to how I would have loved to have played all 3 formats .. GREAT GREAT Player ... Top 3 that I have ever seen .. #AB."
Former India opener Virender Sehwag wrote on his Twitter handle: Congratulations @ABdeVilliers17 , the most loved cricketer in the world, on a wonderful career. International cricket will be poorer without you, but you will continue to be celebrated by cricket fans around the world ."
Former South Africa wicketkeeper Mark Boucher tweeted:
"I remember this young guy on his first day out for the Proteas. What an inspiration, person and player, he turned out to be. Thank you for everything you have done for your country, teammates and fans."
Former South Africa fast bowler Allan Donald tweeted:
"So shocked to hear AB de Villiers has decided to call time on his international career. But that's just life and he feels it's time to move on. Thank you great man for your amazing match-winning performances, skillful captaincy and most of all your humility."
Former South Africa spin bowler Paul Harris tweeted:
"What a great career. Best I have ever seen. Was great to be a part of it AB de Villiers. Nou gaan ons braai (now we are going to barbeque)."
Former India batsman Mohammad Kaif tweeted:
"One of the all time greats of the game, many congratulations AB de Villiers on an outstanding career. The (Roger) Federer of cricket, the most loved cricketer on the planet. Wish you the best for your future endeavours."
Former Sri Lanka batsman Mahela Jayawardena tweeted:
"One of the best! Wish you all the best AB. Amazing player, but above all that great guy..."
Former India seam bowler RP Singh tweeted:
"The man who showed the world that batting 360° is an easy task. All the best for your future endeavours AB de Villiers, thank you for all the unforgettable memories!"
Australia women's international Alex Blackwell tweeted:
"True legend. Finishing on top and allowing next generation to step up. The way AB found innovative ways to dominate bowling attacks was an inspiration."
Former India batsman Aakash Chopra tweeted:
"The biggest entertainer in the last decade has bid goodbye to International cricket. Your absence will be felt, AB. Cricket will be poorer."