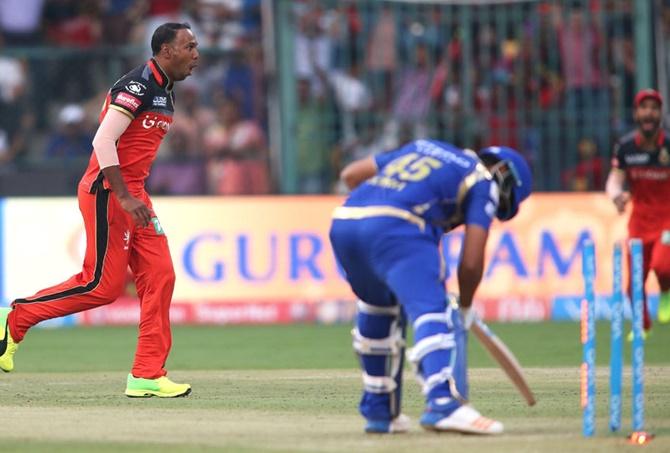 IMAGE: Samuel Badree of the Royal Challengers Bangalore celebrates bowling Mumbai Indians captain Rohit Sharma to get his hat-trick. Photograph: BCCI
Indian Premier League 10's first hat-trick man Samuel Badree was not celebrating for his exceptional feat as he was disappointed at his side Royal Challengers Bangalore's defeat against Mumbai Indians on Friday.
PHOTOS: Pollard scripts dramatic Mumbai win
"Yeah, of course. It is a special day. It was a Good Friday. It was a Good Friday for me. Unfortunately, it was not a Good Friday for the team. I just think we did not have enough runs on board," Badree told reporters.
"It is a nice feeling to get a hat-trick. To get three wickets in the Powerplay -- normally teams chasing lose games but unfortunately it did not go our way tonight.
Tremendous feeling to get a hat-trick but it could have been so much better if we had won," said the leg-spinner who took the wickets of Parthiv Patel, Mitchell McClenaghan and Rohit Sharma in three successive deliveries in the third over of Mumbai's run chase.
Despite Chris Gayle and Virat Kohli laying a good foundation, RCB did not get enough runs on the board to give a fight to Mumbai Indians, who rode to victory on the back of batting exploits of Kieron Pollard and Krunal Pandya.
"We had a good foundation, Chris at the beginning and Virat after that. But I just think we did not score enough runs. Credit needs to be given to Pollard and Krunal the way they batted with maturity," said Badree.
On Pollard, Badree said, "Yeah, he got some balls in the arc and backed his strengths, which is down the ground. He batted with maturity. He showed a lot of guts and character and credit needs to be given to Krunal as well," he added.
Asked what went wrong with RCB's batting, Badree said the team was a bit under par with the bat as 160 to 170-odd runs would have been a better score on a pitch which was slow.
"It was the pitch, I think it was a bit slow. At the end of the day 142 was not special. I think we needed excess of 160. We looked at 160-170 at one stage, but did not capitalise on the start we got. All in all, we were a bit under-par with the bat," said the West Indian.
Asked about Mumbai captain Rohit Sharma's weakness against leg-spin, Badree said, "I don't think we had any specific strategy against Rohit Sharma per se, it was about the conditions."
He also said it was a tough decision to leave Shane Watson out and getting himself in because the management could have taken the decision keeping in mind drier conditions where spinners could be effective than the seamers.