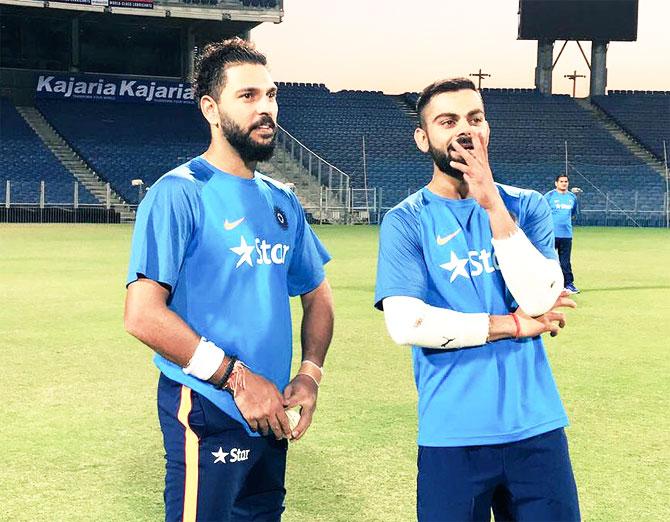 IMAGE: Yuvraj Singh and Virat Kohli at a team training session in Pune on Wednesday. Photograph: BCCI/Twitter
The seasoned Yuvraj Singh was recalled to India's limited overs teams to lend solidity to an inexperience middle-order and ease the burden on Mahendra Singh Dhoni, captain Virat Kohli said in Pune on Saturday.
Yuvraj's last ODI was against South Africa at Centurion in December 2013 and played his last T20I versus Australia in Mohali last March.
"Yes, that (experience) is something we have discussed before picking Yuvi (Yuvraj Singh) because we cannot leave so much burden on MS (Dhoni) alone in the middle order. I am willing to take up responsibility up the order, but there needs to be one more guy with him (Dhoni) down the order in case the top order doesn't fire," Kohli said on the eve of the first of three One-Day Internationals against England.
Kohli said the team's think-tank needed to get its combination right quickly as these were the only games it had in its hands before the Champions Trophy in June.
"If the top order doesn't fire you are left with MS alone and he is guiding the youngsters more often than not. Which is fine, if you have 15-20 games till a big tournament (begins). But when you have only three games to prepare for a big tournament, I think you need to get all your resources in place.
"You need to make sure the guys who have been picked are in good form," said Kohli who added that Ambati Rayudu had also been considered to do this specific job but was injured for a long time.
"So, right now we don't have the time to nurture the one spot as much because we have a big tournament coming up straightaway, that's why Yuvi was brought into the team. We had discussed Rayudu as well, but he has been injured for a long time and didn't have game-time behind him. Yuvi has had a very good first-class season, so obviously he was into the team before anyone else.
"So, I think this just gives the team much more balance in the middle and lower-middle order with MS and Yuvi. They can really guide Kedar (Jadhav) and Hardik (Pandya) still with them, but to have two experienced guys compared to one is a massive difference. I am sure Hardik and Kedar can learn a lot from them, batting along with them."
In terms of the series itself, Kohli said he would like to see how England responded if they lost early wickets.
"They seem to be quite fearless, which is always a good thing in the shorter format. But at the same time, I've always felt, to be a consistent performer in the ODI format you need to understand strike rotation as well. You just can't go with one sort of momentum. That is something that we'll look to counter. See if they lose a few early wickets, (and) what are the plans they come up with."
"We have quality bowlers in the side, we have bowlers who can make an impact initially. We have world-class spinners as well. It's going to be interesting how hard they come initially, but as I said, in ODIs we've seen it a lot of times that teams start really well in the first 10, they really dominate and once you lose 2-3 wickets in the middle phase, unless you know how to rotate strike, it gets very, very difficult. But yes, this English team, especially in the shorter format, looks very fearless."